Robert (Bobby) Dean Widdice
1940 – 2023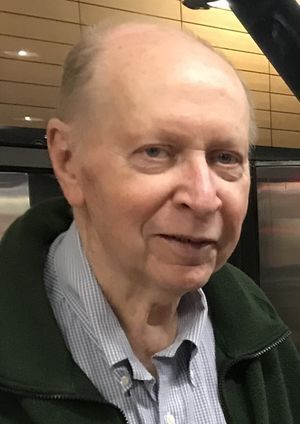 FRANKLIN, KY / SEATTLE, WA -  Bob (aka Robert, Bobby) Dean Widdice passed away in Seattle on February 6, 2023, after a courageous struggle with Parkinson's disease, during which he continued to bring joy to his loved ones each day with his quick wit accompanied by a mischievous smile and sparkling eyes, compassion for humans and animals and love of stories. He was 82 years old. 
Bob touched people in the far reaches of the globe. He was born in Leavenworth, Kansas, on April 27, 1940, and attended Franklin-Simpson High School in Kentucky. He earned his Bachelor of Science degree from Vanderbilt University in Nashville, Tenn. (1963). He earned his Master of Science degree from the Georgia Institute of Technology in Atlanta (1968).
Shortly after college he married his wife Eleanor Widdice (Louisville,Ky, July 11, 1964) and moved to Richmond, Virginia, where his first daughter Laura was born. The family then moved to Santa Monica, California, where their second daughter Lea was born. They moved to Australia for engineering, living in Sydney and Canberra, before returning to the United States and settling in Seattle, Washington.
The majority of Bob's career was in computer science engineering. He worked in urban planning in Virginia and Canberra, and later, military system software development in Seattle. He worked on a space launch system designated as the Inertial Upper Stage, which launched from the payload bays of the space shuttle fleet.
He was a world traveler for work and vacation, spending time in Europe, South Africa, and Mongolia. He had a love of photography and in retirement, genealogy became his passion. He found joy in volunteering at the National Archives and Records Administration.
Bob is survived by his beloved spouse of 58 years, Eleanor Widdice (nee Hill), daughters Laura Widdice (Richard Dunn) and Eleanor (aka Lea) Widdice (Peter Osborne), grandchildren Sarah and Oliver Dunn and Eleanor (aka Ella) Osborne, nieces Cheryl Wilson (Allen) and Patricia Robertson (Eddie, deceased), and nephews Kevin McKenney, Shawn McKenney (Teri) and John Speed (Ginette). He was preceded in death by his parents, John William Widdice and Lila Marie Austin, and his sister Norma Jean McKenney.
A visitation will be held between 1:00-3:00pm immediately followed by a service, Saturday, October 14, 2023 at Gilbert Funeral Home 325 West Cedar St, Franklin, KY 42134. A burial will follow at Greenlawn Cemetery 420 Cemetery St, Franklin. In lieu of flowers, donations may be made to the Seattle Public Library Foundation; Simpson County Historical Society in Franklin, Ky.; and to "Skyline Hearts of Gold" at Skyline at First Hill 715 Ninth Ave., Seattle, WA, 98104, with the memo "for the Employees Emergency Fund".
---
Comments
---