John James Frantz
May 22, 1935 – November 2, 2020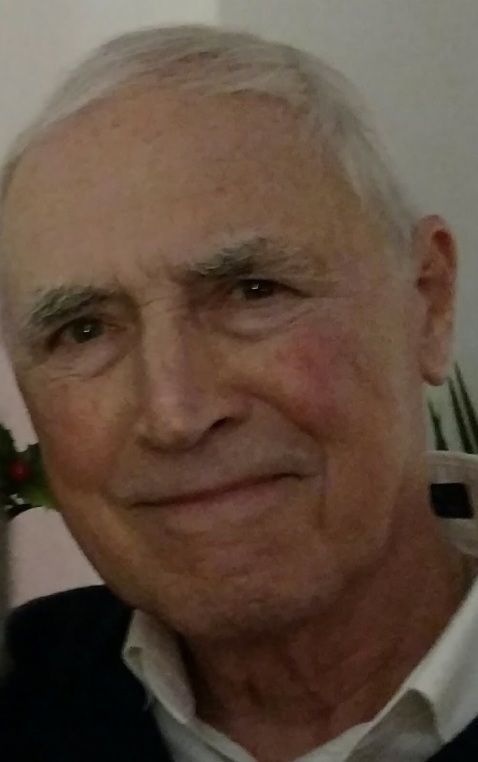 John leaves behind his wife of 68 years, Victoria, daughter Darcy Fulcher (Larry) and son Jeff Frantz (Lisa). He was known as "Papa" to his 5 granddaughters and 5 great grandchildren, 4 boys and 1 girl. Additionally, many Brother and Sister-in-Laws, nieces, nephews, dear neighbors and friends.
After a 22-year battle with prostate cancer, a battle hailed by his doctors as the most enduring and among the most courageous they had ever been a part of, the cancer spread to his stomach, ribs and lungs. John Frantz finally succumbed to the disease.
He was born to Lucille and Richard Frantz in a little house on Garden Street in south Seattle. His father left when John was an infant and his devoted mother Lucille, as a single mother in the 30's and 40's, did her utmost to provide what she could for the two of them.
He married the love of his life, Victoria Olson, in 1952. In their 68-year union, they made an inspiring team, building a wonderful life, touching the lives of countless people along the way. 
John answered to and made many opportunities for himself throughout his whole life. At a very young age, with monies earned on his paper route he paid for his own piano lessons. As he served in the Coast Guard, Victoria worked, scrimped and saved to pay for a used baby grand piano.  For years and years after, his playing that same piano would waft through the house, filling the rooms with the music of his favorite composers…including Rachmaninoff, Franz Liszt, and his absolute favorite…Frederic Chopin. 
John spent much of his youth at the pool hall…especially the 211 Billiard Hall on 2nd and Union, now long gone, in downtown Seattle. He became a three cushion billiards tournament winner, and although he had many colorful stories to tell, claimed he had wasted much of his youth in dark, smoky, pool halls devoid of any natural light.
Before John established his sales career he held various jobs including driving a city bus, part time bartender, and he drove a motor cycle for a delivery service. He and Victoria worked together through his schooling as he became a draftsman and an electrical engineer. 
In 1978 John Frantz won the top salesman of the year for P&H Harnischfeger. In addition to the many gifts and prizes earned that year he won a 25th anniversary edition Corvette.
But change was coming…
On April 11, 1979, after a business dinner, John and his boss, Chuck Gorgan were involved a horrendous car accident, caused by freight lost from an 18 wheeler headed 70 mph in the opposite direction.  Both men were critically injured and both carried injuries and scars for the rest of their lives.
John had seven week stay in a Portland hospital, where he was in traction and could not be transported back to Seattle. After numerous months recuperating at home he returned to his position at P&H. He worked a few more years before rethinking of his sales career and the extensive travel and subsequent time away from his family it required.  
John loved to be outdoors…especially in the hot sun and spent as much time outside as he could. Until the last year of his life, he loved taking hours long walks toting enough dog snacks to treat every dog along the way. His preference to being outside lead him to a love of sailing and golf. It would also steer him into his next career.
It wasn't until the early 70s that John began to play golf, and like everything he ever did, he gave it his all.  Having previously encouraged his son Jeff to join the PGA, John, himself, became a PGA Professional. Together, in 1989 they formed Greentrees Golf Company, acquiring the lease to run the Seattle Municipal Golf courses, Jackson Park, Jefferson Park and West Seattle. 
After their golf leases expired John would occasionally give golf lessons, but his attention turned to sailing, both pleasurably and competitively. He also worked closely with noted shipwright Roy Dunbar, helping repair and restore wooden boats for more than a decade.
 
John also spent a few years modeling for Eileen Seals International. He modeled for numerous products and merchandise, mostly suits and men's clothing. On occasion he appeared in the New York Times full page ad for Nordstrom. His likeness was also seen in a national bank lobby advertisement!
Last, but not least, a very large part of John's life was with our St. Benedict Catholic Church family. He cherished his years there, both in worship and service. So many he loved so well…
John Frantz was extremely intelligent. He was an athlete; he was a runner, a cyclist, a competitive sailor. He was a tough man, a gentleman. He was a wonderful and loving husband, father, grandfather, great-grandfather…
And from all of us he touched along the way, thank you John Frantz, for being such a fine man…
---
Comments
Sorry for your loss, Jeff. How well we remember your parents devotion to you and Darcy. We retain fond memories of them when we were a young married couple
and I was playground director at Ross Playfield. You were blessed with a wonderful dad.
 
Hugh & Robin McCall
---
It was always such a pleasure to see John in my office and exchange stories with him. He was truly a gentle man. Soft spoken and he chose his words carefully. Clearly loved his Victoria and children very much. I will cherish my memories of him.
 
Richard Fogerty, MD
---
I met John at the 211, a pool hall in downtown Seattle, that started a friendship that lasted almost 50 years. Friday nights would be our night to gather with a group of friends to play billiards and test our skills. John always set a high standard for himself and brought out your best if you were going to compete with him n billiards or on the golf course. One of my favorite fondest memories of John was traveling on I-5 north, following John in his white Cadillac convertible, top down, with his hair blowing in the wind and a big smile on his face. He looked like a million bucks. If you knew John you were lucky. If he was your friend you were blessed, a true gentleman. Life has been better knowing you. Your friend, Neal.
 
Neal Olson
---
My uncle John, as one of many nephews and nieces that loved him so dearly, I was very fortunate to have him as one of the true men in my life. As a child of divorce, I always looked forward to seeing him and getting a big bear hug from him. I was always so envious (not jealous) of my cousins to have such a great dad who always was interested in what you were doing and would listen to you and genuinely cared. I miss and love you Uncle John, and I love you to auntie Vicki.
Michael Duncan
---
What a wonderful man, a true gentleman. He was my first appointment in tax season, I got to shake off the rust while talking to him. Some years he brought homemade muffins too. He and Jeff taught me and my family how to golf nearly thirty years ago, at Jefferson Park. My condolences to Vicki and the family. I will miss him tremendously.

Roger Burgher, CPA
---
Great memories of exchange, laughter, opinions, and perspectives are so cherished. I am very happy to have had a close relationship with my dear Uncle. He welcomed my visits and I can remember being very glad to see him. His example was akin to a great statesman, always current and timely, relevant and fully considerate of all factors. I'm a better person for having known him.
- Paul D Gibson
---
I hired and worked with John from 1974 to 1976. We used to play golf together with my son caddying for me and his son Jeff caddying for him at a Golf Course on the southside of Seattle that had a leather rendering plant nearby and if the wind was blowing in the right direction it would clear your sinuses. Everybody loved John. He was intelligent, hardworking, and as many others have commented an old fashioned gentleman. I wish I had known him better personally and had stayed in touch after I moved from Seattle in 1976.
James (Jim) Shanahan
---