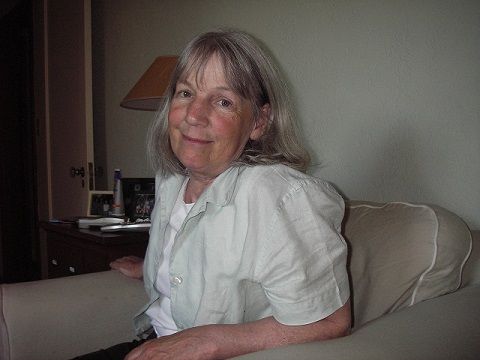 Kristin Ann Osborne-McBride of Seattle, Wa., passed away peacefully in the comfort of her home on September 16, 2015, with her husband of 43 years by her side.   After a lengthy battle with emphysema, Kris now joins her parents and sister who preceded her.  Kris was a wonderful and loving wife, companion, friend, and mother!  She was simply a generous and loving person to everyone she touched.
Kris was born in Yakima, Wa. on May 18, 1950 to Francis (Bud) and Theodora (Teddy) Osborne.  She came into this life with her twin, Tim.  Kris attended St. Paul's School, Franklin Jr. High,  and under the nuns ruler, graduated from St. Joseph's Academy!  She attended Yakima Valley College and worked at The Clothes Tree clothing store.  Kris became a great and loving wife, companion, and friend to Dorran McBride at St. Paul's Cathedral on September 2, 1972.  They moved to Corvallis, Oregon where Kris worked two jobs day and night for the next three years while Dorran completed his degree at OSU.  Kris became a great and loving mother and best friend to their son Gabe, October, 1975.  From 1975-1982, Kris kept her family happy and loved, their bags packed, a smile on her face, and her patience, as they moved to and from Dorran's construction projects in California, Venezuela, Washington, Colorado, Missouri, and Indiana.  In 1982 she finally was able to settle and call Seattle home, a city she loved and a place where she and her sisters screamed at the Beatles concert in the 60's, while their chaperon father plugged his ears. 
Kris loved the beach, diet coke, M & M's (she wished they grew in the garden), Boehm's candy, Easter and Halloween (go figure), but not the dentist!  Kris was always Dorran's sweetie.  She made great manicottis, Mexican war chicken, blonde spaghetti, and the best rice crispy treats, especially the batch with the melted plastic spatula!  Ah yes, her "lip" sugar cookies, especially the dough, was "top shelf"!  As a young girl, Kris wanted to marry Liberace, but that was before she met Dorran.  Kris was truly loved by all who knew her and will be sadly missed, but forever happily remembered.
Kris is survived by her husband Dorran, son Gabe, daughter-in-law Lindsey, grandson Finn, sisters Kathy, Mary and Ann, brothers Tom, Tim, and Paul and many nieces, nephews, and cousins.  Kris was preceded in death by her parents, Bud and Teddy, and her favorite sister, Abbie.
There will be forthcoming private celebrations of Kris's life with family and close friends.  Her family gives a HUGE thank you to the Providence Hospice of Seattle team, KC, Cris, Whitney, Barb, and Tamara for the wonderful loving care and comfort they provided and asks that memorial gifts be made to Providence Hospice of Seattle Foundation, 420 Pontius Ave. N., Seattle, Wa., 98109.
---
Comments
Kris was a great neighbor and friend. Loved her smile. Enjoyed sharing faith together. --Ron and Janet Thompson
---
Kris was a fun and loving aunt to me. The words above were all true.. Love her and will miss her dearly. Rest in peace.
--Emily Kinney
---
I've known Kris since the first grade. We attended each other's birthday parties, joined bluebirds,double dated to father/daughter dances and just always had such fun. I love you kris and will miss your twinkle in your eye and hysterical sense oh humor. Our rat pack will never be the same. Rest in peace dear friend. Eat all the m&m's you want. Love your friend, Claud
---