Margaret "Peggy" Ann Buskin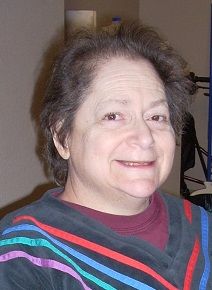 Margaret "Peggy" Ann Buskin, born Aug. 31, 1950, in Newark, NJ, died Aug. 28, 2019, in Shoreline, WA.
Peggy loved music of many genres, shockingly bright colors, unexpected conflations, purring cats, and original ideas.
Peggy was raised in Woodbridge, NJ, and lived most of her adult life in New Brunswick, NJ.  She attended Middlesex County Community College, and earned her Bachelor's degree from Livingston College.  She had several jobs including 13 years as a docket clerk for the Middlesex County Court system.  She struggled with psychiatric illnesses all her adult life, and was proud to be an advocate for equity in mental health care with other health care categories.  She spent the last 6 years of her life in Seattle and Shoreline, WA.  The family is grateful for the excellent, loving care she received in her last 4 years from the staff of Park Ridge Care Center plus the compassionate professional services of Kline Galland Hospice.  She succumbed to complications of kidney disease, diabetes, and dementia.
Peggy was predeceased by her parents, David and Alice (Kornfeld) Buskin, uncles Edward Buskin and Henry Kornfeld, and long-time boyfriend Larry Wagner.  She is survived by loving sisters Irene, Jean, and Susan (John Heater), all of Seattle, WA, and brother Richard (Lanie), of Brownfield, ME;  aunt Sylvia Kornfeld, nieces Sarah Heater, Ramie Buskin, and Jennie Buskin, and nephew Todd Fenoff;  and several cousins.
---
Comments
Dear Irene, Jean, and Susan -
Thank you for this fine obituary.
Wishing you all long lives.
With love. ~ Shulamit.
---