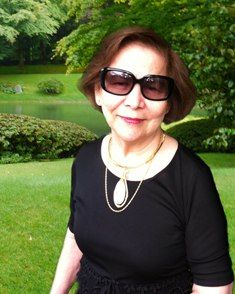 Ligaya "Joy" Lagak was born to Jose Tuazon and Potenciana Ortega on April 17, 1942 in Quezon City, Philippines during the height of World War II. She had 5 siblings: Edgardo, Beatriz, Lori, Rose and Terry. 
As a beautiful woman Joy started acting in local movies under Sampaguita Pictures during the late 1950's. At the very young age Joy got married to Antonio Lagak, a Salesman in 1959. They started a family in Sta. Cruz, Manila where they were blessed with four children Nannette, Charrie, Jojo and Pinky. 
Joy became a single Mother in 1975. She raised her four Children on her own, selling Tupperware and Memorial plots at The Manila Memorial Park. A very business minded woman, she opened a Beauty Salon along the side of her parent's house in Caloocan City to help support putting her children to school. Provider is the best word to describe Joy, she was a very loving daughter and took care of her parents till the end. She was always there when her family needed her. She was very generous and provided financial assistance even to her maid to go to school to get a better life. 
In 1981 her oldest daughter Nannette migrated in the United States and in 1983 Joy followed and worked as a Dietician Aid at Auburn General Hospital. In 1992 Jojo and Pinky along with her two children JR and Zed finally joined the rest of the family in the United States, while Charrie joined her husband in the Middle East. 
Joy was an outgoing person, she was the center of attention at any party because of her beauty and special talent in dancing. She was a great Grandma to all her grandchildren Alison, JR, Catherine, Zed, Patrick and Isabela. Her killer smile attracted the attention of men and anyone else that admired her.
In 2005 Joy had a stroke, as a result she suffered left side paralysis.  Her disability did not stop her from enjoying life, she continued to party and enjoy traveling.
In 2011 Joy moved to Seattle with Jojo and Loren where she enjoyed the city life.  At that time she enjoyed the company of Jojo and Loren's friends where she became a Mother to everybody. She became MJ, short for Mommy Joy to everyone.
In October 2013, she spent 6 full months in the Philippines with her daughter Charrie and her grandchildren Catherine and Patrick , where she enjoyed going to church every Sunday and eating her favorite Filipino dishes.  
In November 2014 she was diagnosed with Stage 3 Nasopharyngeal cancer. It's an aggressive type of cancer that her Doctor's at the Swedish Cancer Institute could not guarantee that she would survive during her first 5 days of Chemo/Radiation treatment. The family decided to forgo treatment and give Joy the best quality of life. With her perseverance she was able to travel back to the Philippines for the last time in January. 
Today, "Joy" wanted her family and friends to celebrate her wonderful life. She requested a get together where people could enjoy sharing stories, fill the place with laughter, and remember all of the happy times she shared with those she loved.
---
Comments
---