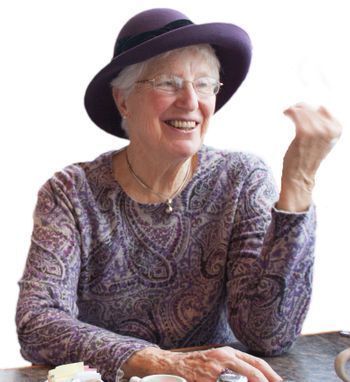 Why am I here? 
I often ask myself 
That deep existential question: "Why am I here?" 
Then I remember, 
I came to the basement 
For a jar of pickles— 
That's why I'm here.
Molly Holmes 
January 15, 2019
Molly P. Hewson Holmes
October 1, 1927 – May 24, 2022
Molly grew up during the depression on a small farm and orchard in the Yakima Valley.  She graduated from Central Washington University where she excelled and was offered a scholarship to a prestigious school in the east.  She turned this offer down to marry Phil Parker.  They spent two summers in the mountains where Phil manned the fire lookouts and Molly cared for their first two daughters without electricity or running water - if you didn't count the nearby creek.  
After graduation, they started a newspaper in the small town of Quincy, Washington.  They named the paper The Quincy Valley Register and it still continues on now as a daily paper.
In 1956, the couple moved to Olympia, now with three daughters and a son in tow, where both were active in Democratic politics.  They divorced in 1968, but stayed friends for life.  
Molly later married Paul Holmes with whom she kayaked the northwest and built an octagonal house in Key Center, Washington, collecting river rocks to construct the fireplace.  She volunteered at the area charitable thrift shop, raised funds for art at the local library, and commuted to Seattle where she taught elementary special education for 25 years.
Molly was a hiker, an avid reader, crossword solver, and a keen Scrabble player who, in her final days, won two of three games.  
She packed light to travel throughout the US, Canada, Europe, and Asia.  She loved the theater, and volunteered at the Bathhouse Theater at Green Lake.  On trips to London, she'd see a play a day for two weeks.  
Molly made many friends in exercise and walking groups.  She loved the outdoors and organized several groups that hiked weekly.  Molly had a passion for public transportation and arranged bus expeditions for groups of friends.  They circumnavigated the Olympic peninsula and one year, visited every one of Seattle's public libraries.  
Her wry humor featured prominently in her poetry and in writing song lyrics to celebrate friends.
Her 50 years owning a Green Lake co-op apartment forged many friendships.  She served for several years on the Seattle-King County Advisory Council on Aging and Disability Services.  She was a champion for public toilets and a supporter of Real Change and Habitat for Humanity.
Over the years, Molly became increasingly connected to extended family. She will be missed by her cherished family - from her four children and their spouses, to her eight grandchildren, and many great-grandchildren - as well as cousins and other relatives.
A memorial will be held at Horizon House - 900 University St. - Seattle, WA  98101
Sunday, June 12, 2022  -  two to four pm
Donations in her honor may be made to:
---
Comments
Molly will live in my heart forever. She was 1 in a quadrillion. I am so happy I was granted the opportunity to know her, play Scrabble with her and co-host a table with her at several Real Change Breakfast fundraisers! What an AMAZING woman and wonderful friend she was for many. Love and light to all her family and friends, we may have lost her here on the Earth, but I know my next 7 letter words will be her helping me in spirit to win at Scrabble!! Mollys family - thank you all for sharing her with us all. Be Well.
- Annie Wilson
---
We lived at the Green Lake Cooperative from October 2000 until February 2020. We had some great times with Molly, gardening with her, planning & participating in Christmas parties, a wedding outside party for a coop member, many barbecues, outside movie nights, ukulele practices, and a multitude of outside happy hours. Molly's favorite wine was boxed crisp white. She was a wonderful cook, making breads, cookies, soups, etc. We laughed a whole lot with her!!!!!! Hard to believe that she is not in our world anymore. I always told her that I wanted to be just like her when I grew up! She had alot of energy and alot of interests. She was always going somewhere and could she ever get everywhere on the Metro bus system! She will be missed!
Travel on Molly,
Nancy and Ron Ellis
---
Appreciate this colorful and rich information about an out of the ordinary life well spent by a woman I wish I had spent time with and knew well. Thank you for sharing this inspiring piece.
- Jean Chen
---
Oh, how I miss you Molly. Remembering the great conversations and treats over Scrabble. Running down the hill to get you to taste my first successful loaf of bread. Molly, you make the best pastry in the world. I feel a hole in my heart.

Faridah of Greenlake.
---
I'm only one year younger than your mother. As I've gazed at her photograph and read and reread the story of her lovely and creative life, I believe I've met her in a number of different ways and places. 1. In 1986, I was the only woman on a 4-person "Urban Park Ranger" program at Green Lake. We walked the paths around Green Lake every day. Two of us created a variety of national park-type programs in various Green Lake locations every day . My programs were about history, science, and living history of the Phinney family. I passed around historic objects that enabled people to touch and hold objects that brought back their memories. 2. I led the Great Books discussion series at the University Branch Library for 9 years from 1957-1966 and scheduled KCTS Great Books summer series in 1967 and 1968. . 3. I worked on the team to build the University Hospital from 1957-59. 4. I bicycled in Europe for 6 mos. in 1950. In 1951, I cycled down the West Coast from Seattle to Monterrey and visited Sunset Magazine colleagues in each office along the way. 5. I moved to Seattle to join The Mountaineers and take the Basic Climbing classes in 1956. 6. Between 1983-1999 I was an interpretive naturalist with the National Park Service at Olympic, Mt. Rainier & more. Your mother and I might have met on a hiking trail, around a campfire, at a CRONE session at the Wallingford Good Shepherd Center, or sitting next to each other at one of Seattle's theatre. In one or more ways, I believe I've crossed paths with your memorable mother. I feel her beautiful spirit.
Inge Theisen
---
We first met Molly at Greenlake Fitness when she was 91. She was an inspiration to all of us, working out for an hour with us, seldom missing a Monday class. We got to know Molly outside of class and delighted in our visits, sharing favorite anecdotes from our life experiences.
We feel fortunate to have been a small part of Molly's life and will cherish her friendship forever. She was a lovely, kind, funny, generous, singularly beautiful spirit. Our lives are richer for having known Molly. We miss her!
Gary of Greenlake
---