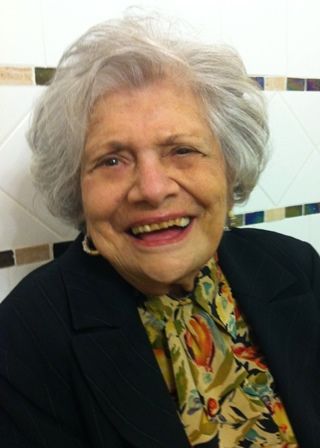 Sylvia Charleston died on Sunday, November 9th, at Swedish Hospital Cherry Hill Campus of heart failure.  A week before she was an honored guest at Seattle Senior Services Annual Fundraiser, an event which featured a short film about her and which she very much looked forward to attending.  Three days later, she opted to forego open heart surgery and spent the last few days of her life lucid and relatively pain free amongst family and friends.  Her passing was as dignified as the way she lead her rich and rewarding life.
She was born on January 14, 1928 in Philadelphia, PA, the second daughter to Anna and Joseph Brill.  Although her younger years were spent during the height of the Great Depression, she always recounted them nostalgically and what her family lacked in material wealth, her ethnically diverse South Philly neighborhood more than made up for in colorful characters and shops.  The Saturday movie matinee cost a nickel.  Her father was a gifted tailor, and she didn't own a store bought dress until she was 16.  She said that most of the time she could just point to a dress or coat in a shop window and her father could recreate it from memory.  On rare occasions, he would go inside and take a closer look.  Both her parents were active members of The Workman's Circle, a Jewish Fraternal Organization that promoted social justice, Yiddish culture and most importantly for Sylvia, a summer camp, Camp Hofnung, where for a few weeks each year she could escape the heat of the inner city and do what she liked best, play sports…  all sports!  First playing, then following sports became one of her lifelong passions.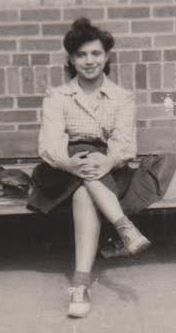 Another of her passions was teaching.  After graduating from Temple University in 1949, she began teaching elementary school in 1951 and continued until 1990 when she retired.  Sylvia always worked in tough inner city school where she thought she could make the most difference.  She took a leave of absence from teaching in the 1960's to raise her two sons, David and Ira, but returned to teaching in the 1970's while also pursuing a master's degree in reading education which she received in 1975.  The last 15 years of her career she spent as a reading specialist.  
Sylvia married Morton Charleston, also a Philadelphia teacher, on June 26, 1954 and lived with him happily until his death in 1977. Great partners, they were key organizers of the Great Books Summer Institute at Colby College, ME. For two decades Morton served as treasurer and Sylvia was official hostess, taking care of guest accommodations and the menu. They spent two and a half weeks each summer in Maine eating lobster and discussing contemporary and classic literature for the love of learning.
In addition to sports, Sylvia loved playing cards, especially bridge, and traveling.  The last 3 years of her life were spent living in Seattle with her son, Ira and her pride and joy, her grandson Asher.  Her warmth and smile endeared her to everyone she met.  She will be missed.  To see the film about Sylvia online go to:  vimeo.com/109855147 and put in the password:  Sylvia
Those wishing to make donations in her name should do so to:
Seattle Senior Services
c/o Brittany Blue
2208 2nd Avenue
Seattle, WA 98121
or
Polack Adult Day Center
c/o Joanne Angel
7500 Seward Park Avenue South
Seattle, WA  98118

A memorial for Sylvia will be held in Seattle on Sunday, November 9, on Capitol Hill, and her remains will be interred next to her husband at Har Nebo Cemetery in Philadelphia at the end of March 2015.  Those requesting more information about either of these events should contact her son, Ira, at 206-860-6132.
The family welcomes and thanks you for any memories and stories you wish to share in the comment section below.
---
Comments
Sylvia was a dear friend of my mother, Naomi Burstein. She was an interesting, progressive woman who hosted our Yom Kippur break the fast, shared remarkable stories of growing up as a "socialist", and made a beautiful quilt when my daughter Ali was born, which we cherish to this day. We will always remember Sylvia fondly. --Ruth Burstein Furman
---
Although she has passed and I feel sad, it brings warmth to my heart that Sylvia died with love and dignity . I spent a lot of time with her since she and my mom were such close friends. She had a beautiful shower for me at your house in Havertown , and now I've been wondering if I ever thanked her properly . So Sylvia, if you happen to be reading this ....thanks so much from the bottom of my heart for that shower and for being such a wonderful friend to our family . Your beautiful spirit will long be remembered . --Annie Burstein Horowitz
---
Joel Diamond and family send their condolescneces to both Ira and David. Sorry we cannot be with you and your family for shiva. We have many awesome memories of Sylvia, from Lynnewood Elementary to Camp Nock-A-Mixon, she definitely was a special lady. -- Joel Diamond
---
i loved our summer days out front, talking, playing gin (or should I say losing at gun) and enjoying watching our neighbors pass by. Sylvia, you are missed. We'll take care of Ira! --Michelle Munro
---
Ira
I am so sorry to ready about Sylvia. I had just driven out to Windsor Park Lane on Monday to see the old neighborhood. Your mom was loyal and fair. Knowing her my whole life, and working with her when she decided to leave her Philadelphia home, only proved what a kind woman she was. She always had a twinkle in her eye. My condolences to Ira and David. --Jody Dimitruk
---
I had the chance to meet Sylvia only one time in my life, in the summer of 1983 in France. She radiated love, so I suppose she gave her love to many throughout her life. I love you Sylvia! My condolences to you Ira, my friend! -- Wolfie
---
Ira,
I an so delighted to have been able to get to know Sylvia these last few years s she has been living with you. What a bright star she was!!!! The picture is perfect! Mitzi and I will be at the memorial tomorrow, bringing Ed with us in spirit.
Love,
Cori
---
David - I was so sorry to learn of "Mom's" passing - I know how much you and your brother loved her. We will all be thinking of you and your family and I wish I could be there to give you a hug. Love you little brother ...Judy
---