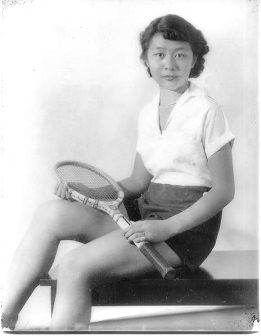 Born in Pleasanton, CA Feb 26, 1920. Passed peacefully at age 94 on Sept 19, 2014 in Seattle after a short illness. Preceded in passing by her husband Dorlan W. Lew and all her siblings Nellie, James, Clara Chew, Lilly Lee (San Francisco) & Rose Lee (Stockton).
Graduated from Commerce High School, San Francisco, class of '38. In 1936 Jennie at age 16, became the first Chinese-American girl, to win the San Francisco Examiner Amateur City Tennis Championship. She won numerous medals and trophies up through the 1940's.
She met her beloved "Doe" in San Francisco and married in 1943. He was the one who nicknamed her "Frisco Jennie". Following their passion for the outdoor life of sports, fishing, camping & gardening they moved to Seattle in 1947 and raised their family on Beacon Hill.
Mom retired from civil service in 1981 after 25 years of working in personnel and as an administrative assistant at Ft Mason and the Presidio (CA) and Corp of Army Engineers, NOAA, HUD, and the USPHS Hospital (Seattle). Again she was honored with several Excellence- On- the- Job awards including" top computer specialist".  Remember we are talking circa 1979!
The ones she left behind will always remember her love of a good meal (all you can eat) and a good deal. We love you Ma. Daughter - Doreen W. Lew (William Carrasquel) Seattle, son - Marvin K. Lew, Seattle, grandson - Chad Yoshitomi (Jeannie, Jake Pike, Sarah Covarrubias) Anchorage; grandaughters  - Lyra C. Sims (Douglas, Amina) Seattle, and Trini Carrasquel, Portland.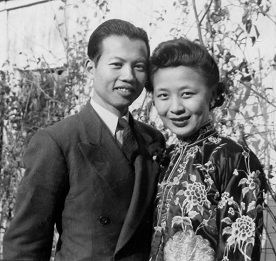 Mom requested no service. We have established a tennis scholarship in Mom's name and have arranged for a memory tile at the Seattle Chinese Garden. A tennis scholarship has been established at the Amy Yee Tennis Center in Seattle under Jennie C. Lew.  She began playing at the age of 11 under the coaching of Fred Mar. The San Francisco newspapers said, "Possessor of fine fast service and strong back hand, dependable all around game." We hope this will encourage and support those who have the skills and desire to succeed, but not the means.
A granite touchstone tile in the memory of Mom and "Pop" will be installed on the Friendship Wall at the Seattle Chinese Garden sometime in 2015. It is part of an on-going re-creation of a traditional Chinese courtyard and garden where Mom had expressed a desire to honor Dad. This garden is exceptional in its concept and we have high hopes of it continuing to bring great joy and understanding of many elements of Chinese culture to future generations. It is located at 6000 16th Ave SW at the North end of the South Seattle College campus. (info@seattlechinesegarden.org).
---
Comments
Your mom is/was a very beautiful woman, your dad also, they always held a special place in my heart. I liked them a lot:-) --Kathy Jo Blue
---
Thanks --Roger Evans
---