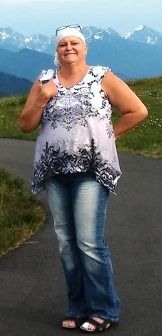 Cynthia "Cindy" Louise (Teeter) Humphreys, age 52 of Spangle, WA passed away in Seattle, WA at Virginia Mason Hospital on 11/1/2014 after a courageous 5-month battle with pancreatic cancer. She can now rest in Heaven with beautiful, sparkling purple angel wings.

Cynthia was born on 06/30/1962 in Orange County, CA to Gary E. Teeter and Sharon Louise (Patton) Christoff. She was the first of four children. At the age of two Cynthia suffered a TBI that gave her a unique point-of-view and humor, which she happily blessed her family with. She overcame her disabilities with a can-do attitude, never giving up on any of her dreams and always encouraging others to follow theirs. Cynthia will always be remembered by never saying goodbye without "Hugs & Kisses."

Cynthia is survived by the love of her life, Kent Nelson; her beloved children, Christina Louise (Humphreys) Snyder (Jason Snyder) and Troy Jay Humphreys; grandchildren, Adryanna Louise Snyder and Emma Kathleen Snyder; mom, Sharon Louise Christoff; brothers, Jaimie Cappa (Beth Cappa) and Vincent Contreras (Chris Contreras).

She is preceded in death by her sister, Robin Renee' (Teeter) Eckenrode; father, Gary E. Teeter; step-father Jack Clark, and her beloved service dog, Jack.

Services will be held at Purdy & Walters at Floral Hills Cemetery on 11/6/2014 at 10 a.m. We will join together in celebrating Cynthia's life and new journey, graveside, in the Heather Garden; reception to follow at the Old Spaghetti Factory in Lynnwood.
---
Comments
---