Marion Mitchelson Gartler
Marion Mitchelson and I (Stanley Gartler) met at a New Year's Eve party in 1947.  Nothing much came of that meeting, but a short time later we met on the library steps of UCLA , a romance quickly developed, and we were married in November of 1948.  I had completed a B.S. degree in agriculture in June and was working on a large farm (5000 acres) in the San Juaquin Valley.  We spent the first year of our married life on this farm, located on the Tulare Lake bed, a short distance from the little town of Stratford.  We realized rather quickly that a pure farming life was not for us and we managed to escape the scene on a few weekends by going east to Yosemite in the Sierra Nevada or west to Carmel on the Pacific Ocean.  I made plans for graduate school in genetics thinking I would become a plant breeder and Marion, after finishing her B.A. in English Literature by correspondence, made plans for graduate school in Education.   We enrolled in UC Berkeley in 1949.  In exchange for room and board in the town of Lafayette, I was hired by a retired physician to help take care of his small estate while Marion became the maid for his wife.  Marion didn't take to the arrangement and after a short time we moved into Berkeley and found a wonderful garden cottage close to the University where we spent a wonderful three and a half years doing graduate work, myself in genetics and Marion in teaching.
In 1952, we headed for New York City where I had obtained a post-doctoral fellowship at Columbia University.  Marion applied for a teaching position in the New York City public schools and was rejected because of a lisp.  This was quite a shock but Marion quickly got over it and looked for work based on her other skill, writing.  She landed a job with a children's magazine, which she found interesting, and then got a position with the American Book Company, the original publisher of the McGuffey Readers, books that most Americans learned to read from in the 19th century.  They were just embarking on a new publication project called the Golden Rule Series or the modern McGuffey Reader.  Marion got in on the ground floor and became a writer and editor for this project.  
After five years of post-doctoral work at Columbia University, I was offered a position at the University of Washington in Seattle.  Marion had fallen love with New York City and moving to Seattle seemed to her like being exiled to the Gulag.  L.C. Dunn, head of the institute where I worked, told Marion Seattle was the Athens of the north and though Dunn had never been to Seattle, his words were prophetic.  Shortly before we left New York, Marion, while shopping, ran into a couple who had a Weimaraner .  She found out they were from Seattle and they told her how beautiful everything was and that we should find a place on Lake Washington with a dog.  We did get a dog, a Weimaraner in fact, but we never got a place on Lake Washington!  
Marion was able to transfer much of her work with the American Book Company to Seattle and in a short time was working with two other faculty wives, Caryl Roman and Marcella Benditt, writing readers and textbooks on geography and language arts for elementary school children.  This collaboration led to our families becoming close, and that friendship has lasted throughout our lives. The writing activities took place in our spacious home located in a forested ravine called Spooky Hollow – named after our first Weimaraner – Spook.  Other wives working on their own projects came to share the space and ambience and soon it was filled with a variety of women pursuing their own creative writing activities.
Besides writing, Marion loved travel, fabric and objets d'art .  Whatever she earned from writing was quickly spent and our home became a museum.   She made a number of trips in connection with my scientific activity.  But she was insatiable with respect to travel and made many trips alone or with friends.   On one of those trips, a friend endured a purse snatching which left her seriously injured and Marion decided she would never again carry a purse.
She developed what she called the Safekeeper Vest, made of beautiful ethnic and handmade fabrics and containing a number of hidden pockets.  Most of the fabrics were collected personally by Marion in faraway places like India, Japan, Pakistan, Israel, Ethiopia and Mali, to mention a few.  The vests were designed in our home by Marion and put together by a small number of part-time sewers working independently.  It was truly a labor of love because the business never made a profit.  Marion loved the final product – each one reminded her of wonderful travels and experiences. 
The simplest way to describe Marion is that she loved life and lived it fully.  She delighted in her nieces, Maryna, Annette and Marilyn, her nephew, Richard, their children, Shava, Elijah, Forrest, Ozette, Aaron and Copavi, and their children's children.   
The following story epitomizes to me Marion's creativity, ingenuity and daring.  In 1962, when we had been in Seattle just five years, I was invited to a meeting in Brazil and Marion very much wanted to join me but funds were limited.  The World's Fair was in Seattle at that time and Brazil held a Carnaval night at their pavilion.  There was a costume contest and the winner would win a trip to Brazil.  Marion entered and won with a costume consisting of a blouse made out of a Brazilian coffee sack, a skirt made of posters from Brazilian Airlines and a coffee pot balanced on her head.   She served coffee out of the coffee pot.  The look on her face, when she found out she won the contest and the trip to Brazil, as shown in the picture below, illustrates better than any words her love of life and its spirit captures why I loved her so much.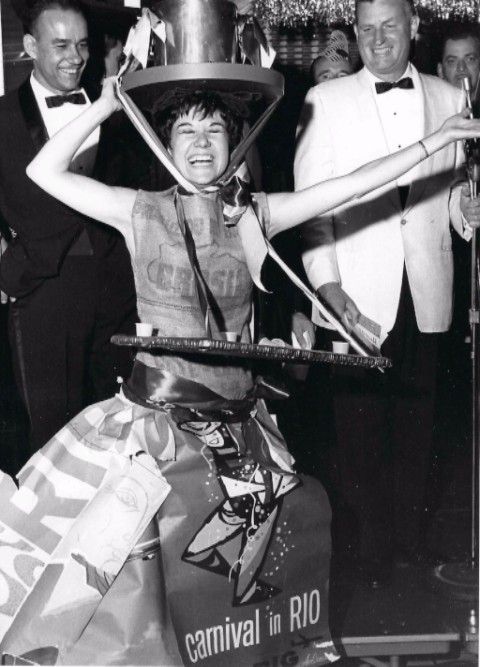 ---
Comments
Stan...Thinking of you and all of your family. Loved her energy and my travel vest. Remember the multiple baskets of ethnic crafts displayed in your lovely home. Great to have seen you recently. All the best in this time of transition. Take good care. Warmly, Mardi Clements
---
Dear Stan,
This obit captures Marion to a tee! Her indomitable spirit inspired all of us. She had the most creative ideas, shared them fully, and she was so much fun! We will have Marion stories for years to tell.
yashar koach,
vilunya diskin
---
Having Marion Gartler as a friend was such an honor. She was fascinating in so many ways from her artistic skills to her intellectual curiosity. Every visit with her was a gift.
Cathy Heffron
---
What a wonderful woman, Marion. I think of you and her often and of the wonderful trip we made to Toradja, Indonesia. She was a beacon to many and will be missed.
Timothy Manring
---
"Working" for Marion had to be the 'piece de resistance' of my working life. Has anyone had a more generous and amazing 'boss'? All the trips, shopping, gift-giving (both ways), morale support, meals enjoyed, inspiration received, laughs shared, and oh the textiles! The best is that the 'boss' became a 'friend' in the best way possible. A Best Friend. The second best thing is having you, Stan, as such a good Friend, too. Happy days!
    
Palma Hoppel
---
I had so much fun working with Marion, bringing to life her creations both in making patterns for her safekeeper vests and sewing many of them using the wonderful fabrics that she had found. Visiting her in your lovely home and sharing food was so enjoyable. Best regards, Stan, I am thankful that you two had such a great life together full of adventure and love.
Leilani Schuh
---
Dear Stan
Visiting Seattle briefly, we have only today
(July18) learned the sad news of Marion's
passing. Our sincere condolences. Getting to
know the Gartlers and also hosting several of Marion's
wonderful trunk shows, were among the
Highlights of our 30 plus years in Seattle
We shall miss my (almost) twin sister!
Be well,dear Stan
Dennis and Evette Glauber
Dennis Glauber
---
Dear Stan, Marion and May's correspondence with my mother during the war led to her mom's sponsoring of my parents into the United States in 1949, and my own subsequent birth in this country. Marion came to see my mom in her convolesence in California where we lived while doing her trunk shows. I have vivid memories of visiting you both and staying in your beautiful home as a 10 year old during the World's Fair in 1962. I also recall reading and re-reading her wonderful children's books about various countries. What a remarkable woman. What a remarkable family.
Alan Altmann
---
Marion came to our jewelry gallery to present her wonderfully creative vests. She spoke sparingly but fetchingly, and many of us envied her. For her travels, for her exquisite taste, but mostly for having made of her life what she wanted it to be. We did not know of her scholarly background,
the peripatetic life with her accomplished husband, the travails, the successes, the myriad advances and demiturns that constitute a life.. but it was obvious to all that here was someone superior, independent, a woman who could sift sand between her fingers and from it create castles.
Every life must end. I wish hers hadn't, yet.
Eve J. Alfille
---