Alex Gamman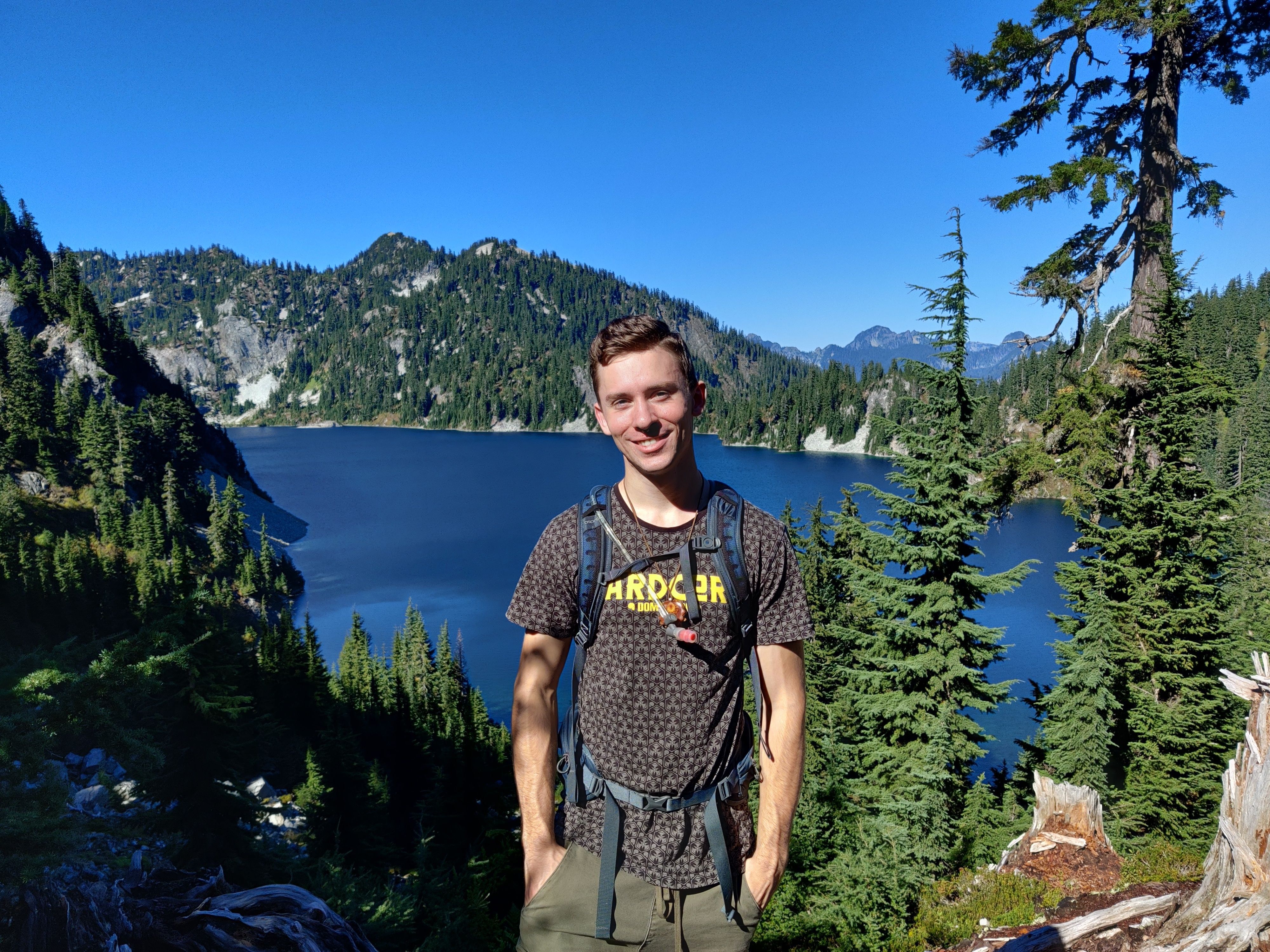 Alex was born on August 13, 1997 in Livingston, Montana. He died on his 26th birthday, August 13, 2023 at Rattlesnake Lake trail in North Bend WA. Alex was the youngest of seven children of Paul Gamman and Tonya Swan. Alex had three brothers and three sisters. (From oldest to youngest) Maria, Jeremiah, Joshua, Clare and Michael Gamman. He was preceded in death by his oldest sister, Reva Aislinn.
Alex loved nature and spent a good deal of his life hiking and mountain biking. He knew every trail in the Issaquah area and hiked them all. He loved to challenge himself to hike or ride the most difficult trails. It was one way he fulfilled his need to be outdoors in nature.
However, his favorite trail was the Kalalau trail on Kauai. It is a grueling 13-mile hike to a lush hidden valley on Kauai's north shore. Alex hiked the Kalalau trail 5 times starting at age 15. It was his happy place and he mentioned it often. He met some amazing people from all over the world there and he felt it was the most peaceful and untouched place he had ever seen. He had some incredible experiences in the Kalalau and loved to recall those to his family and friends.
He often mentioned how much he loved living in the Pacific Northwest because of its natural beauty which led him to a job where he worked building trails for the WA Trails Association. Many of the hikes we went on with him he would say "worked on building this trail" and it was a source of pride for him to have provided safe trails for others. As a result of his trail building experience Alex was a master with a chain saw. He carried a chain saw around with him in his trunk and would use it to clear a trail if a fallen tree blocked it. He also loved "climbing" and taught himself to be an expert climber. He became so good at it he could climb almost anything and spent many happy hours mastering that art. He also became a black diamond snowboarder, spending much of his youth on the slopes with his sister Clare.
Alex made it a point to never go more than a week without going out into the woods for a hike, even if it had to be a short hike. One of his favorite things to do, while hiking, was to look for mushrooms. Alex was an expert mycologist. He had what he termed "mushroom eyes" and could spot them like no one else. His passion of many years cumulated in his starting a business growing mushrooms. 
He was also a botanist and regularly pointed out plants along the trails. He knew which ones were edible and which were medicinal. He shared his wealth of knowledge about plants with botany students by taking them on hikes and teaching them to identify plants. He would often stop along a trail to "graze" on whatever berries or edible plants were in bloom at that time. You never knew what plant he might decide to graze on.
Alex was a musician and loved music of all kinds. He played the guitar, the ukulele, and the clarinet. He had been to numerous music festivals all over the world and music was a passion for him. He even liked the old music from the sixties and seventies. His favorite band was Pink Floyd. He knew all their songs. Alex loved to dance to all different kinds of music.
At 14, when asked what he wanted to do with his life he said, "I want to return the earth to her pristine beauty." At 15 he went on his first hike on the Kalalau trail and people were amazed at someone so young being able to make that hike. At 21 he did disaster relief in St. Thomas and St. John and a second tour in Puerto Rico after those islands were struck by two hurricanes within two weeks of each other.
Alex had a very inquisitive mind and was a serious student of math and science. To him the only acceptable grade was "A+". He was a remarkable mathematician and applied that skill to other parts of his life and career. He was an engineering student at UW in his senior year when covid hit. He was just recently planning to return to finish that degree and to add a Mycology degree to it.
The most important thing to Alex was his family and friends. He was devoted to his family and friends. He was on good terms with all his family members and loved to hang out with them. Alex was a good friend to have because he truly cared about you. He was genuine in his love and care of all those who knew him. He was the type of person who would go out of his way to visit or hang out with you.
 
Of course, nothing can put into words the essence and the spirit of Alex. He was unique and had a philosophical approach to life that was truly profound. He could "philosophize" with almost anyone and really went deep into the spiritual side of life. He was a truly spiritual person, and you could sense the depth of his spirit when you spoke to him. Alex was also a lot of fun to hang out with and always seemed to have a good word for everyone.
Clare
In memory of my brother, Alex Gamman.
Few words have left my lips since the morning of 8/15 when the news dropped..
I have managed to punch these out through waterfalls of tears that feel they'll have no end; because Alex deserves the respect.  
There is nothing I could say that can capture the pure life essence that Alex is. Alex was a charming gentleman, an adventure seeker, explorer, intellect, brother, friend, partner, and the most wholesome and genuine person I knew. He inspired me to be the best version of myself every single time I had the pleasure of his company. Alex truly was the best of the best. He was driven, disciplined, calculated, and uniquely brilliant in his endeavors. Always leading others to the righteous and meaningful path. He treated all with compassion and dignity. He's the guy you wanted to call when you were struggling with an existential issue, a car problem, a night out, and the guy you'd want to call if you had a business idea and wanted to hammer out logistics and so much more. I was always impressed and even envious at times by his ability to connect with others in meaningful ways. He's the gold standard of love. He's a light, even on his darkest days. 
He stood up for what he believed in and…he cared…
              He cared for the fly, for the plants, oh we know how he loved his mushrooms.
He cared for the individual and for the community, the planet and he did so with such a uniquely genuine intention and grace. He was a beautiful person. Alex was so strong. He held so much inside him, so much hurt, so much caring. He often suffered greatly. Living in this world, living your life with your heart open, as he did, leaves us vulnerable to the inevitable pains of experiences, for which there are so many. He always felt such depth of emotion. So often, he suffered silently and took on more and more. 
I hold so much love and so much respect for you Alex, and I pray that you are finally feeling the peace you helped so many others feel with your radiant soul.
My heart aches for you Alex, and I know I won't see you again in this world but you'll always be with me in my heart and my spirit. See you in the afterlife buddy.
---
Comments
What a beautiful tribute to Alex. I am so sorry for your huge loss. I am sending you some of my strength and love so that you can get through today.

Coco Foster
---