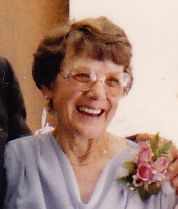 Mrs. Helen Burch died at the age of 93 July 26, 2014. Born in Ronald, WA, she lived in Renton most of her life. She married James P. Burch in 1940. A homemaker, she enjoyed gardening, cooking, baking, canning and embroidery.
She is survived by her children James M. Burch (Lori Hazzard) of Ronald, WA; Helen Darlene Burch of Renton, WA; Judith Fontaine (Larry) of Seattle; seven grandchildren and seven great-grandchildren.
[UPDATE]
Funeral Mass at Immaculate Conception Church, 10 am Sept. 6th. Ronald, WA
Burial to follow at Roslyn Veterans Cemetry, Roslyn, WA
Celebration of life at Ronald Community Hall, Ronald,
WA Memorial donations may be sent to Ronald Community Club c/o Cheryl Maras PO Box 243 Ronald, WA 98940.
---
Comments
So sorry to hear the news. Could someone please let me know when the service will be if possible . My dad and I some times miss each other and I would love to show my respects and see the family. 5093044082 thank you and if you need help with anything please call.  Cindy Zvarich
---