Joan Marilyn Brown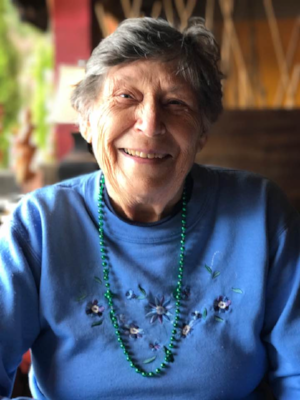 Joan Marilyn Brown of Seattle, Washington, passed away peacefully in her sleep the morning of May 22, 2018.  She was 87 years old.   
Joan lived a full and adventurous life.  Born in Chicago, Illinois, Joan resettled as a child with her family in Vancouver, BC, Canada.  It was there as a teenager that Joan met her future husband Ian F. Brown on the ski bus to Stevens Pass, Washington. They were together over sixty years.  They married on December 24, 1954 and spent the next four months skiing and traveling throughout Europe.  
In 1965 Joan and Ian moved their family to Seattle, Washington, where they operated Western Ski Promotions, publishing regional newspapers with a focus on winter and outdoor sports.  Joan and Ian were instrumental in promoting skiing in the Pacific NW, writing articles, offering daily ski reports and other support services for skiers and later, snowboarders. 
Joan was playful, loving, doted on her grandchildren, and had a joie de vivre that endeared her to many.  She loved to sing, dance and garden.  She took great joy in children, animals, flowers and plants.  She was always inclusive and welcoming of everyone, regardless of their social status. Joan was a bright light in a sometimes dark world.
Joan was preceded in death almost eight years to the day by her husband Ian.  She is survived by her sister and brother-in-law Karen and Huibert Van Drimmelen, of Chilliwack, BC, her daughter Janice Ann Brown, of Lytton, BC, her son and daughter-in-law Robert Stephen Brown and April Elizabeth Brown of Shoreline, WA, and son and daughter-in-law Bruce MacKenzie Brown and Gunlis Alainentalo of Odessa, WA.
Memorial donations in Joan's name can be made to the Northaven Foundation,  11045 8th Avenue NE, Seattle, WA 98125
A celebration of Joan's life will be held at the home of Rob and April Brown on Sunday, August 5, 2018, from noon until 4pm.  For more details, contact Rob and April Brown.
---
Comments
---