Marge Maddux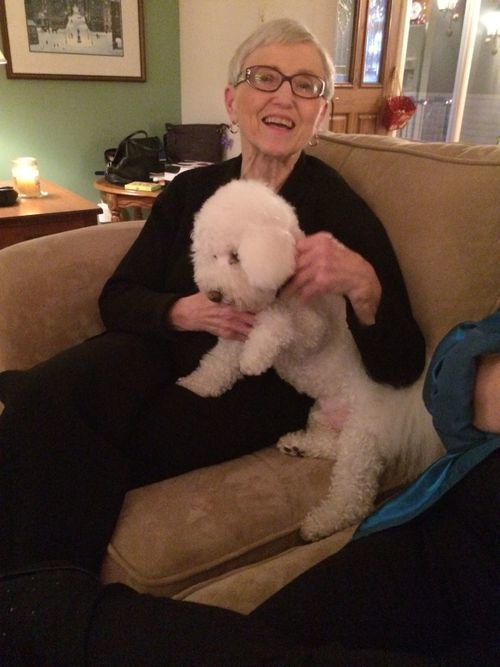 Marge Maddux passed away peacefully on January 22, 2022, after a brief bout with pneumonia. She was supported by her family, friends and all the dogs she loved so much. She is survived by her daughter, Hillary, her stepdaughter, Cheryl, and her granddaughter Soleil.
In lieu of flowers, Marge asked that donations be made to Pasado's Safe Haven: https://www.pasadosafehaven.org/donate/ or Old Dog Haven: https://olddoghaven.org/donate-now/

A celebration of her life will be scheduled later in the spring at her church, University Congregational United Church of Christ.

Mom was always organized, as many of us knew. So, it is no surprise that she had her life history prepared (neatly typed and proofread, of course) in her folder for her memorial. Here it is:

"I was born in Bothell, Washington and raised in Lake Forest Park. Went to school at Lake Forest Park Elementary, Jane Addams Junior High and Roosevelt High School. I graduated from high school when I was just 16, as I had skipped several grades. I did not go on to college, but over time took many classes toward an A Certificate and some relating to accounting, insurance, and general office skills.
My first job was as a trainee with the Seattle School District, where I eventually became Assistant Accountant, handling the Building Fund. Later I worked for The Bon Marche both downtown (as Assistant Buyer for non-merchandising items) and Northgate (as Secretary to the Assistant Manager) as I got tired of the "commute" to downtown even then!

Eventually I moved to Los Angeles with an aunt and lived in her home in the Hollywood Hills and worked on Sunset Strip for a leasing firm. Got to meet Ella Fitzgerald and see lots of stars going into the management agency next door.
Later I went to work at a computer software company (SDC) in Santa Monica and worked up from a secretary in Personnel to Assistant to the Manager of Administration and the Controller over a 12-year period.

I met and married Don Miller, a fellow I became acquainted with through a singles group at the Westwood United Methodist Church (near UCLA). We bought a home in a new development out in the San Fernando Valley and moved into it shortly before our daughter, Hillary, was born.
We divorced and I raised Hillary by myself until I married Pete Maddux, a man I met though Parents Without Partners. He had a daughter, Cheryl, who was about twelve years older than Hillary. Pete, Hillary and I lived in Pacific Palisades for a while and then bought a business and moved to the Nevada side of South Lake Tahoe. We ran the business - a television and appliance store - for several years. The area was absolutely beautiful, but the population became more and more transient (people moving up for short periods to make money dealing at the casinos and to ski and then moving on).

Both Pete and I began to have health problems that made it difficult to live in the high altitude and to maintain the physical stamina required to run our business. We made an exploratory trip to Seattle to see if we could find jobs and move back. Pete was rehired at Boeing where he had previously worked for 17 years, and I found a position with a manufacturer's rep firm. We sold the business at Tahoe and moved ourselves back to Seattle. We bought a home in Bellevue and settled in.

I went to work for the Bellevue Chamber of Commerce and worked there as the Manager of Finance & Administration. I continued to work there for many years. Pete passed away from liver cancer in 1986. I left the Chamber later because of health problems and, after a major surgery, started a gift basket business with a friend.

I got the travel bug big-time when my daughter Hillary and her then boyfriend (later husband) Keith asked me to join them on a trip to England, Germany, Denmark, and Belgium in 1986. I had a fantastic time learning the history of those countries, enjoying the scenery, and feasting on the wonder of their 'antiquities.'

I eventually gave up the gift basket business as the friend could no longer assist with it and I did not have the stamina for the long, long hours. I went to work part-time at First United Methodist Church of Bellevue as the Finance Manager. Shortly thereafter, I also took on another part-time position as Building Coordinator at the First Congregational Church of Bellevue, just a mile from the Methodist Church. This worked out very well, as the combination of the two jobs equaled 40 or so hours a week.

In 1990 took a tour in Ireland and Russia, including a cruise on the Volga. Ireland was clean, green, and extremely friendly; Russia was a shocking but intriguing country of poverty, inadequate government, limited basic supplies and services, but again wonderful historical studies.

In 1999, I was hired at First United Methodist Church, Seattle, as their Church Business Administrator. This was an interesting and challenging position, with a staff of eight or nine people and the full responsibility of coordinating the accounting, building use and
maintenance, main office functions and weddings.

I worked at FUMC Seattle until I retired on July 31, 2005, to "play," travel and spend more time with my granddaughter!"
---
Comments
Nice to know more about her life. It was busy! She will now rest in peace.

Betty Gabor
---