Evelyn Joneson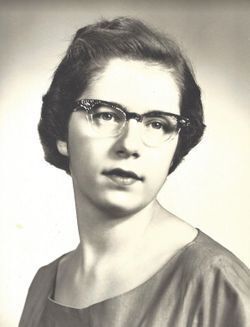 Evelyn Joneson, 89, passed away peacefully in her sleep on August 22, 2023.

A Celebration of Life will be held on Saturday, October 7th, 2023, at 11am.  Officiating: Pastor Jeremy Smith of First United Methodist Church, 180 Denny Way, Seattle WA 98109.

Evelyn was born at University Hospital in Seattle, WA to Esther (Wiese) and Raymond Dodge in August 1934. Her father was in the Active Naval Reserve, and the family lived in a house surrounded by fruit orchards directly on Lake Washington in what would become Sand Point Naval Air Station. Later, they moved to the View Ridge neighborhood, which at that time was outside of Seattle's city limits. Her family spent time in Ft. Lauderdale, Florida, during World War II before returning to Seattle, allowing Evelyn to graduate from Roosevelt High School. She then went on to graduate from the College of Puget Sound in 1956. She would have pursued a degree in Home Economics if they had offered one but settled for Occupational Therapy instead. She worked as an occupational therapist for several years, including in a Tuberculosis Sanitorium.

Evelyn loved animals and was forced to return many of the strays she brought home as a child.  Still, she had a number of memorable cats and dogs as pets by her side throughout most of her life. 

Evelyn joined the First United Methodist Church in Seattle and there met Kingsley Joneson in its Young Adult group. It was in this group, which later came to be known as "The Merriweds," where they met the majority of their friends who would become their church family. In this group they raised families, hosted supper-clubs and ice-cream socials, traveled to Europe, attended plays, and spent many a vacation at the church camp in Indianola, WA. The Merriweds remain connected through the second generation and includes the Dodges, Whitsons, Dreveckys, Bushes, Turners, Crums, Carlyles, Campbells, Gumps, and Vandemaeles - among others.

Evelyn and Kingsley married in 1959 and settled into the North Capitol Hill neighborhood, raising three kids and taking them on countless camping trips in the VW camper-van and to Indianola. With a family of 57 aunts, uncles, first cousins and their spouses, there were many family get-togethers at the house. Evelyn regularly enjoyed planning, prepping and making meals for 15 or more, although she did not enjoy the cleaning. Evelyn and Kingsley made a welcoming home for all which included a garden of flowers, fruit trees, and her beloved rhubarb. Evelyn was creative and put much of her efforts into activities that were money-saving and delightful: knitting, sewing almost anything you can think of, making fun flavors of ice cream, decorating memorable birthday cakes, canning, composing photo albums of family and her many trips, writing letters to her children at summer camp, leading Girl Scout troops, and winning awards for her quilt-making teamwork -  to name just a few.

Evelyn was a fierce protector of her family, which was sometimes embarrassing as a child (and terrifying to school administrators) but which is appreciated in hindsight.  She enjoyed sparring with those who were her sparring equals.  She detested injustice and was unafraid to state her opinion.  Friends knew that even when they held opposing views from her, she still had their back.

Evelyn is preceded in death by her parents, her sister Janice Edwards, her brothers Raymond (Bud) Dodge and Donald Dodge, and husband of 53 years, Kingsley. Evelyn is survived by her children Esther, Gunnar and Suzanne, two grandchildren Rose (Bryant) and Cricket (Mitchell), 4½ great-grandchildren, and many members of her family clan.

The family requests that in lieu of flowers or gifts that donations be made to the First United Methodist Church of Seattle Endowment Fund (https://firstchurchseattle.org/give/), which was the hub for so much of her life, or to Mary's Place (https://www.marysplaceseattle.org/), an organization that started in the basement of First Church.

Esther, Suzanne, and Gunnar extend their sincere gratitude to Maria Bawar at Caring Legacy Adult Family Home and to all of those who visited, assisted, cared for, made sure Mom didn't miss a Mariners or Sounders game, and otherwise made our mom's life as comfortable as possible in her final years.
---
My mother, Elizabeth Anne (Dodge) Kennedy, has nothing but wonderful memories of Evelyn and her sister Jan. The three shared Holiday cards and letters for decades. Reading a few of those notes and all of the cards for many of my 65 years gave me a closeness with them as though we were all immediate family. Thank you for help you offered my family after our auto accident in 1966. The meals you provided while mom remained in Hospital were heaven sent.

Evelyn and King called me to assist in selling their family home of many decades. The warmth of that home's interior when even vacant of all furnishings except for the grand piano in the salon was most evident. One could hear the laughter and conversations of family and friends throughout its interior. As for the gardens and the huge Grand Magnolia in the backyard - few of my listings before and since have been in comparison. Maybe because it was family but I always felt alive and at the same time in a quiet setting whenever I was at the home to the very day I handed over the keys to the new owners.

Evelyn, you like King and your sister Jan made a difference in this world. You cared for family and friends. It showed every day. You will be missed and never forgotten.

Bless you and Bless your family Evelyn,
Daniel and Cindy Kennedy and Elizabeth (Beth) Kennedy
---
Comments
---