Joyce I. Carsten
November 21, 1930 - October 2, 2018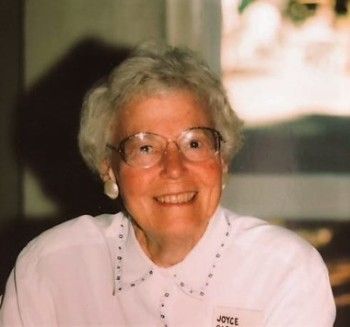 Full of life, laughter and a dedication to community service, Joyce Carsten, 87 years old, passed away peacefully in her sleep on October 2.  Born in Tacoma to Floyd and Della Baker, she graduated from Stadium HS and obtained her teaching degree from WSU. Joyce enjoyed teaching third and fourth grade in the Highline School District and later worked as an audiometrist. She also volunteered through her church and community with many service projects such as refugee resettlement and local food banks. Joyce met Walt, the love of her life, when she was student teaching and they married in 1952. Joyce and Walt were blessed with 3 children and 59 wonderful years of marriage. She was also a mother to more than 20 Rotary and ICYE exchange students. Over the years, Joyce and Walt traveled around the world to visit these students who were like their own children. As the grandchildren began to arrive, Joyce lovingly devoted a great deal of time to these 6 young people. The family will cherish the many special memories of family trips and time together with Joyce.
Joyce is survived by her children Christine Carsten (John Dickerson), Laurel Bushue (Christopher), and Bruce Carsten (Peri Young); grandchildren Toren Carsten, Laina Carsten, Conrad Chapman, Allison Bushue, Cara Chapman and Emily Carsten. She was preceded in death by her husband Walter Carsten, her brother Floyd Baker and her parents Floyd and Della Baker.
Services will be held at Fauntleroy Church UCC at 9140 California Ave. SW on Friday, October 26 at 1:00 pm. In lieu of flowers, the family requests that donations be made to the Fauntleroy Church Memorial Fund where Joyce was an active member for more than 50 years
There will be additional services at Judson Park at 23600 Marine Vw. Dr. S on Wednesday, October 24 at 2:00 pm. Joyce lived and loved her life at Judson Park for 10 years. Donations may also be made to the Judson Park Foundation.
---
Comments
Dear Joyce, I am very thankful to have had the chance to get to know you and your wonderful husband Walt in 1982/83 when I was an exchange student with ICYE. Thank you for warm hospitality, being so open minded and caring.
In 1986 I returned to the USA and travelled together with Glen Schofield back to Alaska, my brother was also with us. Again we were welcome at your home. Even years later we talked about Joyce and Walt Carsten the cool couple in Seattle!
May you be blessed
Ulf Neumann
---