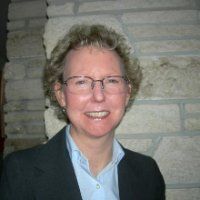 Elizabeth Flexer, 57, of Bainbridge Island, completed her life's journey late in the evening of December 10th, 2014, after having spent her final days bathed in the love of family and friends.
As one of the pioneering early survivors of Fred Hutchinson Cancer Centers bone marrow transplant program in 1975, Elizabeth was determined to transcend her early experience with leukemia and forged ahead, deeply committed to creating a life of purpose that gave meaning to her days and strength to her soul.
She completed an undergraduate degree in Math and Economics from the University of Puget Sound, followed by an MA and PhD from the University of Iowa where she was awarded a Veteran's Administration Doctoral Fellowship in support of her studies in Hospital and Health Administration and Health Services Research.
Elizabeth put her considerable talents to use first for the Joint Commission on Accreditation of Healthcare Organizations, then in Information Management for John Deere Health Care, followed by positions as a Health Information Services Consultant (Milliman, Inc) and as a Senior Health Outcomes Manager and Senior Clinical Analyst (The Regence Group, Seattle).
Since 2011, Elizabeth was delighted to have been employed by First Choice Health of Seattle as Director of Healthcare Analytics where she was devoted to both her work and her co-workers. Her family and friends wish to express their deep gratitude to everyone at First Choice for making it possible for her to continue making a difference with her work until just weeks before her passing.
Her family and friends speak of her passion for the arts, insatiable thirst for knowledge, love for animals and nature, and her caring, loving and giving heart; above all, we remember her for her breathtaking strength and determination to live as well and as fully as possible, especially in the face of the health challenges she faced in her last few years.
Elizabeth was not only a woman of strong mind and strong heart; she was also a woman of strong faith, and demonstrated that faith as a Kairos ministry volunteer at a Washington state correctional facility which assists women inmates in turning their lives around, an experience she found transformational as well as deeply meaningful.
She is survived by her parents, Jim and Sue Flexer, of Bellevue, Washington, brother Jay and wife Joann Flexer of Spokane, brother Steve and wife Janet Flexer of Gig Harbor, and sister Kate Flexer and her husband Jim Hinch, of New York City, her cats Mack and Ozzma, and many dear friends both locally and across the country.
A memorial service will be held Saturday, January 17, 2015, at 1:30pm St Margaret's Episcopal Church in Bellevue, Washington, with reception to follow.
Please consider honoring Elizabeth's life with donations to her preferred charities:
Fred Hutch Cancer Research Center: http://www.fredhutch.org/en.html
Conservation Fund of Arlington, VA http://www.conservationfund.org/
As her beloved "ferry pod" friends have said:
"Elizabeth's legacy is her wit, wisdom, passion, strong desire, and her love for life and those around her. There are no words to describe how fortunate we have been to know her, and even those who have had only limited time with her comment that she has truly been an inspiration.....and thus she shall remain."
---
Comments
I met and became good friends with Liz when we were both attending Sammamish High School. She was smart, pretty and funny and we hit it off immediately. Unfortunately, we lost touch after high school but I was able to keep track of her impressive later accomplishments through mutual friends. I am so sorry to hear of her passing - she was an amazing person. My thoughts are with her family. --Greg Beck - Christchurch, New Zealand
---
Liz and her family were such an integral part of my childhood. From the early morning shared pickups for ski school, to just hanging out and introducing me to the "band" crowd at Sammamish, oh and of course, being involved in the first girls volleyball team together she had such a positive impact on my life. Liz, your strength, courage, and desire to make a difference has always inspired me and the world has lost a special light. My prayers and thoughts are with all her family and friends. --Lynne Conklin
---
My Thoughts and Prayers are with the family of my Aunt Liz. I wish I could have known her better; a STRONG, Brilliant, Kind and Amazing Woman. I will use the courage she exemplified as a guide for my own lifes struggles. I know she is waiting for us all to join Her in the Glory of Heaven. Thank you for your Inspiration Auntie. You have Peace now. Love always. --Jacquelynn Brownell
---