Marcia Ann Broyles, 85 passed away unexpectedly Nov. 6th, 2014 at Overlake Hospital in Bellevue, Washington.  Marcia chose to fight a recent cancer diagnosis and although her spirit was willing, her body was not able to withstand the complications that arose from treatment.  While Marcia's passing will leave an empty spot in the lives of those who knew her, she said herself that she led "a good and long life".
Marcia was born in Sharpsville, Indiana on Dec. 9th, 1928, the 3rd of 5 children, to Ross and Ruby Broyles.  She grew up a tomboy in that small farming community and played softball for the Sharpsville and Kokomo Girl's softball teams.  She graduated from Sharpsville High School in 1947 and continued on to Indiana University in Bloomington, Indiana.   She received the Mortar Board Honor and graduated in 1952 with a BS in Health, PE and Recreation.
 
After teaching for 1 year in Niles, Michigan she became a flight attendant for Alaska Airlines.  She was based in Anchorage, Alaska for 18 years and flew to many native villages and on charter flights to Russia.  She flew military charters out of South Carolina for one year and relocated to the Seattle area where she continued to fly Alaska Airlines' expanding routes to California, Arizona and Mexico.  She was the senior flight attendant, "#1", for many years prior to her retirement in 1998.  Marcia was one of the airline's longest serving flight attendants and their first flight attendant to receive a 45 yr. service pin.  At the termination of her final flight, as the plane taxied to the gate, she was honored with the traditional "arc of water" salute, a ceremony normally reserved for pilots only.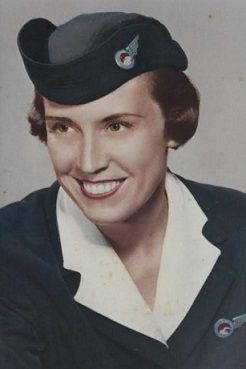 Marcia loved watching and playing sports and loved outdoor activities.  She was a tennis player, cross country skier, bicyclist, camper, log chopper and avid hiker.  She climbed Mt. Rainier in 1976 and hiked many trails in Alaska, New Zealand and Arizona as well as all of the Pacific Crest Trail in Washington.   She knew all of the best trails and enjoyed sharing her thoughts, experiences and the trails themselves with many friends and family.  She continued hiking as often as possible, up to and including just this year.
Marcia was an animal lover and became a pet sitter in her retirement years.  Her house became a home away from home for many pets over the years and walking dogs through the streets and parks of her Bellevue neighborhood afforded her the opportunity to meet, catch up with and talk to many neighbors, friends and passers by each day.
She enjoyed spending time with her family, including her many nieces and nephews and their children.  She is survived by three sisters, Laneis Pence of Bunker Hill, Indiana, Vangie Saul of Kokomo, Indiana and Sharrie Watson of Elkhart, Indiana.  She was preceded in death by her brother Jack Broyles.
Marcia was a caring, generous, honest and trusting person.  She touched many people and will be greatly missed by her family, neighbors and many friends.  A small open house in her honor was held at her home on November 9th, 2014.  Per Marcia's request, her ashes are to be scattered in a designated spot on the Naches Peak Loop Trail in Mount Rainier National Park, at a time to be determined in late summer 2015 "when the snow melts".  This trail was a favorite of Marcia's with beautiful meadows, a breathtaking view of Mt. Rainier and an abundant supply of huckleberries in late summer.  Marcia also requested that a portion of her ashes be returned home to Sharpsville, Indiana to be scattered on her family plot.
Donations may be made in Marcia's name to:   Washington Trails Association, 705 2nd Ave #300, Seattle, WA 98104 or to your local animal shelter.
---
Comments
What a wonderful slide tribute to you. I often think back of the days we flew together and how I admired your spirit of adventure. They'll never be another you... you will be missed by all your friends and the animals that you were so kind to. Keep climbing mountains up there in heaven where surely you are a new angel. --Jaynne Wilson
---
Beautiful memories of a grand lady. Marcia, was my supervisor when I first hired on in 1968. I was based in Anchorage and I was so nervous for that first flight on the Convair 280 and later the constellation. She was always so calm and patient with me. I made her laugh many times which made me happy because I always wanted to please her. She was a one in a million and will be missed by all who knew her. I can see her now in heaven with a surrounded by hundreds of critters.-- Diane Townsend
---
"Come this way"....."Leave Everything"....."Exit Here". --donna dacko
 
---
We will miss you forever. Thank you for being a part of our lives. I always enjoyed flying with you & our talks and your input. Hugs and love to your our # 1......Melos
---
What a wonderful tribute to a truly wonderful person. GOD BLESS! --DALE & LYNN CALEY
---
We will all miss you Marcia, You were a great flight attendant and friend. Thank you for all the great flights and times with you. Your airline friend, Jim Polley
---
I was in awe of Marcia.....great tribute to a great woman! --Diane Euting
---
What a beautiful tribute! I loved seeing all the photos of Marcy's beloved kitty, Ding, and her log cabin in Anc. where I "cat sat" for her while she was on vacation.(1970) Marcy told me I would need to feed Ding his 3AM treat of chipped beef every night...I laughed. But, indeed I did feed him at 3AM every night...just as she said I would if I wanted to sleep! I loved flying with Marcy...she was "one of a kind". I join with so many who will miss her presence here on earth. Farewell Marcy. --Norma Crist Merkle
---
This was a lovely tribute to our #1 flight attendant. I always remember Marci standing at the front of the aircraft, with her arms folded, ready to receive and love her passengers...always so calm and reassuring...Jeanette Wrede ASA CSA 1969-2004
---
Alaska Airlines has lost one of its great Ambassadors. I will always remember Marcia for her wonderful people skills when dealing with passengers and her wonderful smile every time I tapped no the first class door and she would open the door. She had a unique way of handling difficult situation onboard and turning them into a positive one. What a beautiful slide tribute to her life. It was a pleasure to have known you You truly were one of a kind, R.I.P.- John E. Steeb
---
The years we spent together at Alaska Airlines are so vivid and went by so fast for all of us. Wonderful people like you only come along once in our lifetimes, we were so lucky to have been able to share our lives with you. Warren Perry
---
Marcia was a wonderful role model for me and for so many of her friends. She was a passionate hiker and loved exploring new areas as well as old favorites. As recently as this last August, she hiked one of her all-time special places: Nachess Pass on one of those days when Rainier was out in all its glory! She returned home absolutely beaming with the joy of being out on trail. I got to know Marcia later in life when we would pour over maps reminiscing about trips gone by and dreaming of those in the future. She was a wonderful woman and am thankful that she was part of my life. Karen Daubert
---
Thank you for sharing this wonderful tribute to such a special and wonderful person. I was proud to work with her and I treasured her friendship. We had many interesting and eventful flights together--especially to Shemya. So many wonderful memories. She had a million dollar smile, and smiled often. Rest in peace, Marcie. --Sue McCubbins Ramstad
---
My parents lived right next door to Marcie for many years in Bellevue. They both passed away within 7 months of each other in the early '90's with mom leaving dad first. He was quite lonely, to say the least. One day he discovered a freshly baked apple pie on the doorstep. "Now that's a log cabin pie!' he exclaimed to us. That was Marcie----a most thoughtful, helpful (and fun!) neighbor! Summer before last my two brothers (John & Ed) paid her a visit where we enjoyed conversation and coffee in her backyard. The three of us have nostalgic feelings for our old house and she took us on an outdoor tour (neighbor wasn't home.) Another get-together was talked about but was not to be in that Life got in the way. I also had the pleasure of visiting with her on a flight to Burbank one year. I will never forget the mysterious airline bottle of wine that was dropped in my lap. That was Marcie! I fly a couple times a year to Burbank and so many attendants remember her. Marcie now climbs a heavenly mountain, I'm sure, with loyal canine friends to greet her! --Shirley Ninman Wright
---
When I was 8 years old I placed a picture of my older sister in my brand new birthday scrap book. Little did I know that 12 years later I would be hunting for that book with that picture because Our #1 looked so familiar to me after flying with Marcia when I was a new hire in '73. There she was,with my sister in that very picture. They were officers together on a basketball team in Anc. I couldn't wait to see her to tell her that story. We all will miss you Marcia. You taught me how to become a good stewardess with your kind and gentle ways. Looking forward to our meeting again one blessed day..Betty Guay
---
Wonderful lady, always gracious and professional. She made the best #1! A role model for all of us to aspire to. Marcie, enjoy your new adventure... - Deana Johnson
---
I loved reading about Marcie's life. I spent a lot of time with her flying all over the state of Alaska and never new as much about her as I have read here and now. Marcie held a lot of respect for everyone who knew her because she treated everyone in a friendly professional way. A valuable asset to be honest, hardworking, respectful, kind, generous and much more. I have always remembered her fondly and appreciate what she gave to so many. .....Judie
---
Marcie was #1 when I started flying. She was always gracious and friendly and I enjoyed working with her. She amazed me with all her off-duty skills--hiking, running, etc. She is not forgotten.
Vj Taylor-Patanella
---