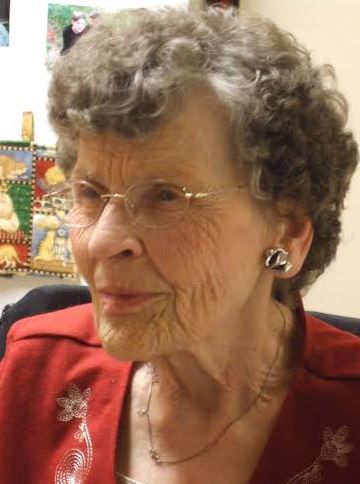 Marion Lucile Parker, 97, of Seattle, passed away on January 18, 2015 in her sleep, following several weeks of ill health.
Marion was born in Minnesota, the daughter of Charles and Abbie Armstrong Edgerton, and moved with her family to Seattle in 1922. She married Seymour 'Red' Parker, a Bataan survivor, in 1949. He died in 1987. She is survived by her sons, Warren, of Seattle, and David, of Bangkok, Thailand, and their families, including five grandchildren and two great-grandchildren. Other close surviving relatives are her cousin Edythe Rose, of Seattle, and sister-in-law Edythe Westlund, of Forest Grove, Oregon.
Marion graduated from Queen Anne High School, and from the University of Washington with degrees in literature and library science. She worked as a professional librarian at the University of Washington, and then for 17 years with The Seattle Public Library, until her retirement in 1980.
Marion was strongly committed to her family, church and community. She was an active member of the Queen Anne United Methodist Church for over 50 years, and of the PEO, the Eastern Star, and the QA Historical Society. She enjoyed camping, travel, and the cats which were her constant companions. Marion will be greatly missed by her family and her many friends of all ages.
A memorial service is being will be held on Sunday, January 25th at 3 pm at the QA United Methodist Church. A celebration and remembrance of Marion's life will be held in March.
In lieu of flowers, donations for a PEO Scholarship in Marion's name may be made to Chapter EN, PEO, PO Box 942, Woodinville WA 98072.
---
Comments
Marion was such a lovely lady....dedicated to all things good in life. She was an inspiration and she made this world a better place. May you rest in peace Marion,....in God's Hands....with your beloved "Red" and all the kitties you loved so much. --Jayne & Jerry Smith
 
---