1941-2015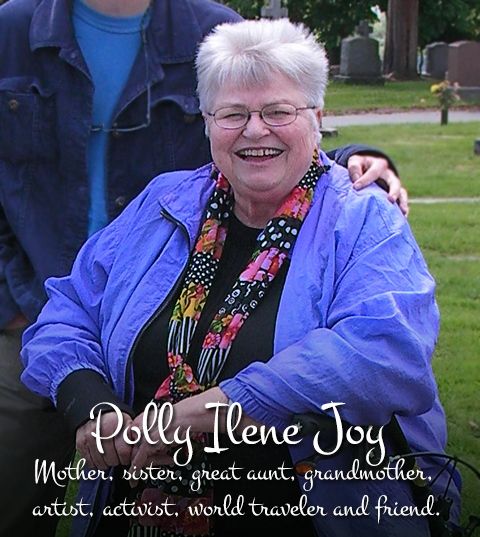 Polly Joy was born on July 16th, 1941 in Wenatchee, Washington. Christened with the name Ilene Joy Brumbaugh, she soon became her daddy's little "pollywog" and the nickname stuck. As a child she loved reading, drawing and gardening with her siblings. In high school she marched to the front of the Wenatchee High School Band as its striking Head Majorette and that, combined with her academic discipline, was rewarded with the offer of a scholarship to Purdue University.
 
Instead, she moved to Seattle to take up race car driving and flying lessons. She married a Boeing mail clerk who was a promising University of Washington art student and, as was the convention of that time, postponed her education to put him through school. After graduation they had two sons, moved to California, started a design agency and had many Bay Area adventures. Along with adding a daughter, the highlight of that period was the purchase of her 1956 Porsche 356A – shiny black with red leather interior. Being a mom didn't mean that she couldn't travel in style!
 
In the mid 70's, the family fled city life and moved to a picturesque former mining town in the Sierra Nevada foothills. Through the 80's they ran a thriving small business in which they designed, produced and sold handmade wooden toys. Their ingenious designs, fine craftsmanship and dedication to customer service made them popular at artisan festivals throughout California. In the course of their travels they visited nearly every corner of the Southwest in "Sunshine", their '64 Volkswagon Bus. Polly particularly loved the ocean, and some of their favorite trips were to Southern California.
 
When the opportunity arose in the late 80's Polly and her husband moved to San Diego to enjoy the beach and be near their daughter Ame at college. Meanwhile their sons Shannon and Ethan had become successful in their military and business careers on the other side of the country. While in San Diego, Polly attended San Diego Community College and had interesting jobs including working at the Rueben H. Fleet Space and Science Center where her smart outfits and cheerfulness were a big hit. Rain or shine she commuted several miles each day on a bright pink bicycle.
 
After her divorce in the mid-90's Polly moved back to Seattle to be near her "first" family. She joyfully re-embraced her faith by joining St. James Cathedral and she reconnecting with her love of sports (Go Seahawks! – Go Mariners!). As the assistant to a busy executive, she found herself immersed in Seattle's tech boom. During this time, she enjoyed one of the biggest thrills of her life – a trip to Europe where she visited the Vatican. She also delighted in owning a powder blue Mercedes and loved taking friends to see the Freemont Troll and to "graze" at Mae's Café. Anyone who knew her came to appreciate her love of dogs, cows and especially…. chickens.
 
Upon retirement Polly's greatest joy came from spending time with her grand nephews and nieces in her role as "Tia".  As her health declined she worked hard to stay independent, outliving all of the predictions about her prognosis. When walking became hard, she zipped around in her power chair visiting the Ballard Locks, art openings, parades and more. Her rich life of 73 years was packed with art, adventure and family. We already miss her style, sense of fun and, especially, the sassy chicken clucking that began and ended her conversations. Go in peace Polly Joy, bock bock b'Gok!
---
Comments
---