Eldeen Harrison Temple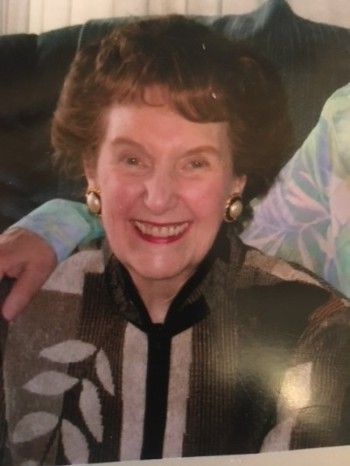 Passed away 6/18/18 at the age of 92. Eldeen was blessed with many longtime friends and was the matriarch of a loving family. Daughter of Maxwell and Edna Harrison she was raised in the Greenwood Ballard area of Seattle. Eldeen was a 1944 Ballard High graduate.
Married to Robert W. Temple in 1946 and together they built a home in an orchard near Haller Lake in north Seattle. Eldeen was a stay at-home-mother to son's Larry and Bob Jr. After raising her two sons and caring for two more boys, Pat and Mike Smith (belonging to close friends), she worked at Northwest Hospital in Medical Records for 25 years. Retirement gave Bob and Eldeen time for traveling. They loved hosting family and friends for holidays and celebrations in their home. Eldeen was a great cook, but she always said her favorite meal was the one they ate out.
Eldeen always wore a smile and had a super personality allowing her to make and keep friends dating all the way back to her childhood. Acquiring symptoms of MS 24 years ago, she had to limit activity, but she continued to enjoy life on Bitterlake at Four Freedoms until she passed. When the love of her life, Bob, passed after 55 years of marriage, Eldeen continued to be the biggest fan of her family and their endeavors. Her support, wisdom, encouragement, and generosity will always be remembered by those who knew Eldeen. She was a beautiful person inside and out and a perfect role model. Eldeen was truly a classy, loving, gracious lady.
Eldeen leaves behind her older sister Ellie Lund (closet lifetime confident), sons Larry (Anne) and Bob (Ginny) Temple, loving nieces, a nephew, 5 step grandchildren, 7 great grandchildren, their spouses and two great great grandkids. Predeceased by her brother, LeRoy Harrison. Most of Eldeen's longtime friends have already passed away so she requested no services. We'll miss you mom! Toast Eldeen the next time you enjoy a glass of wine! Inurnment at Woodlawn Cemetery, Edmonds. You may go to www.legacy.com to also post a remembrance.
---
Comments
Rosemary, Eldeens's neighbor
---
Thank you for all your years of service at Northwest Hospital. First as a volunteer and then you noticed an opening in the Medical Record Dept. and you said well, maybe I can do something in that department. Sure enough you joined us and made many lasting friends. After you retired you hosted us several times at your beautiful apartment at Four Freedoms. Thank you for keeping us together for all these years. You will be missed.
    
Kay Shirley
---
Thank you for your long time friendship that began at NW Hospital . You were an inspiration. Your strength and endurance to be independent always amazed me. I will miss our lunches together and my visits to your apartment to have wine and treats from the fridge!
Miss you Eldeen. May we meet again someday.
    
Fran Henderson
---
It's hard to relay what Eldeen meant to me, I met her because she was the mom of Bob, who was my husband John's friend from High School. But she became a part of my life. Always upbeat, with her beautiful smile, it was a joy to visit her. Both her son's & wives, very happily, became family to us over the years. I know Eldeen was ready to join her Bob & I am happy she is by his side again, but selfishly I will miss her tremendously. Much love to all those who loved her too!
    
Chris & John Lake
---
It has been a year since Eldeen has passed. Life goes but there is a void without her presence. She will be forever loved, cherished and remembered for her life she lived so well during her 92 years. May she be resting peacefully in Heaven with her beloved husband, Bob. We miss you both.
I love you mom,
Larry Temple
---