James (Jim) Mohundro
1938 - 2020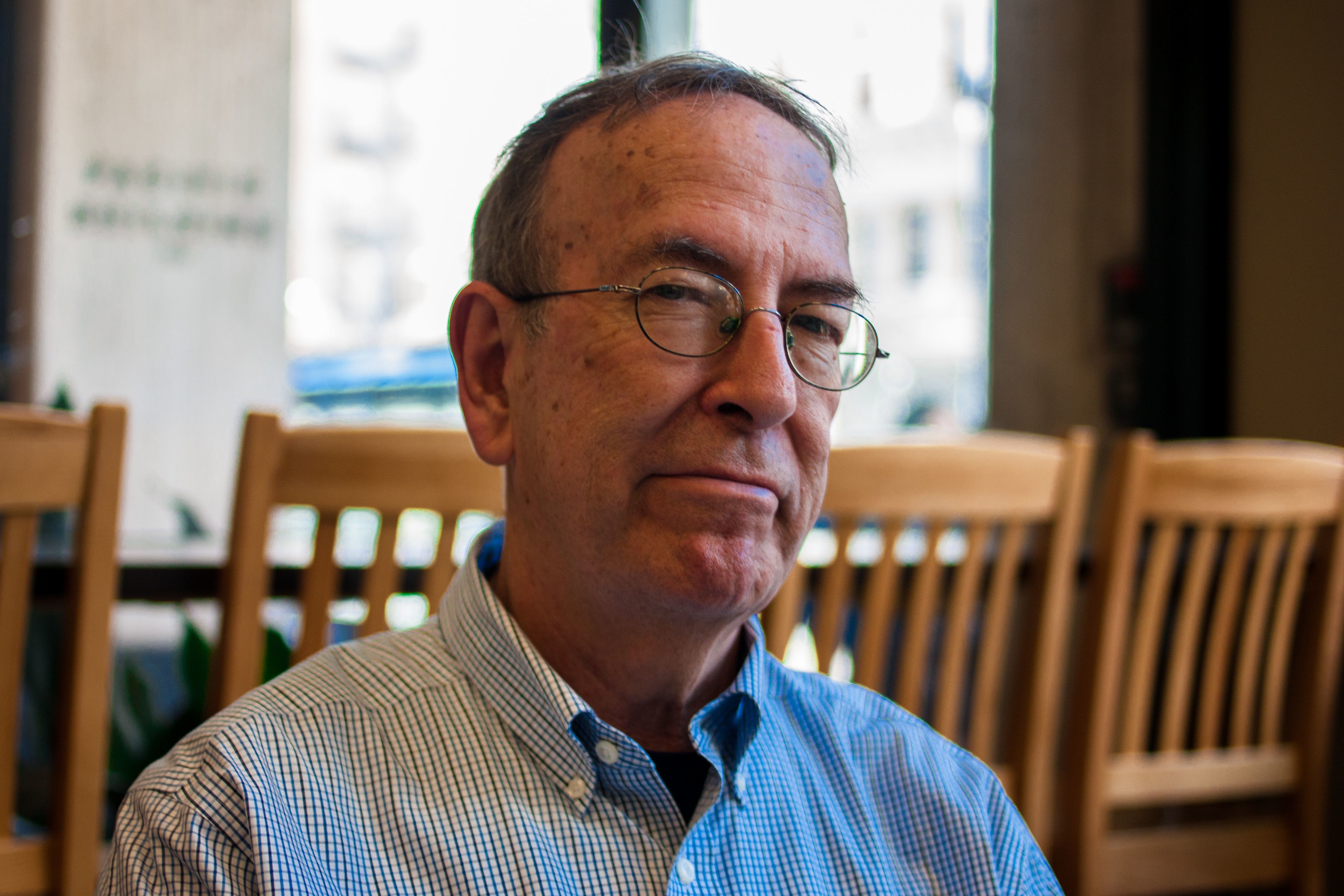 Born in Seattle on February 5, 1938, the only child of Harold and Germaine (Santerre) Mohundro, Jim was embraced also by a group of aunts, uncles, and his parents' friends. He traveled around the city by bus from a young age, going to the Seattle Rainiers batting practice whenever he could.  He enjoyed being in theater productions at Lincoln High School in Seattle, graduating in 1956. He interrupted his college education at the University of Washington to join the U.S. Army, was stationed in Germany, and later returned to the UW for a degree in Economics. He worked in the home mortgage business and later for the City of Seattle for 30 years, teaming with non-profits to complete low-income housing projects. He  was an instructor in real estate finance for several years at Bellevue College.
In retirement he shared his knowledge and love of movies in his film classes at Seattle's Lifetime Learning Center and was enthusiastic about the work of the UCLA Film and Television Archive which has saved and restored so many older films. He also served on the board of the Association of Retired Seattle City Employees (ARSCE), wrote a movie column for the ARSCE newspaper, and was involved in the Alumni Association of Lincoln High School.
He died in Seattle on October 21, 2020 following a slow recovery from surgery. He is survived by his wife of 49 years, Anne Pohl Mohundro, his son Steven (Elizabeth) Mohundro, his daughter Leah (Jesse) Morris, and grandsons Raymond Armstrong, Theo Mohundro, and Joey Mohundro. He also leaves sisters-in-law Alice Graber, Helen Pohl, and Angela Blackwell and brothers-in-law John Pohl, Denis Pohl, and John Graber; nieces Leatha Pohl, Ula Pohl, Nyssa Pohl, Emilie Pohl, and Clare Blackwell, and nephews Ardin Pohl and Carl Graber. Also survived by second cousins Merilee McDowell, Bette Simons, and Danise Tarbert. He was predeceased by his brother-in-law Richard (Ricky) Pohl.
Jim was kind, open-minded, loyal, and generous, known for his wit and elaborate puns. He enjoyed discussing Seattle history and loved British humor; devoured books, especially mysteries and thrillers; and appreciated all sorts of movies. He eagerly traveled several times to Europe with Anne, and was avid about exploring London. He loved his family, friends, colleagues, daily grocery shopping where he learned cooking tips from employees, theater, classical music, art prints, photography, infield plays, and cats. He was touched by stories of heroism and tenderness. To honor Jim's memory, watch a pre-1960 American movie or read any British spy story.
An online memorial organized by Plymouth Church Seattle UCC is scheduled for Saturday, December 5  at 2:00 pm PST.  Additional information will be on the Co-op Funeral Home of People's Memorial (funerals.coop/obituaries) where you are encouraged to share your stories and memories of Jim.
---
Comments
A piece of information I didn't include: Big movie palaces in downtown Seattle were also places that Jim took the bus to as a kid. When the earthquake of 1949 resulted in the collapse of his elementary school's second floor into the first floor, it was the first morning of the Seattle School District's spring break, and Jim was downtown in one of those theaters. When the earthquake struck, the movie abruptly stopped and the giant chandelier started swinging -- very impressive.
- Anne Mohundro
---
I knew Jim for 40 years. Of late he was a reliable funny thoughtful Facebook friend. I wish he was still here but I know he will find the humor and irony in the next level.
    
Deborah Gooden
---
What impressed me the most about Jim in the classes he taught at Lifetime Learning Center were the depth of his knowledge about films (and directors, actors, and others contributing to the art) and his unflappable good humor. His personality was one of the most amiable I have ever encountered. It was hard to consider him simply a teacher and not also a friend, which is why he had such a devoted following each quarter. His genuineness, warmth, and wit will always be remembered.

Alice Leiner
---
It was a pleasure to be a colleague of Jim's at Lifetime Learning Center and to share our interest in films. I will miss him.
    
Bobbie Simone
---
Jim was my brother-in-law and like all my brothers-in-law he was very easy to love!
Jim, though, always seemed to be so much more together than the rest of us! (He probably would think that pretty funny!)
Anne's Jim was a great cook. And generous. Both Emilie and I fondly remember his taking us out to dinner in Shelburne. I know both he and Anne were pretty amazed at how early the restaurant closed. And Jim didn't complain about the food.
I always enjoyed his visits with you over the years. And we do have a great video made by Jim, John, and the kids. This video is a classic. He should have introduced it in his film class! No, Jim was pretty serious about film.
Jim was always a gentleman, even when he had to take a bath in an inch of water!
I loved his humor and his Zen-like calm. He kept us calm (and chuckling) even at the family funeral gatherings.
Anne, your Jim was a very special guy, and my heart goes out to you. Lots of love to you and Leah and Steven.
Emilie sends her love and she misses her uncle. She loved her uncle Jim.
Helen Pohl
---
I work at one of the grocery stores that Jim frequented daily. If we were in earshot of each other, we would exchange a friendly wave and hello. He always remembered my name. I was always impressed with his creative meal planning and envied Ann for her delicious meals. I was also fortunate to see Ann in one of our community water color classes, as well as both of them in line for movies at the Seattle International Film Festival. I was very saddened to hear of Jim's passing and will miss him and his shopping excursions. My deepest condolences to the whole family.
Kitty Wong
---
As a student at Lifetime Learning Center, I want to thank Jim for sharing his love of film over the years.
Ann, my sincere condolences to you and your family.
 
Rochelle Goldberg
---
I would only know the surface of a movie. Jim would teach me the depth.
 
Richard Wilson
---
Jim and I worked together at that mortgage company. He was my compatriot at many lunches together.
At a Seattle Pilot's (Yes Seattle had a Professional team in the '60's) game they had more in attendance than seats, so we were outstanding in the field. Apparently, they did not expect many fly balls to reach the warning track. Jim and I had second base right in front of us. An opposing player, named Hoyt, slid into second base, but was tagged out. He couldn't get up and I remarked that he likely wasn't injured. A lady near by criticized me, "The poor man is hurt!" To Jim I averred that He was faking it because he was tagged out, Jim responded, "But Ted, the poor man is Hoyt!"
The 1964 Earthquake struck just before the time for our work to start. Jim and I and two secretaries were in the basement coffee room. As trhe building began to shake the secretaries screamed and ran up the stairs and out to the parking lot. Jim and I took stations in the doorway and traded earthquake puns until the land stablized.
Yes, Jim was a good friend.
 
Ted Bradshaw
---
I wish I had taken a movie class from Jim! I've just discovered the LLC and just missed being able to meet and enjoy Jim. Wonderful descriptions - I've read everything. My own husband, who came to me late in life, also has an ongoing gentle sense of humor that keeps my buoyed. Reading about Jim makes me appreciate him all the more.
Sincere condolences Ann and Family.
Stephanie Roche
---
Jim my uncle miss you more love you ulnce Jim ulnce Jim safe aunt emilie family pohl Anne pohl family Alice Sister Jim husband anne wif e be okay don't b don't cry happy big sotngar
 
Emilie
---
I met Jim for the first time in 1970, when he and Anne visited me in Salt Lake City and we bathed in the waters of the Great Salt Lake. That was as close as I ever lived to Seattle except for occasional but regular visits, every one recorded in photos if not memory: Jim and Anne's wedding in 1971, where I drove off to the church without Anne; Joe and Eleanor's 40th anniversary celebrated in Saskatoon, Sask., highlighted by a garden full of beets and a parade of classic cars; and their 50th anniversary in a park with the whole family near Rochester, N.Y.
My family traveled from Saskatchewan by train for Christmas with Anne and Jim in 1986, where Jim was, as always, a gracious and generous host. On every visit to Seattle, Jim gave at least one tour of interesting sites of his beloved city. Visits between our families continued after Helen and I moved to a Montreal suburb in 1988. One memorable visit of Jim and Anne's to Quebec resulted in a comic video narrative in which Steven and Leah joined the Pohl kids – Leatha, Ula, Ardin, Nyssa and baby Emilie – in an incomprehensible crime story involving a children's club. We named the film Burger Mon Sweet after one of Jim's narration of non-sequiturs.
Anne and Jim visited Montreal in 2016 en route to Nova Scotia, where they stayed with Helen and Emilie in our little cottage. I took Jim to a military museum in Montreal, where he discovered a sidearm like the one carried during his army days in Germany the 1950s. Jim's interest in the displays played a big part in the museum director/guide staying with us almost an hour past closing time. The last time I saw Jim was in 2018, when my brother Denis and I flew out to Seattle. Jim and I discussed not just the movies and baseball that were close to his heart, but anything I was interested in as well.
I always enjoyed my friendship with Jim, and I admired his commitment to the work he did for the city of Seattle. I could only imagine how interesting he must have been in the film classes he gave in his retirement. His deep knowledge was reflected in the excellent film column he wrote for the retired city employees' newsletter.
The quality of Jim's life is reflected in the children he and Anne raised, and the families their children created. I miss the old guy.
John Pohl (brother-in-law)
---
While I was a baseball fan (Rochester Red Wings) in childhood, Jim coached me in the history of baseball in the Pacific Northwest. We both became avid Seattle Mariners fans, attending every Opening Day from the first one in 1977 through 2019 and enjoyed many other games as part of two ticket-sharing groups. Jim had a rule -- we could only leave if the Mariners were 10 runs behind; otherwise we never left before the last out. We ignored this rule only once, leaving with the game tied in about the 13th inning on a freezing night. Of course, we checked the radio as soon as we got to the car.
- Anne Mohundro
---
Jim knew a lot about a lot of things. I liked listening to him talk about the history of Seattle, the Denny Regrade, the Seattle Rainiers, wine, the evolution of the movie industry and the lives of actors, the economy and interest rates, Germany after the war. Or just watching a movie with him in the TV room, listening to his stories. Or sitting at the big table with the family for one of his impeccable meals. He was gracious and generous, a good man. With Anne, he helped my family through some rough times, opening their house and hearts to us. And he had an appreciation of the finer human qualities: honesty, sacrifice, art, and humor. I am honored to have known him.
- John Graber
---
Jim was my brother-in-law. He was a big, funny guy with a droll sense of humor and a heart of gold. We spent time with him and Anne in Ireland and he fit right in. He was up for anything, interested in everything, and always ready with a movie or crime novel reference. His love for Anne was evident in everything he did. It doesn't seem right that he's gone. We'll miss him. Heartfelt sympathy and lots of love to Anne, Steve and Leah.
- Angela Blackwell
---
To do true justice to our 30+ year friendship, I would probably need to write something as large as a screenplay, preferably for a comedy adventure movie. Jim was an amazing friend, co-worker, mentor and all around great buddy. He was there for me through thick and thin and was always willing to help out in a pinch.
We did our best to elevate the morning coffee break to an art, sharing many a laugh and swapping many a recommendation, whether it be the latest movie, a new cooking technique or the availability of Peach-O-Rama peaches that we both enjoyed every summer.
He had a very keen, if somewhat sly, sense of wit, and was able to slip in a pun or double entendre into a conversation without even batting an eye. Most people in the room didn't even know what had happened, but those of us who appreciated Jim's fast wit always had a big smile on our faces and usually had to work had to contain an outright burst of laughter.
I knew Jim was a Seattle native, probably the first one that I met, but I did not know that he had a reputation as a mover and a shaker. And since everybody seems to be sharing earthquake stories involving Jim, I should probably share mine as well. As I mentioned above, Jim and I had morning coffee when we worked together. One day in 2001, we were coming back to the Alaska Building to our office and just the two of us entered the elevator. We pushed the buttons for our respective floors and then the doors closed. Suddenly, the elevator started shaking violently and would not stop. We had no idea what was happening, but when the elevator reached my floor we both jumped out immediately. We then noticed that it was not just the elevator, but that the whole building was shaking violently. It was the Nisqually earthquake and we were both safe and sound, but it sure gave us a scare.
I could go on and on, but will close with a few final words. Jim was a kind, caring and thoughtful soul. If you needed to call somebody in the middle of the nigh with an emergency, Jim was the friend who would be at the top of your list. He was a mensch, and I miss him greatly. My condolences to Anne, Steve, Leah and all of the extended family. May his memory be a blessing.
- Ken Astrein
---
H and me and Nova Scotia to
Tow for you sleep bed heat attached best friend him ulnce Jim miss you too and love you so long remember ulnce Jim happy before I like l need you him Jim big sotngar
Love him and I need you more than you will ever emilie family parents are anne Aunt be okay with you him Jim him love
Jim
Beautiful man
- Emilie
---
What a beautiful tribute to your well loved Jim. I feel jealous that I didn't get a chance to know him. your children were so lucky to have two such wonderful people as parents! I am glad that I get to communicate with you every week. You are an inspiration to me. I hope I can be of support to you in some small way.
Anne Boher
---
Jim's virtual memorial will be this coming Saturday, December 5 at 2:00 pm PT. To attend, you will need an email invitation which includes a link to the service and virtual reception.

If you didn't receive an email invitation, please contact Anne, Steve or Leah and we will send one to you.

If you are a Plymouth Church member or friend, you can also contact info@plymouthchurchseattle.org for the link and password.

We would love to have you part of this event.
Anne Mohundro
---
Jim hired me for my first job at the City of Seattle and for that I will always be grateful. He was a great and funny boss always and a great team leader. I joined at a particularly exciting time in the housing division when we had money and staff and excellent local partners to develop affordable housing. We worked long hard days but you could always count on Jim for at least one pun to help throw some levity into the day! I learned a lot about finance and I learned a lot about the city. I was always amazed that Jim did his grocery shopping daily and that he had the time to be inventive in the kitchen even on a workday! Jim seemed to enjoy his work but it was clear that he was a dedicated family man and left his work at the office in order to focus on the best meal to put on the table at home. My condolences to Anne and all the family - Jim will be missed.
Kristin Johnsen
---
Knowing Jim was one of the best benefits of working at The City of Seattle. As an Assistant City Attorney, I had Jim as a "client" for many years. That he took his public service seriously never prevented him from being funny about it. In our early interactions, he was patient with a lawyer new to the ways of the City. His engaging manner and dry wit could make discussing the details of real estate projects a pleasure rather than a chore. In hundreds of conversations over the years I don't recall him raising his voice, or even expressing annoyance at inconvenient legal advice. Jim's dedication to his work and his good nature were examples to us all.
 
Hugh Tobin
---
Jim passed in 10/21/20. We new each other through Plymouth Church, but both of our families lived on Queen Anne Hill in Seattle. I retired 12/31/19 and would occasionally bump into Jim at the grocery store as I did all the shopping due to my wife's stem cell transplant in November 2019 with no immunities as a result, and Covid at large. What I remember most was his warm and comforting voice, even if we were discussing what to cook or just exchanging some pleasantries as we briefly spoke during random meetings at QA grocery stores. Now I know why I haven't seem him in a long time. I guess I will have to rely on his gentle spirit to help me pick the right groceries for our dinner. Jim, I'll miss you, but wish I could have known you better after my retirement and in our Plymouth times too. Love to Anne and family!
Gary Magnuson
---