Robert Wayne Ditzler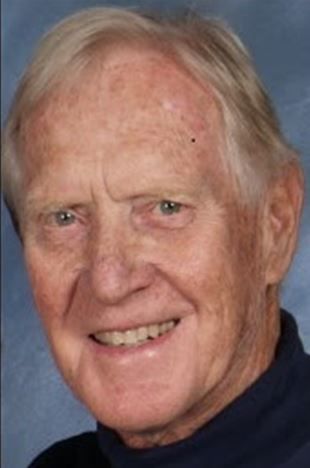 Robert Wayne Ditzler, age 86, died quietly on June 29, 2017, in Seattle, Washington, of a stroke surrounded by his wife and many of his family.
Bob was born March 9, 1931, in Grinnell, Iowa, and was a 60 year resident of Washington state. Since 1987, Bob resided in Sharingwood, a co-housing community in Snohomish County he helped found.  He built many of the houses in the community and also designed and drew the plans for the community's beautiful common house.
Bob went into the Navy immediately after graduating from high school.  He was an electronics technician/radar operator.  Upon his discharge, Bob went to work at Boeing, but he soon found himself bored.  When he went for career counseling, George Mantor, who became a life-long friend, told him he had the best job available. Then, George suggested if Bob wanted something new, he should try going to college – a first for his family.  This led him to Reed College in Oregon, UC Berkeley in California, Edinburgh, Scotland, and finally, to a Master's Degree in History from the University of Washington.  During his time at the UW he was invited to go to Alaska with scientists doing research at a station on the floating ice. His electronic skills were needed. This stint was the source of many of his best tales. 
While going to the UW, Bob supported himself doing remodeling jobs.  He found he loved this work and after graduation Bob began a 50+-year career as a self-employed designer/builder.  His skill in designing beautiful, useful spaces for his clients was much in demand. Bob was always thankful he had found a career he really loved. 
Around 1984, the Guatemalan family in Sanctuary at East Share Unitarian church thanked Bob for what the church was doing for them. Then, they said what they were really worried about was the rest of their family that had fled to Nicaragua and were living in a shack there.  With donations from people at East Shore, Bob went to Nicaragua, found the family and built them a two bedroom house on property they had been given by the Ortega government. This endeavor resulted in a strong relationship that has endured to this day. 
Bob married Stephana Ames in 1988. Life together was rich, as they shared interests, families and friends. They attended Woodinville Unitarian Universalist Church where Bob was one of the founding members.  In 2001 he dedicated two years of his life to the construction of the congregation's new church on Woodinville Duvall Road.
Among Bob's many interests were reading, gardening, sailing, backpacking, traveling, baroque music and the construction and flying of model hot air balloons. Bob was well-known for his legendary spit-roasted lamb, as well as being chief cook for large friend and family gatherings. Whatever he did it was with such a zest for life that all activities he was involved in were made more fun!
Bob is survived by his present wife of almost 30 years, Stephana Ditzler, step-children Karen LeCompte (husband Tom) and David Ames, as well as previous wife Jane Ditzler, mother of his three adopted children; Peach Jack (husband Dave), Mark Ditzler (wife Sally), and J.C. Ditzler (wife Crista).  Bob and Stephana have 13 grandchildren and one great granddaughter. Bob is also survived by sisters Mary Duryee, Marjorie Hillmann and Charlotte Smith (husband Smitty).
 A Celebration of Bob's life followed by a potluck finger-food reception will be held September 2, 2017, 2:00 p.m., at Woodinville Unitarian Universalist Church, 19020 N.E. Woodinville Duvall Road, Woodinville, WA.
Memorial gifts may be given to the Unitarian Universalist Service Committee or Woodinville Unitarian Universalist Church.
---
Comments
What a lovely tribute to Bob, who has been sorely missed. His humor, philosophy, insight and lightness on his feet will be remembered by all his friends throughout our lives.
Mollie Twidale
---
I will always remember Bob's kindness in welcoming me into our church. He confirmed the warmth I felt as I entered the compassionate and enlightened sanctuary. Stephana, thank you for this opportunity to express my gratitude to you both. With Love, Winny
Winny
---
A zest for life describes Bob. He was always young for his age since I met him. Boundless energy and enthusiasm. I will miss him a lot.
Tom Richards
---
Bob embraced the world and all it's inhabitants with love, hope, and respect. I know he would expect the same from all of us.
Fran Davidson
---
Every encounter with Bob Ditzler was filled with joyous hugs and sharing of life's joys and sorrows! Even in post surgery, he made everyone feel happy. He will be missed at choir, coffee hour, constructing new items and remodeling at church with his fellow helpers. A stand-up guy with the warmest of hearts.
Wendy and Bob Condrat
---
I will love and cherish all my memories of living in Sharingwood with Bob.
Nita Perrine
---
I am truly pleased that I knew Bob through WUUC. I could say many wonderful things about him, but I think I will just comment on the extraordinary commitment to WUUC I witnessed when I served with him on the Buildings & Grounds Committee. Bob knew how to do all manner of useful things, and he was willing to do them. Sometimes he noticed things needing doing and they just got done. Other times, a problem would be discussed in the committee and he would volunteer. He would say when he would do what, and he always followed through. I always admired his matter-of-fact generosity in that and so many other areas, as well as his willingness to work harder and longer than people decades younger -- even though sometimes I felt he was operating on sheer grit. Bob was definitely not a couch potato.
Barbara Brachtl
---
The warmth Bob brought to my life and the mark he left on my heart (and funny bone) will endure. I will miss him deeply but he lives on all around me at WUUC and in Stephana's presence. I am a better person for having known him.
Lindsay Rogers
---
Bob was a lovely and talented man. Am glad i got to meet him.
Ralph Wood
---
Such a wonderful tribute to a long and full life. I wish I had known all of this about Bob earlier. Best wishes to you, Stephana, as you start this new leg on the journey through your life. I know you are surrounded by people who love you. We'll see you at the memorial service.
Debbie Kinerk
---
Still a bit stunned that he has slipped from the world--I will miss his generous hugs (and the fond kiss that so often came with it). The world has lost a truly generous and kind human being.
Lori McConnell
---
Bob will never be forgotten. We came to WUUC the first weekend we moved to WA 23 years ago and Bob and Stephana were two of the first people we met. Bob never missed a moment to greet me when I attended Sunday church. He always had a way of making me feel it was important I was there. His personality and compassion are in the very wood of the building, and he made a huge impact on the place. I am better for having known Bob.
Alexandra Clark
---
I am grateful to have many memories and stories of times with Bob. From his profound help in my grieving my mother's death to putting windows in our house in exactly the right places, cooking community suppers, doing crosswords, learning to solder a new water main (on Christmas Eve) ... Bob is and will always be a much cherished part of our family. I think of him when I feed the birds.
So here's to many varieties of applesauce, wisdom, and smiles. I am glad we loved each other well!
Caly
---
A smile, a good joke, a helping hand, a friendly ear, a creative idea... Bob unfailingly had those and more to offer with every neighborly encounter. His zest for life was contageous. Anyone who watched him fly gleefully down a snowy hill on his sled would be infected. Much of my Pacific Northwest identity is connected with Bob: learning to chop wood, put a tea kettle on the wood stove (for humidity control), picking and freezing berries to enjoy the entire year, and so much more that he generously shared with this city girl. Bob was as a caring surrogate grandfather to my daughter. We are all, those of us who knew him, better human beings thanks to a connection with Bob Ditzler.
Karen Castle
---
Bob always had a smile and a warm hug when I saw him. His enthusiasm for life and love for family and friends are his legacy. Thanks you, Stephana, for sharing him with us.
Jane Mathewson
---
I miss Bob so much already. He was a friend, a father figure, and a shining example of how to live a generous and meaningful life. He taught me that it was okay (even good) to ask for help, and had a hand in nearly every significant home repair or improvement project I've undertaken in the past 12 years. His generosity and loving presence have made my life better in immeasurable ways, and he will always occupy a special corner of my heart.
Liz Ligon
---
Yes! Bob brought all these gifts to the world and so much more.
Just one additional that I'll mention here. Bob and Stephana took your eyes and your breath away whenever these two took to the floor to dance! What a delight for them and for all who enjoyed their dancing! They danced on the floor with enthusiastic connection (as they seemed to in so many aspects of their lives.)
May you dance on in our hearts, Bob. May we dance on in your honor.

To music, to justice, and to life!
Honored to have walked the planet with you! You'll be missed.
DD Hilke
---
Bob was a genuine, inspiring, humorous and practical optimist. I learned much from him, and so much admired how he quickly jumped in to help others. Wonderful memories of rubbing elbows in choir, construction, and potlucks. He comes to mind often as I move through the day, wondering what would Bob do.
Tony Cantrick
---
As a newcomer to WUUC, I didn't get to know Bob very well. He was so welcoming whenever I visited the church, friendly, knowledgeable, funny, entertaining. What a loss for our church, and the wider community. You are in my thoughts, Stephana.
Erica Colmenares
---
Bob was an inspiration in how to live a principled, connected and passionate life. My favorite memories of him will always be working on solving weird problems at church and in my studio. He was so fun to collaborate with and his energy and good cheer seemed inexhaustible. The hole he has left is testament to the love he shared.
Karen Hyams
---
I met Bob at WUUC. He was a reliably genuine, warm and deeply caring man. I am honored to have known him.
Tod Ransdell
---
7 years ago Bob approached my husband and I at a church we were visiting on vacation. His sweet smile and warm attitude drew me in and I ended up falling in love with Bob, his wife Stephana, and their neighborhood. We moved across the country to join the community. On the day we arrived, Bob moved us in, carrying large pieces of furniture on his strong back and asking us what else we needed. He continued to be a kind and supportive presence in our loud, chaotic household for the next two years. Bob and Stephana continue to be #goals for me in my life and my children will never forget this amazing soul and sledding on his back down the huge hill of Sharingwood. He made our lives better.
That was kind of his thing.
    
Karen Mangiacotti
---
Bob was like Superman. Always available to help. He built our home, and I would often have questions for him which he promptly answered. I admired him in so many ways. One memory etched into my mind is this guy in his mid eighties pushing a wheelbarrow up a hill. I really liked working side by side with him. I know he felt comfortable with me and was always candid and humorous. Our community has been forever shaped by this caring man. ~ He was a great example for all of us to follow. ~
Michael D. Anthony
---
What an amazing human Bob was. I remember him fondly while WUUC was under construction. Bob was ALWAYS there, nailing something, climbing a ladder, helping guide those awesome glulam (sp?) beams into place, and he wasn't a youngster then! He and Stephana have been part of the backbone of WUUC as long as I can remember. Bob always had a huge hug to share; he was always present. Hard to grasp the depth of the loss. You're in my heart, Stephana, as you grieve the loss of your very best friend. What a wonderful union you two enjoyed. How fortunate you were to find each other.
Jane Millar
---
Bob was a giant among men. He could accomplish anything. He literally built our church and many of the homes in our wonderful community. He did it all with kindness and grace right up to the end. A few weeks ago, we realized that we had a water leak out near our meter. I was at work, so my wife went to ask Bob for a plumber recommendation. At 86 years old, Bob came down to the house and dug up the leak. He said, "The plumber will charge you to dig it up." That's the kind of man he was, he would never turn his back on someone in need. He was also fun! When it snowed this past winter, he brought out his Radio Flyer sled. You know, the old one with the metal runners. At the top of Ditzler Hill (named after him and his wife), he laid down on the sled and had my son lay on his back. They flew down the hill together and nearly crashed. Then he asked my son how much he weighed. Apparently, it was about double what the other kids he had taken down the hill weighed, which accounted for the near-crash. My son still talks about what a thrill it was. I am privileged to have known Bob. Words fail to express how I'm feeling.
Mark Hopkins
---
Bob and I were friends, colleagues in church work (ranging from board meetings to hauling gravel -- lots of gravel) and co-conspirators in sundry goofy projects for 42 years. He and his crew remodeled our house several times -- work like madmen until lunch time then sit around the table and discuss music, philosophy, religion .... Bob was of the few "I shall not meet his like again." people.
Ron Hammond
---
My wife and I were blessed by Bob & Stephana's presence the first time we attended WUUC. Their immediate sincerity in caring for our family was a kind of love we'd never experienced before. Bob had a natural wisdom which he was always willing to share. We had several wonderful conversations about life - his experiences, what he learned from them, and how we could apply those lessons to our lives. We viewed him as the father figure that neither of us have. His warm bear hugs and firm handshakes dispelled many stresses & worries in an instant. We regret that we didn't take every opportunity to spend time with him, but we rejoice in his alleviation of physical suffering. We love you, Bob.
~ The Bruce Pittman Family
---
Dear Bob, AllI I have are WORDS , which feel totally inadequate at this time. Stephana''s cousin from Bulgaria said it well for me. "Bob's death is a bitter pill to swallow." Stephana thank you for accepting Bob's death with such grace and generosity. I am grateful to have you in my life as a wonderful reminder of Bob. Bob, I love you and miss you
Maribeth Raullerson
---
Bob had the best hugs and I can still fell him hugging me. He was a very honest and open person who looked you in the eye and smiled..
Dawn Blomberg
---
When I heard that Bob has passed there was a sharp stab in my heart by some big needle. I was very saddenned. Then I realized that it had been a pleasure and honor knowing Bob. The memories of our social and working times together are still in my mind and heart and pushed out the sadness. Now I rejoice in remembering him.
Jerry Bowers
---
We haven't seen Bob for a number of years now, but Bob was the sort of person you never forget. We first met him socially through a mutual friend in the History Dept. at the UW, Donna Gerstenberger. Then he did some projects for us, first at a house where we lived in Bellevue and later one on Camano Island. We didn't see him often, but it was a special occasion for us when we did. One summer afternoon when we were living on Camano my cell phone rang and it was Bob. I said, "Where are you?", and he replied, "Look out your window." He and Stephana were out there on Saratoga Passage in their sailboat. They anchored, waded in through the waves, and we had another wonderful time together.
Bob was truly a renaissance man. He could skillfully build anything, houses and churches, and he could discuss deep philosophical topics with anyone - always with his unique combination of warm charm and delightful sense of humor. He truly cared for other people and he walked his talk.
He told us that marrying Stephana was the best thing that ever happened to him, and anyone seeing the two of them together knew that was true. Our thoughts are with you, Stephana.
Gene and Marylou Woodruff
---
Dear Stephana,
I was saddened to read about the passing of your husband, Bob. I did not have the honor or the privilege of knowing him, but judging from the written tribute and comments on this page, he was a remarkable, much-loved man.
Stephana, please know you are in my thoughts and prayers. Take good care of yourself.
Wishing you peace and comfort,
Bob Martin
---
An age has passed at Woodinville UU Church and in the hearts of the members of Sharingwood CoHousing Community as Bob Ditzler is no longer with us in person. He will be forever remembered, however, by the persons whose lives he touched in so many ways. His smile and hugs, his energy which saw no bounds, his concern for those who were in pain, his vitality which showed up in dance, playing with the children, and his construction work - he always seemed to have time and energy for whoever and whatever needed him. We will be ever grateful for the opportunity to walk with this man! And Stephana, we hold you in our love as you continue your life journey without Bob.
    
Carol Crow
---
Bob was one of my best friends. Always generous, he helped me every step of the way on my walk through adulthood. I will always be grateful for the loving kindness he showered on my family as we moved through the years of my late husband's chronic and terminal illness. Without Bob, this last year would have been a struggle for me. His hugs, kisses, smiles, and laughter will be with me forever, and I am truly grateful to have shared so much of my path with him.
    
Heidi Engle
---
Bob was the teaching assistant in my world history class at UW in1961. He was my first true mentor. He showed me what loving life looked, felt, tasted, sounded, and smelled like, in long evenings of cooking and listening and dancing to all kinds of music on the stereo he'd built for his friend George, a dear elderly (to me) gay man on Queen Anne Hill, or on fishing adventures to remote secret lakes in the Cascades, and wonderful philosophical and political conversations over coffee in the UW commons. He was doing his masters thesis on Bohemianism in America, so had his finger on the pulse of what was happening in San Francisco, and encouraged me to go there to find my people. Bob literally set me on my way in life, as I know he has for so many others. In the late sixties I came back and worked with him for a year, and learned how to do a job with my hands beautifully and well. I deeply treasure my times with him, with love and gratitude always. He was my Zorba.
    
Laurence Cole
---
Just about every time I saw Bob he gave me a truly strong bear-hug. I knew i was getting a heartfelt and genuine hug if it was from Bob! He was a no-nonsense, authentic person. I looked up to him as a father figure. I can remember going to a circle supper at his home many many years ago and being impressed with his honesty about his beliefs. I have heard him say often just how he can't understand how anyone wouldn't be immensely happy each day - he'd say, just look at all the beauty outside and all around. Wow - what an inspiration. He didn't just have beliefs - he LIVED them. I will truly miss his kind and gentle spirit and caring and generous ways - you are one in a million Bob.
Lauren Soliday
---