Beverly Kaplan-Nelson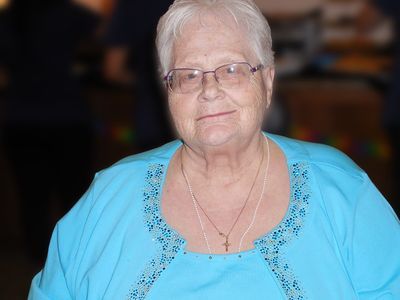 Beverly Kaplan-Nelson was the first born to Donald R Lewis and Beneda Kent in Burke South Dakota. She is survived by her siblings Guyla (Bill) Kaplan, Donald (Pam) Lewis, and Larry (Lynell) Lewis. Growing up they attended church regularly and would stop by Grandma & Grandpa Lewis' after service for a huge meal before heading to the farm to milk the cows and feed the livestock.
Bev went to a one room school house four miles from home, all eight grades in the same room; she was the only one in her grade until her eighth year. She went to high school in Springview, NE, two miles from home. Bev went to Lutheran Church Missouri Synod in Burton, Nebraska all of her childhood; went to bible school in the summers and was confirmed. She graduated and went to Concordia Lutheran Teachers College in Seward, NE and was contracted to teach classes at Mungers school for $500 a month, where she met and married LeRoy M Kaplan and lived in Valentine where they had three boys; Randy, Michael and Vernon. Spring of 1968 Bev packed up her three boys and moved into her uncle's (Leo Kent) trailer park in Redmond, WA. She gave birth to Bradly at the end of September and later divorced LeRoy.
In 1969 she met Vernon G Nelson who had four children Sheryl, Denise, Joe and LaVerne. They married two weeks after their engagement; Dec 5 1969 in Redmond, WA.  
Vern later adopted Bev's four boys, and had all 8 children in grade school at the same time. Vern had property in Port Orchard, WA where they spent many summers with family and friends camping at Wye lake where they later moved for retirement in 1990.
Together their 8 children gave them 23 grandchildren and 26 great grandchildren and 2 great great grandchildren. Randy, has 1 boy and 2 girls and 3 grandchildren, Mike has 1 son 1 step son and 3 grandson, Vernon (Darian) have 1 step-daughter, Bradly (Deborah) has 3 step-daughters Sarah (passed), Sheryl (Chuck) Crowe have 2 daughters and 3 sons and they have 11 grandchildren and two great grandchildren, Denise (Tina) a son Donny (passed) and a daughter and 2 granddaughters. Joe (Laura) have four girls and a son Alex (passed) and 3 granddaughters, LaVerne (Rick) Swanstrom have 2 daughters and 4 grandsons.
Bev's husband of 35 years passed June 28 2004 of Alzheimers, after his passing she moved to Yuma, AZ for 10 years. Complications from a knee replacement that eventually caused amputation of her right leg. Beverly moved back to Redmond, WA. June 2015 to Peters Creek assisted living and enjoyed making new friends and looking out for their care. She enjoyed making lots of crafts and visiting with family and friends. She contracted Covid-19 and was hospitalized April 22, 2020.
It is with great sadness that I report Beverly passed from life on Mother's Day to walk with the Lord, and dance with her husband at 1:20 am 5/10/2020. 
Our hearts go out to the many whose life she has touched, may we smile as she takes on a new transition. She is free from her body and pain, and will in be our hearts forever. 
Her light transfers over to God and her family that have passed before her. Beverly was a strong woman that leaves us forever changed. Your love for her is felt, and thoughts and prayers heard.
.
---
Comments
Dear mom I will miss you dearly, my heart bleeds for your voice. I am happy that you are no longer in pain and dancing with Dad. I love you deeply. Love Randy ❤✝️
---
I miss all of our times spent together and apart cousin and look forward to our reunion in Gods time. We especially enjoyed crafting while living in Yuma. You have been very Special to me. Sending love too all of Bev's family.
- Velda Holt
---
My dearest Bev, I miss you with all my heart! You were not only my cousin, but also my best friend! I have reached for my phone several times to call you, but that is not possible, anymore. It doesn't mean I can't talk to you and I often do. I treasure the mementos that you have made for me over the years and think of you every time I look at them. I will look forward to big hugs when I join you with our Heavenly Father. My love to all her family.
- Verla Brown
---
Rest in Peace Bev
We were always greeted with a smile and a friendly " Hello". May the memories you have help you through this sad time and build joy in your heart and give you peace. Our thoughts and prayers go out to all the family and friends
- Susanne & John Colbert
---
Grandma i know u are enjoying being with grandpa and the cousins and great grandparents and that u are no longer in pain and that u are watching over us i know that i truly am blessed to have been raised but you and grandpa and i treasure all the memories and the love you both have taught me to have and to hold and i love you both for the lessons in life u both have taught me and i love u for my life and for being my mom and knowing i know and love Jesus just as u both wanted me to thank you for everything grandma i love you and will always miss you love always Sonja
---