February 13, 1916 – June 4, 2015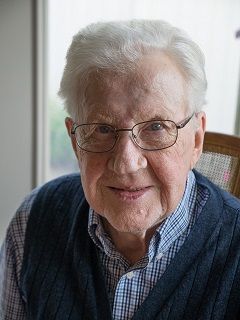 Carl Larson passed away in the company of loving family members at the age of 99 following complications from a fall.  Carl was born in Seattle to Carl Johan Larson and Augusta K. Peterson.  He attended West Seattle High School and the University of Washington, graduating with a degree in electrical engineering.
Carl worked as an engineer with the Boeing Company for over thirty years.  He was a life member of the Queen City Yacht Club in Seattle and a 50-year member of the Seattle Sail and Power Squadron where for many years he volunteered as an instructor teaching navigation and boating safety skills to new boaters.  Carl was also a licensed ham radio operator.
Carl was most happy when spending time on the water with his family and friends.  He began sailing as a young man and enjoyed sailing and cruising in Washington and British Columbia waters every summer for most of his life.
Carl's lifelong health and vitality were undiminished until only the last couple of years. Friends and family knew him as an accomplished, humble and loving man with an endearing wit and a light-hearted zest for life.  He delighted in helping those around him at every opportunity and would go well out of his way to lend his hand.  
Carl was preceded in death by his son, Rolf Larson, who died in 1991 at the age of 40. 
Carl is survived by his dearly loved wife, Maxine, with whom he had spent the last thirty-seven years in great happiness as they sailed, hiked, biked, traveled and cherished each other's company.  Carl is also survived by his son Gregg (Bo) Larson and daughter Kristi Larson, both of whom loved him deeply and feel very lucky to have had him as their father, and by his step-daughters Jan Connelly, Kathy Tankersley and Cindy Brechwald.   
A memorial service will be held on Saturday June 27, 2:00 p.m., at the University Congregational United Church of Christ, 4515 16th Ave NE, Seattle, where Carl had been a member for fifty years.  In lieu of flowers, donations may be made to the American Cancer Society or to the University Congregational Church.
---
Comments
A member of the United State Power Squadron has embarked on his last voyage. The tides of life have ebbed for a shipmate, and we honor his memory. P/C Carl Larson, JN was a valued member of the Seattle Sail and Power Squadron since 1943, he earned 33 merit marks. He was the Seattle Sail and Power Squadron Commander in 1961. We will miss you Carl.
Some Time at Eve
Some time at eve when the tide is low,
I shall slip my mooring and sail away,
With no response to the friendly hail
Of kindred craft in the busy bay.
In the silent hush of the twilight pale,
When the night stoops down to embrace the day,
And the voices call in the waters' flow-
Some time at eve when the tide is low,
I shall slip my mooring and sail away.
Through the purpling shadows that darkly trail
O'er the ebbing tide of the Unknown Sea,
I shall fare me away, with a dip of sail
And a ripple of waters to tell the tale
Of a lonely voyager, sailing away
To the Mystic Isles where at anchor lay
The crafts of those who have sailed before
O'er the Unknown Sea to the Unseen Shore.
A few who have watched me sail away
Will miss my craft from the busy bay;
Some friendly barks that were anchored near,
Some loving souls that my heart held dear,
In silent sorrow will drop a tear-
- Elizabeth Clark Hardy (read at the Funeral of President Woodrow Wilson)
---
Carl with Maxine was the center of so many memorable and joyful events that Jo Ann and I experience with them. Carl will be very much missed. My thoughts are with you, Maxine with love.
Kep
---
Maxine, I am sorry that I will be gone and will miss Carl's service. We are leaving for Desolation Sound. M thougts and prayers are with you. Love,
Gretchen
--Gretchen Scheumann
---