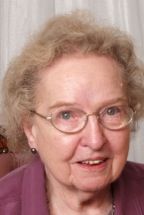 Mariam Garnet Anderson was born August 23, 1919 in Beresford, South Dakota, the daughter of Herman J. and Mary (Stene) Bondhus.  She died on June 5, 2014 in Seattle, WA, at 94 and 9+ months of age.  
Mariam was the youngest of three and only girl.  After high school she went to Kahler School of Nursing, an adjunct to the Mayo Clinic in Rochester, MN, graduating as an RN in 1941.  While in Rochester she met and married Ford Anderson.  They lived in Rochester for most of their 50 years together.  Ford died in December 1991.  They had three daughters, Mary Louise (Sam Pederson) of Seattle, WA; Susan Kay of Seattle, WA; and Carol Jeanne (Mike Hoffe) of Orinda, CA.  She has one grandson, Troy Pederson (Debra) and two great-grandchildren, Julia and Luke.  Her two older brothers, Anthony and Harold, preceded Mariam in death.  
Mariam had a long history of volunteer work with the Girl Scouts of America, Lutheran Social Services of MN, Court Appointed Special Advocates (CASA – Guardian ad Litem program), the Humane Society of King County, and many others.  She was very active all her life in her church, helping start a mission congregation in Rochester, MN, and filling many roles there.  
Mariam loved music, playing the French horn and saxophone in high school, and the piano all her life.  She enjoyed reading, doing crosswords, and reading the paper cover to cover.  She loved sports, following high school, college and professional teams especially in football and baseball, although she also enjoyed watching individual sports such as golf.  She was a talented knitter, and the more complex the pattern the more she enjoyed it, yet also finding pleasure in making simple prayer shawls.  She spent some years in Rochester selling antiques, especially enjoying the interactions with customers and the weekly interview she did on the local radio station.  She loved to bake and entertain and was the first to welcome newcomers to her church or neighborhood.  Her door was always open and the coffee was always on.
Mariam moved to the Providence Point community in Issaquah, WA in 1997, and then to Seattle in June 2012 to be closer to the assistance of MaryLou and Susan since she was no longer driving.  Until she fell ill in February of 2014 she lived independently, moving into Columbia Lutheran Home the end of February.  There she received loving and tender care until her death on June 5, 2014.  She will be greatly missed by her family and all the many people she knew or had helped over the years. 
A meaningful tribute to Mariam would be to remember her as you do your volunteer work, knowing that this is what made her feel happy and fulfilled.  
Memorials in her name can be made to Columbia Lutheran Home, 4700 Phinney Ave N, Seattle, WA 98103 or the King County Humane Society at 13212 SE Eastgate Way, Bellevue, WA 98005.
---
Comments
[ Insert Comments ]
---