Claudia (Case) Tarbox
1937-2023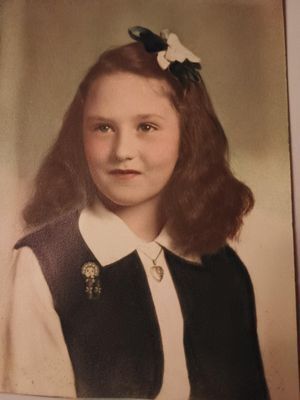 Mom grew up in North Seattle, moving into her family home when she was 2.  She moved out when she married and had 4 children. Moving back into that same house to care for her dad when his health took a turn and he needed to be cared for.  She was a 3rd generation Washingtonian! 
During the war her parents took on jobs that took their time away from home.  Mom moved out to the Redmond Farm to stay with her grandparents.  She especially loved the goats and rabbits. Some of her favorite trips were camping with her parents in and around the Pacific Northwest and to Yellowstone. 
 Our mom and dad first met when our dad was her paperboy. Her mom approved of the young boy walking down the street whistling a familiar tune. Both our parents went to Roosevelt High School.  
Our mom and dad loved weekending up at their trailer in Granite Falls.  Many happy times were had.  Family celebrations around the campfire.  Railroad Days in town with the grandkids.  Playing with the dogs in the river. There always was a dog in the house.  Mostly German Shepards:  Charlie, Mandy, Misty, Mindy, and Heidi.
Our mom remembered her fun camping trips when she was young and wanted to recreate that fun time for her kids.  That is when our "blue tarp" camping started and mom's love for cold bean sandwiches! We had fun camping in the rain, 6 people in a tent.  Buck Creek was a favorite spot as we all grew older.  
Every year right before Christmas mom and dad would have all the grandkids over to make gingerbread houses.  The grandkids would sit at the kitchen table with all the fixings close by, while mom and dad would try to keep up with them, making the icing for glue to hold the graham crackers together.  Some would make elaborate houses while others would make a square candy box! The night would end with a sleepover in the front room.
Mom and dad loved having family close.  As our family grew, the house would overflow with family.  Easter dinner with egg hunts, birthday dinners, Halloween bobbing for apples and dad's famous chili, a Thanksgiving feast and Christmas dinners including a church candlelight service before the presents were opened.  
Mom loved Owls, watching the Muppet Show (1970'S), Funny Home Videos and snacking on a sweet treat with her coffee. Mom also loved watching the hummingbirds fly and drink from our feeder on the deck and watching all the squirrels scurry about the yard and in the trees.  
She is survived and will be missed by her children Michael (Kathy) Tarbox and Susan Johansson, son-in-law Steve Arnold, daughter-in-law Tracey Harper.  10 grandchildren and 16 great grandchildren and brother-in-law Gary (Toneta) Tarbox. She will be missed by her Faith community and her friends that loved her deeply.  Including Pat, Lois and declared "sister" Julie.  
She was preceded in death by her parents, Margie Whalen Case and H. Spence Case. Husband E. Michael Tarbox, children Deborah Arnold, David Tarbox and son-in-law Chris Johansson. 
Thank you all for bringing joy into her life.
A Memorial Service will be held at Faith Lutheran Church, 8208 18th Avenue NE, Seattle, WA 98115 on Sunday, November 5 at 2:00 PM. Remembrances can be made to Faith Lutheran Church at the same address. 
---
Comments
Elaine sent me the sad news. She had a long, good life filled with treasured family and wonderful memories. I am thinking of every one of you and I send you my love.

Shari Swanson
---
I grew up next door to her parents' house on NE 92nd St. Her father Spence got me interested in TV and radio repair -
I would visit with her sons Michael and David when they came over for a visit.

My mom Hella sends her condolences.
John Slomnicki
---