C. Wayne Porter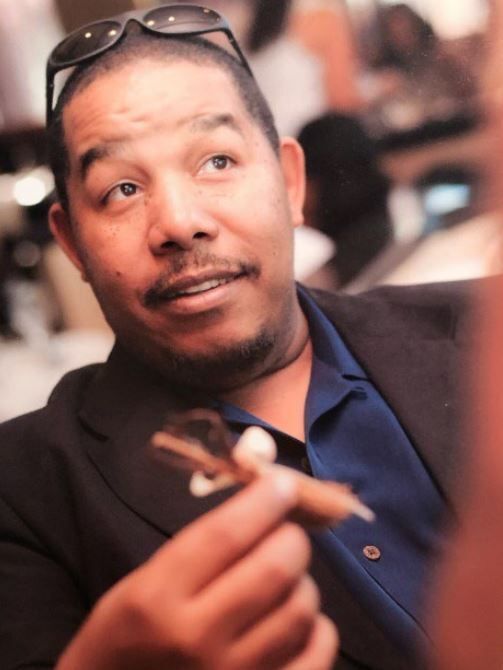 C. Wayne Porter (Wayne), age 62, was surrounded by several family members when he passed away at home on December 30, 2022, following two and a half years of treatment for glioblastoma (brain cancer).
Wayne was preceded in death by his parents, Arthur L. and Almeda Porter and two of his older siblings: Eunicetine (Eunice) Franklin-Pharr and Henry Franklin. He is survived by his wife of 36 years, Rainelle Sizemore; his siblings and their families: Leonard Charles, Larry, Judith Pharr, Pearl Smith, Leonard Franklin, Emmons, Terrence, Arthelle (Don Burns), Dennis, Gary, Kendall, Teresa (Stanley Himes) and David (Dawn Graham Porter); his Sizemore family in-laws and a host of long-time friends.
Wayne loved music from an early age and expressed his passion by playing percussion and drums, first with his older brothers, and then joining up with other musicians as a young adult. While Wayne's first love was jazz, he did not limit himself to a specific musical genre and took advantage of opportunities to play with a variety of musicians in the Oakland/San Francisco Bay Area and in Seattle.
After he and Rainelle relocated to Seattle, Wayne began working as the primary painter in the maintenance department at The Pike Place Market PDA in 1995. Wayne loved his job, and he loved being part of The Market Community!
Wayne continued to hone his skills as a musician - playing live at venues & festivals, small and large, across the Puget Sound region with singer-songwriters, Midnite Walk (a collaboration that included his older brother Emmons), Soul'd Out, Deadwax, The Travis Hartnett Trio, On The Rock, and Sing Low Indigo, to name a few, as well as jamming and/or recording with a variety of musicians. Over the years, Wayne used his ear for music to recruit bands for several of the Pike Place Market festivals, The Pike Place Market Centennial celebration, as well as fundraising events hosted by The Market Foundation, including Sunset Supper at the Market.
Wayne was an easy-going, friendly, caring, and funny person who loved his family and friends. For all who knew him, Wayne will be greatly missed.
The family wishes to extend their appreciation and admiration for the medical professionals at UW Medical Center Montlake & UW Medical Northwest and Alvord Brain Tumor Center, the home health therapists, and the amazing home hospice caregivers.
In lieu of flowers, please consider donating to one of the following nonprofit organizations in Wayne's memory:
A celebration of Wayne's life will take place in Oakland, California on Saturday, March 11, 2023, from 2p-6p at Geoffrey's Inner Circle Banquet Hall, and in Seattle, Washington on Saturday, March 18, 2023, from 3p-7:30p at the Pike Market Senior Center.
---
Comments
We were very sad to hear the news of Wayne's passing. We have fond memories  of us getting together when we worked together at The Watergate Office Towers. I was just thinking about Wayne a couple of days ago. We are sorry for your loss Rainelle. We will never  forget the great dinner we had at The Soul Brothers Kitchen and concert at Eli's Mile High Club. Also attending Church during the Christmas holiday with you both. Rest in peace our brother. 
Jock and Emma Perry
---
I am so saddened to learn of Wayne's passing so young. I was lucky enough to be one of his doctors for about 20 years until my retirement three years ago,  Whenever I saw his name on my schedule, I knew it was going to be a great day. He was so thoroughly, to the core, kind and caring. He was also completely down to earth and hilarious. My heart goes out to his family. 
Ken Gross
---
For my dear friend, Rainelle:
I was so sad to hear of your loss with the passing of C. Wayne Porter. My heart goes out to you, the long-time wife, friend, and supporter of Wayne, who had a remarkable life.

Take care, dear one,
Dr. Jacqui Cyrus
---
Mr Wayne Porter has a pure heart, love and very kind person . Our sincerest condolences for you at this time. You have my deepest sympathy and unwavering support. Wishing you peace, comfort, courage, and lots of love at this time of sorrow. My heart goes out to you at this difficult time. You are always in our heart. We love you . RIP

From Seattle express ride town car service team.

Haben Tadesse
---
All of us at Pike Place Market miss Wayne so much. His calm, his depth. The Market never looked better than when Wayne was the principal painter and it never sounded better than when his music was bouncing off the walls.
Mason Lowe
---
It's hard to speak on one without the other; Wayne & Rainielle together, like Pres. Obama & Michelle, Denzel & Paulette, Will & Jada, Ashford & Simpson, solid as a rock!
A King & Queen, providing support & showing kindness over the years in the Market.
Twenty Eight years of knowing Wayne and watching him spruce things up. I don't think anyone could do it better, he was a man of perfection.
He insisted on trying to find the exact paint match, to touch up spots, from water leakage in my office. He was not able to find a match and wasn't going to do a touch up with just any color.
Sunset Supper is one of the best Fundraising events in the Market. Wayne would put a real groove to the evening event with the band. The Brother knew how to get folks up on the cobblestones to shake it down.
I miss seeing & talking with him, we always had something to talk about. I will always remember how he'd hook up with Rainielle and I sometimes on a lunch break. I know he's up there with the Angels, getting his groove on with the music.
Rainielle, you are a Queen, holding things down, your King will always be with you, in your memories & in your heart.
Brother RIP
Sandra Dunn
---