Audrey Cresswell Kellison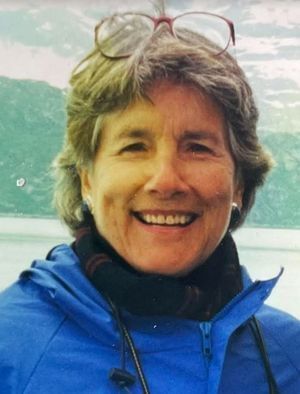 Audrey Cresswell Kellison, 90, died October 21, 2022, of complications from Alzheimer's disease. She was born November 3, 1931, in Bryn Mawr, Pennsylvania, to Donaldson and Elizabeth Cresswell. 

After graduation from the Shipley School in Bryn Mawr, Audrey moved to Washington, DC, where she worked for more than a decade on Capitol Hill for House Majority Leader Charles Halleck. She then enjoyed a 35-year career in residential real estate as a broker for Begg/Long & Foster and for Arnold Bradley Sargent Davy & Chew. Disarmingly funny and direct, she delighted in driving clients around Washington in her green Wagoneer and made many life-long friends in the business. Audrey loved being outdoors with her family, talking to and petting all animals both wild and domesticated, traveling, swimming in the ocean in her trademark bathing cap, and playing family tennis games. She enjoyed bridge with her card shark husband, and she enthusiastically participated in the Contemporary Issues seminar at University House in Seattle, where she lived for 14 happy years. Audrey loved attending political forums and had studied all the local candidates and ballot initiatives before her daughters had even received their ballots. 

The family thanks the remarkable staff at Aegis West Seattle for filling her final months with joy, love, and comfort. Audrey was preceded in death by her husband of 47 years, James Bruce Kellison, her two sisters, Lily and Lisa, and the beloved family dog, Isabel. She is survived by a son, James Bruce Kellison Jr., of Austin, Texas; two daughters, Elizabeth Stewart Kellison and Julia Cresswell Kellison, both of Seattle; their spouses and six grandchildren.

A celebration of Audrey's life will be held in Washington, DC in the spring. In lieu of flowers, donations may be made to the World Wildlife Fund or the Alzheimer's Association.
---
Comments
---