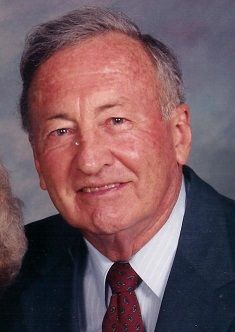 Richard Burton Grass, a resident of Seattle for over 70 years, passed away on November 30, 2015, due to complications related to Alzheimer's. Born in London, England to Joseph Grass, Jr. and Helen Thomas Grass, Dick moved to Seattle where he earned a Bachelor's of Science degree in Engineering at the University of Washington. He then became an engineer for the Boeing company.
In 1947, Dick married Dorothy Freeman. They were married for 26 years. Later, in 1976, Dick married Joan Pribnow. He was a member of Plymouth Church, an historic congregation in Downtown Seattle. In addition to time spent with family, Dick enjoyed a nice game of golf, and traveling to various destinations.
Dick was preceded in death by his parents, his brother, Joseph Grass III; his sister, Barbara Rogers; and his son, Todd Gartshore. He is survived by his wife, Joan; his daughter, Tooney Pearce, of San Diego, California; his daughter-in-law, Beth Gartshore; his son and daughter-in-law, Brian and Kate Gartshore of Seattle, Washington; and his son and daughter-in-law Jeffrey and Edna Grass of Eugene, Oregon. He is also survived by three grandsons, three great-grandsons, and numerous nieces and nephews. He will be fondly remembered as a loving and generous husband, brother, father, and grandfather.
I know for certain that we never lose the people we love, even to death. They continue to participate in every act, thought and decision we make. Their love leaves an indelible imprint in our memories. We find comfort in knowing that our lives have been enriched by having shared their love.
--Leo Buscaglia
---
Comments
---