Marion E (Betty) Campbell
1947 ~ 2021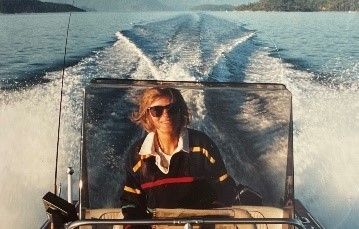 "Blessed are those who mourn, for they will be comforted"" (Matthew 5:4). Betty Campbell, loving sister, aunt, great aunt, and friend to many, passed away peacefully on August 18, 2021. Betty was born on May 31, 1947, to Bud and Lucille Campbell of Seattle, WA and enjoyed calling the Seattle-area home most of her life.
Betty's love for family and friends, along with her spirit of adventure help define her life. Betty was generous with her time and resources, investing in the lives of others. Whether it was opening her home to out-of-town guests, volunteering in various community activities, or providing a much-needed break to a bevy of parents with her babysitting talents, Betty served those she loved and cared for in a whole host of ways. She was the consummate Giver!
Betty enjoyed a successful career as a self-employed manufacturers' representative in the housewares industry. She launched her business, Swann Associates, back in 1980 and enjoyed working with vendors and retailers throughout the Pacific Northwest. She developed many life-long relationships and played an important role in the successes of her colleagues.
Betty's travel bug took her to more than 25 countries over the course of several decades. She loved to experience different cultures, enjoy nature, and see the sites. Whether it was a safari in Africa, touring the museums in Paris, shoe shopping in Italy, boating in Desolation Sound or a mission trip to Albania, Betty was always game for an adventure. She developed many close friendships over the years as a result and cherished those relationships throughout her life.
Over the years, Betty read the daily newspaper from cover to cover and remained an avid crossword solver; in her later years, she could be found tackling the Sudoku puzzle; amazingly, she was able to complete the daily Sudoku despite her cognitive decline caused by Alzheimer's. She loved Christmas, playing golf and baseball, and continued to follow her beloved Mariners with a big "thumbs-up" with that last out in the 9th on August 16th!
Betty is survived by her two siblings, Carole (Mike) Appleby; and Jim (Jill) Campbell; also surviving are her nephews and nieces, Steve (Jennifer) Appleby; Melissa (Matt) Stoner; Grace Campbell; Andrew Campbell; and Seth Campbell; seven great nieces and nephews.
The family would like to express its sincere thanks to the many caregivers and the faithful who prayed for her these past few weeks; you made her final days comfortable. We appreciate your loving care through a process that at times was very difficult; may God's blessings be with you.
Betty's love of the Lord gives us peace, knowing that she is now in a place that has been prepared for her, a place that is greater than we all can imagine. Rest in Peace "Aunt Betty", we love you deeply.
 A private service will be held at a date to be determined by the family.
In lieu of flowers, remembrances may be made to the Alzheimer's Association, or a charity of your choice.
---
Comments
---