Jerald Eugene Monaghan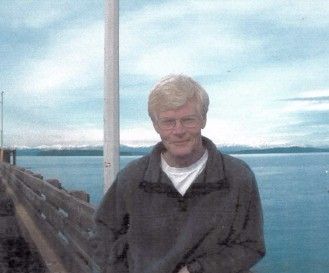 Jerald Eugene Monaghan passed away March 22, 2017 in his Seattle, WA home after a long and fierce battle with COPD.  He will be sorely missed by his wife, Susan Westlund; son, Joel Monaghan; stepsons, Michael Beard, Jesse and Eric Blaisdell; brother, Donald Monaghan; grandchildren, Matthew, Brianna, and Alyssa Monaghan;  sisters-in-law, Elaine Monaghan and Leah Westlund; as well as nephews, cousins and many friends.  He was 69 years old.
Jerry was nicknamed "The Professor" among his railroad buddies at the Chicago North Western and Union Pacific Railroads where he worked for 33 years,  A quick and independent learner, he taught himself photography, astronomy, and guitar among many other interesting and practical things while riding the rails as a conductor.  
Forever curious, Jerry often pushed limits.  The boy who was thrilled to receive a dictionary for Christmas, also built and raced motorcycles in his teens.  He loved the roar of engines and the smell of nitro at drag races.  He practiced aerobatics in small planes across the Midwest and off the coast of Florida, spinning in nosedives over the beach.  
He was the photographer, gadget guy, and "living encyclopedia" of many topics.  An early adopter of the personal computer, he became the IT person for his family and friends; and he remained the conductor, a guardian of those he loved and of all that for which he was responsible.  
Most importantly, Jerry was a friend.  He was honest, unpretentious and available to people he loved.  With 43 years sobriety, he was always ready to help others recover.  He helped support two children in developing countries and gave to the Red Cross and the Make-a-Wish foundation.  In recent years, he became passionate about politics, donating to political candidates and joining the ACLU.
A celebration of Jerry's life will take place in Des Moines, Iowa on his birthday, May 28, 2017 in the community room of Franklin Field Apartments, 5250 Franklin Ave., Des Moines, IA 50310.  He joins his parents, Verna and John Monaghan, his brother, Michael Monaghan, grandparents, aunts, uncles and cousins, as well as his AA sponsor and beloved friend, Dorothy Cunningham in the realm of pure spirit.
---
Comments
Lovely memorial for an extraordinary man. We all cherish the memories and hold Jerry in our hearts forever! <3
    
Sherri and Pat Harding
---
This is a beautiful tribute to a beautiful man from a beautiful wife.... I am sorry for your loss. Grateful you two had one another. Grateful now mom and Jerry have one another.
    
Love, Sally
---
What a wonderful picture of Jerry and a heart warming tribute. Jerry was not only a loving son, brother, husband and father but a good friend. Many prayers of comfort Susan, family and friends.
    
Nancy Hossack
---
What a lovely tribute for a wonderful man. I have such fond memories of Jerry, including his teaching me to play guitar at my grandma's. We used my father's guitar, it was shortly after he died...It was very special. I also remember Jerry perpetually with a camera. What a talented guy! I'm so sorry for your loss and know that he and grandma are hanging out in bliss together. I'm so glad you two were able to share in this crazy, wonderful human existence together. Sending much love to you and all that were touched by his amazing life.
    
Sarah Hartmann
---
Jerry came to pick me up at the airport the day I moved to Iowa. I have many fond and fun memories with Jerry. I know my mom was right there with Jerry when he left his body, those two have always been very close. I know one of his happiest moments in his life was when he was finally able to marry his soulmate Susan. I'm sure the two of them will show up to greet my when it's time to move outta this body of mine.
Susan Benson
---
Susie......so sorry to hear about Jerry.
Pat (Ordner) Nelson
---