Mary (Moffitt) Williamson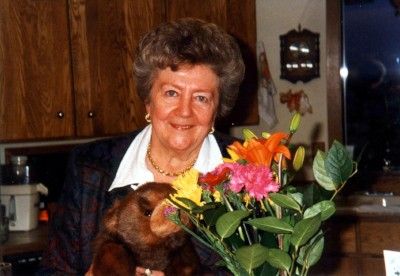 Mary (Moffitt) Williamson passed away peacefully on November 5th with her children present.
Mary was born in 1929 outside Minot, North Dakota. The youngest of six siblings, at age 14 Mary moved into town to attend Minot High School. In 1949, Mary joined two of her sisters in Seattle, where she worked for the phone company, lived an active life, and made lifelong friends.
At 29, she married Earl "Willie" Williamson, the young owner of Durham Upholstery. "The Shop" became a central part of their life together. The couple settled in Magnolia, where they raised their two children and lived until this past year. 
Mary enjoyed cooking, photography, gardening, arts and crafts, and hosting friends and family. She took great pride in their dream house and her beautiful flower garden. Mary especially loved spending time with her grandchildren.
Mary is preceded in death by her 5 siblings and survived by her husband of 59 years, their two children, Linda and David, 5 grandchildren, and many nieces and nephews.
A celebration of Mary's life will be held at her son's home at 20510 NE 126th Court in Woodinville, Saturday, November 18th from 1:30 - 4:00.
Remembrances to the Cure Alzheimer's Fund.
---
Comments
I am so sad to say Goodbye to my favorite, sweet Aunt Mary. What a beautiful and kind woman you have been. I will forever remember your sweet smile, fun personality and the incredible kindness you always showed to me and anyone who was lucky enough to know you. Love to David, Linda, Uncle Earl, and family.
Irene
---
Always loved Aunt Mary. Great smile, kind eyes, sweet words. Married 59 years, raised two wonderful human beings. A life well lived.
John Stone
---