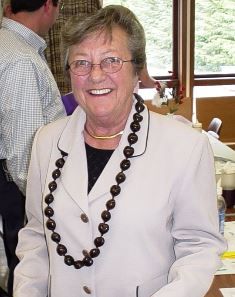 Dolores (Dee) Rolande Proulx Poor Born on April 11, 1934, in Lewiston, ME, Dee lived a full life. She was known to her family and friends as a dedicated wife, mother, volunteer, and go-getter; Dee got things done. She passed away at age 81 on October 29, 2015 in Seattle, WA.
Dee grew up in southern Maine. She was the second of four children born to Jean and Anita (Fregeau) Proulx.  She often talked about the cold winters and her father's Willys dealership. After completing high school Dee attended beauty school in Providence, RI. Upon obtaining her Cosmetology license, she immediately moved south to a warmer climate where she worked for a number of years as a hairdresser in Miami and Saint Petersburg, Florida. 
In November of 1960 she met LTJG George Poor. After 6 weeks together they were married and departed with a truck and a small trailer to George's next work station with the Coast & Geodetic Survey in Texas. She was soon pregnant with their first child and returned to Florida to await the birth of George McCoy Poor Jr. Dee's young married life was full of many moves with her husband's work; from Florida to North Carolina, then Texas where they were joined by a second son Glen Michael Poor. Then, they moved to Virginia, Connecticut, back to Virginia and to Seattle for the birth of Gregory Mark Poor. Then, back to Virginia and the birth of their daughter Anita Marie Poor. They moved to Seattle in 1972 and called that home for the rest of her life. In 1988 they moved to their last home in Lake Forest Park on Lake Washington; this was their residence for the next 25 years.
Dee always encouraged her children's and grandchildren's activities and education. She was a great cheer leader and was active in all of her children's school and sports activities including Scouts, soccer, motorcycles, drama productions, youth groups and church activities. She was awarded the St. Anne Award for service to scouting in the Catholic Archdiocese and the 1982 Archdiocesan "For God and Youth Award", which was presented at St. James 
Dee was a good athlete and loved to play sports. Her favorite was tennis, which she played several times a week. She also played golf and lawn bowls. She represented the Northwest Division 3 times at the USLBA National Championships. She had a love for music and played the organ to entertain family and friends but mostly herself. She loved to play Bridge and Solitaire. 
She earned her real estate license in 1989 and sold real estate for several years. In 1991 Dee and George began "Snow Birding" south in the winter to enjoy the warmer weather Dee so loved. They made a second home in Arizona and spent every winter there for the next twenty-three years. During her life she traveled extensively around the United States and world including England, France, Ireland, Spain, Portugal, Switzerland, China, Hong Kong, Australia, Mexico, Canada, and Morocco. 
Dee will be missed for her beauty, wit, wisdom and honesty. She is survived by her loving husband George, sons George Jr. (Sara), Glen (Roisin), Greg (Julie) and daughter Anita (Jay), granddaughters Katherine and Madeline Poor and grandson John Vannice, and brother Jean Proulx (Barbara). She was predeceased by her parents Jean and Anita, brother Roland (Carol) and sister Laurie (Larry).
There will be a memorial service on Friday, November 20th at Holyrood Cemetery Chapel, 205 NE 205th Street, Shoreline, WA, at 1:30 pm. A reception will follow at the Lake Forest Park Civic Club, 17301 Beach Dr. In lieu of flowers, the family would appreciate donations to a charity in Mom's honor that empowers young women to take charge of their lives and be more active in sports, especially Girls on the Run International. They may be contacted at http://www.girlsontherun.org/
---
Comments
Poor Family, 
I am so sorry for your loss. My thoughts and prayers are with you during this time.
-Pamela Helle
---
Dear Anita and Family,
We Sisters offer you our prayerful support as your Mother enters her eternal life. May Dee share with you her deep peace and Joy, especially at those times you may be missing her the most.
Sisters of the Holy Names of Jesus and Mary
---