Ruth Hayler
November 6, 1948 - November 7, 2022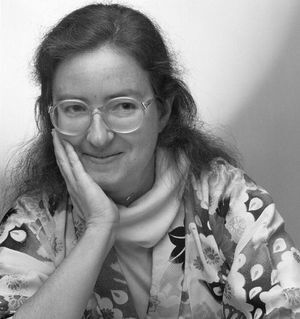 Ruth Hayler died suddenly on November 7, 2022, the day after celebrating her 74th birthday with longtime friends. 
Ruth grew up in San Diego and the San Francisco Bay area, the youngest of five children in the Hayler family.  After graduating with a B.A. in English from Pomona College, Ruth lived in London for three years, where she earned an MPhil degree with her thesis on World War I poet Siegfried Sassoon. 
More importantly, she discovered film.  Ruth devoured movies, sometimes watching two or three in one day, and began a lifelong habit of keeping a notebook in which she recorded the details of every movie she saw.  She returned to the United States in 1973, determined to find a job that was somehow connected with watching movies. 
While visiting her sister in Seattle soon after her return, Ruth read a newspaper article about Randy Finley and his 93-seat Movie House theater.  She met with Randy, intending to question him about job possibilities in the field, and ended up being offered the job of theater manager.  Ruth did it all – selling tickets, making popcorn, cleaning the bathrooms at the end of the show.  And she loved it.  Well, maybe not the cleaning the bathrooms part.  But she was hooked. 
It was, as Rick Blaine said in Casablanca, the beginning of a beautiful friendship.   Ruth often said that she had worked for one company her entire career:  the Movie House, the Seven Gables theater company, and, eventually, Landmark Theatres.  Even owner Mark Cuban could not dampen her enthusiasm for seeing movies in a unique communal space.
In addition to her work as theater manager, publicity agent, and film booker, Ruth was involved with the Seattle International Film Festival from its beginning in 1976 as a programmer and enthusiastic supporter.
She was also among the small number of movie devotees who had attended the Telluride Film Festival in Colorado every year since its beginning in 1974.  In the 1970s Ruth brought her own tent and camped out.  For years she regularly rented a jeep and went four-wheeling off-road while in Telluride.  In recent years she limited her exercise to vigorous walking between the multiple Festival sites. 
Ruth continued to work well past the usual retirement age.  Why retire, she said, when you still love what you do?  But she refused to leave her adopted hometown, and retired in 2020 when her job was moved to Los Angeles. 
Ruth will be sorely missed by her sisters Helen and Barbara, her brothers Lewis and Don, her many nephews, nieces and cousins, and the large circle of friends and people throughout the film world who knew her well.  Memorial donations may be made to the Seattle International Film Festival at www.siff.net/donate 
Please share your memories of Ruth Hayler.  An event honoring Ruth is planned as part of the 2023 Seattle International Film Festival. 
Ruth Hayler, wearing one of her signature movie T-shirts

Ruth Hayler and friend Shelley Gibson at the 2021 Telluride Film Festival
---
Comments
Ruth was one-of-kind, a true original. She was whip smart and always had something interesting to say. I met her at the Seven Gables, in my first job out of college. She had created a spot for herself in a world that she loved and where she excelled. What a font of knowledge! She was a human database of films and the people who made them! I enjoyed knowing her for many years, but it was not enough. She will be sorely missed.

Julia D
---