Detective Emil Drovetto, Ret.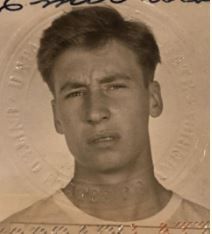 Emil was born November 27, 1925 in Roslyn, Washington. His parents were Anton (Tony) and Mary Drovetto, and he was the youngest of four sons. Emil graduated from Cle Elum High School in 1944 and went on with enthusiasm to serve in the U.S. Merchant Marines, transporting supplies to troops and allies during World War ll. He was honorably discharged in 1946 and decided to start a career in law enforcement with the Seattle Police Department. He worked patrol car in the North precinct and was later assigned to the Chinatown-International District beat. He was a member of the Seattle Police Marching Drill Team, representing the City of Seattle at numerous events and parades locally and around the United States, including the 1962 Presidential Inauguration of John F. Kennedy, the Annual Aloha Days Celebration in Honolulu, Hawaii, numerous Seafair parades and as a sponsor of the U.S. Marine Corp Band performance at the Seattle Center.  
Emil's life nearly came to an end after the Marine Corp Band performance on October 12, 1968.  Upon his return home from the performance, he stopped to visit a close friend, Vic Rossi, owner of the G&R grocery store on Roosevelt Way. During the visit, two armed men surprised Vic and Emil and demanded cash from the register. Gunshots were fired at Emil as they assumed he was armed. However, Emil was wearing his dress uniform for performances, not armed and unable to defend Vic or himself from the gunshots that ensued. He struggled to disarm one of the assailants while the other was continuing to fire. Emil was able to chase the assailants out of the store, and attempted to flag down passing motorists. Fortunately two young school teachers, James Whitford and Ralph Velie, stopped and took him to UW hospital. Emil was struck by five bullets, bleeding profusely and had life threating wounds to various organs. Thanks to the quick action of the good Samaritans that drove him to the hospital, the passionate treatment from UW medical staff and prayers from family, friends and the entire city, Emil eventually made a full recovery. 
Upon returning to active duty with the police department, Emil was promoted to detective and continued to work until his retirement in 1972. After his career with the police department, Emil worked as a Mutual Clerk at Longacres Race Track in Renton, where he continued his love and association with thoroughbred horses and the many wonderful people that participate in the "sport of kings." 
Emil was married to his beloved High School sweetheart, Norma Bosone, for 44 years. During their life together they had three children, sons Joe and Gary, and daughter Dina. Emil and Norma enjoyed attending Little League games, numerous tent camping trips and road trips, the most memorable being the road trips to the Rose Bowl in Pasadena, California in 1960 and 1961 to watch the Huskies shatter Wisconsin and Minnesota. 
While patrolling the Chinatown beat, Emil and Norma developed an interest and appreciation for Chinese culture and cuisine. They vacationed in the Far East to learn more about the Asian culture and traveled to Italy to connect with their own family roots.  They continued to visit their friends on the island of Oahu until Norma's death on October 4, 1992, one day before another scheduled trip to Honolulu. 
Following Norma's death, Emil later developed a friendship with Kaye Beeson, who was a widow of a Seattle Police Officer.  Kaye was Emil's friend and companion and they continued to travel and gather with friends until her death on February 3, 2018.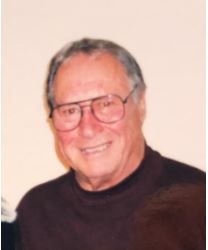 Emil had a love for entertaining and was known for his happy outgoing personality and kindness for all those around him. He always had a special place in his heart for family members, friends and work associates.  His coworkers and local business men and women in the Chinatown community called him "Spaghetti" in recognition of his Italian heritage. He was a founding member of the Retired Association of Police (RAP), and organized their first meetings at Restaurants in Chinatown. He participated as a member of the Roslyn Eagles, Foot Printers, and the Italian Club. Emil enjoyed playing basketball, swimming, walking around Green Lake, attending UW Husky and Seahawks football games. He and his brother Art owned two thoroughbred horses and were big supporters of the horse racing industry.
Emil leaves behind to cherish his memory: son Joe, his wife Laura, their two sons, Tony and Nick, daughter Dina, her husband Amr their two children Montasir and Alia and daughter in-law, Sheila Gavin Drovetto, widow of son Gary.  Emil also leaves behind his good friend Sam Talerico and his wife Margy, as well as retired Chief Hubert "Bud" Vandenwyer, plus many other loving friends and loyal coworkers. A special thank you goes to the compassionate care givers and support staff of the Parkshore Senior Living Community, where Emil spent his final two plus years battling the symptoms of Alzheimer's disease. He passed away peacefully on October 6, 2019.  His urn will be placed next to his wife Norma at the Eagles Cemetery in Roslyn, Washington with military honors. 
Remembrances may be made to:
The Roslyn Fire Department Aid Car Fund, PO Box 451 Roslyn, WA 98941 
---
Comments
Dear Joe and Dina,
I just read your Dad's very nice obituary in the
Cle Elum paper. Like you, I will always have fond memories of Emil and his whole family.
Take care❤️
- Craig Pedersen
---
---