Mary Ann Schnaidt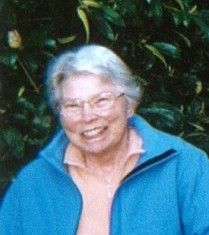 Born to Jesse Monroe Clark and Mary Kemp Miller March 6, 1929 in Andalusia, Alabama.  Died January 18, 2018.  Grew up in the countryside developing a love of nature.
Graduated from Anniston High School and attended Stephens College before moving to Anchorage Alaska with her family.  Graduated from the University of Washington with a BA in History.  Worked at the Dept. of Economics, Univ. of WA before devoting herself to family and home.   Wonderful, dedicated cook, warm and kind with a good sense of humor.  Very artistic, literary, and well read.   An avid gardener, she was the first secretary for the founding of  Friends of Seattle's Olmsted Parks and a long-time volunteer at the Washington Park Arboretum.  Actively involved in preserving the area that became Llandover Woods Greenspace in NW Seattle.  Loved classical music and the arts, and brought up her children with a love for the outdoors and nature.
Pre-deceased by her husband of 59 years, Herbert John Schnaidt Jr. and brother Jesse M. Clark.  Survived by daughter Ann Schnaidt of Ft. Collins, CO, daughter Katherine Schnaidt(James Shuff) of Seattle, WA, and son William Schnaidt(Sue Bradley), and grandson Henry Schnaidt of Ann Arbor, MI, and sister Dulcie Clark Dewey of Denver, CO.
Received eight years of devoted full-time caregiving in her home from Kate and Jim, and from a select few exceptional caregivers.
Those wishing to honor her memory may donate to The Arboretum  Foundation.
" Nature is always lovely, invincible, glad, whatever is done and suffered by her creatures.  All scars she heals, whether in rocks or water or sky or hearts."
  - John Muir
---
Comments
---