Levin M. Lynch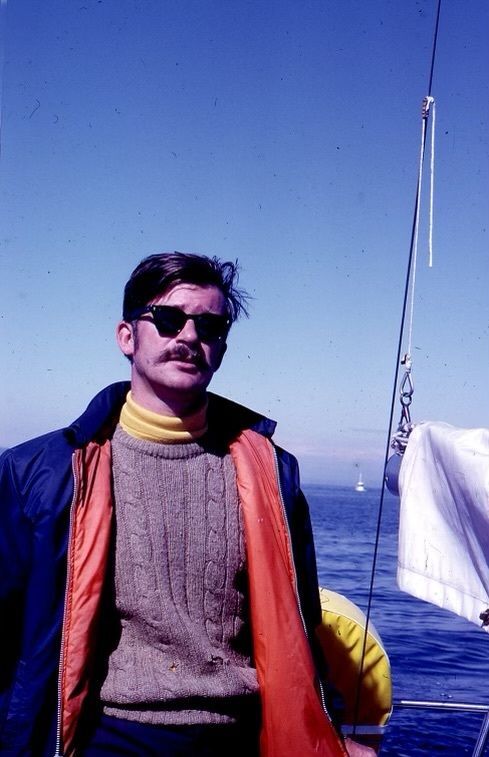 Levin M. Lynch was a family man, a sailor, a commercial real estate agent, a loyal fan of Seattle sports teams and a champion of the Pacific Northwest, particularly Puget Sound and the San Juan's, which he considered the world's finest sailing haven.
For decades, Lev looked and exercised like a much younger man. He rowed a one-man scull on Lake Washington into his mid-eighties and took his beloved dogs on long walks into his early nineties. Time finally caught up with him last month when he broke a hip, caught pneumonia, and passed peacefully at the age of 96.
Lev grew up in Pittsburgh, Pennsylvania before attending St. Andrews prep school in Delaware, where he starred in football, wrestling and crew. His next stop was the U.S. Army in the Philippines where he saw no combat but played trumpet in a soldiers' jazz band. In his self- deprecating fashion, he always insisted he was the worst musician in that band.
After graduating from the University of Pennsylvania, Lev drove West and fell in love with Seattle. He rented a houseboat on Portage Bay and started law school at the University of Washington. After showing his brainy Pittsburgh sweetheart Janet Mitchell the wonders of Mt. Rainier, they married in 1955 and settled here.
Lev ultimately dropped out of law school, then odd-jobbed around town before discovering his knack for real estate. He and Janet bought a fixer-upper on the south end of Mercer Island, which he called the cheapest waterfront he could find at the time. And with that house came a small dock and free moorage for his sailboats, which he built, raced and cruised for the next fifty years.
Most Lynch family vacations involved cramming Janet and the two kids aboard a small 26-foot sailboat to explore Puget Sound, the San Juans and Canada's Gulf Islands. Then in the 1990s, Lev went on longer trips, sailing around Vancouver Island and up to Southeast Alaska. He was jovial, in general, but sailing delighted him.
He was also a feisty liberal. When a neighbor slapped a Support the Right to Bear Arms bumper sticker on his Cadillac, Lev countered with a Support the Right to Arm Bears bumper sticker on his Volvo. When walking his dogs up steep hills, he sometimes listened to conservative talk radio on his headphones to give himself extra adrenaline.
Yet many of his friends were conservatives. In fact, the longest friendship of his life was with former state republican senator Jonathan Whetzel. And even the snarky teenagers on the soccer teams he coached had nothing but kind words for him.
His ability to get along with anybody helped him in his real estate dealings, too, which were mostly based in Bellevue where he ran First Metropolitan Properties and owned and managed a small office building.
Part of his charm was that he had a gift for making people feel comfortable. And once you won him over, he was on your side forever, and he'd be asking if he could make you a latte or get you a beer or a glass of red wine that he'd bottled himself in the basement. After Janet passed in 2015, Lev owned his seventh and final dog, a well-trained beautiful mutt he named Lola. The two of them walked many miles together and took good care of each other.
In his final years, Lev came off as a humble man of few words. But to those of us who knew him well, he continued to show us, by his example alone, how to treat people and how to show gratitude and how to thoroughly enjoy a long full life.
He is survived by his daughter Jennie and husband Webb, his son Jim and wife Denise, his grandchildren, McGhee, Levin and wife Echo, Grace and fiancé Harrison, and his great grandchildren Kahlee, Sophia and Geneva.
He's also survived by close relatives, including Drew Robertson and Rosa Urrutia, as well as longtime friends such as Bobo Johnson, Curt and Bobbie Pearson, Todd Cochran, Jim Minstrell, Janet Jacobsen, Sandy Beard, and Judith, Jonathan and James Whetzel.
---
Comments
I will always remember the wonderful Time sailing around Vancouver Island, me on Arkenstone and them on their Cape George sailboat.
Karl Jacobson
---
My condolences go out to Jennie and Jim and your families. I enjoyed working with all of you in caring for both Janet and Lev in my days at Group Health/Kaiser. I will remember Lev as a kind and gentle soul whose eyes lit up when he talked about his dog. Sounds like he had a very full life and I hope you all find comfort in that.
Peace and best wishes to all of you

Eric Seaver
---
To The Lynch Families,
What an incredible, accomplished Levin you were so fortunate to have in your lives. We extend heartfelt sympathy to each of you at this time. Most sincerely,

Paul and Terry Jackson
---
Sorry for your loss your cousins from ohio

Kathy and John perlic
---
For sixty years I had a friend I could call anytime. And he was just as likely to call me. Lev and I shared a lot of memories. But not enough.

I miss him.

Curt Pearson
---
I am so sad that I didn't know my cousin, Lev.
Thank you for sharing.

Lisa Martin
---