Elliott Lindsay Maylor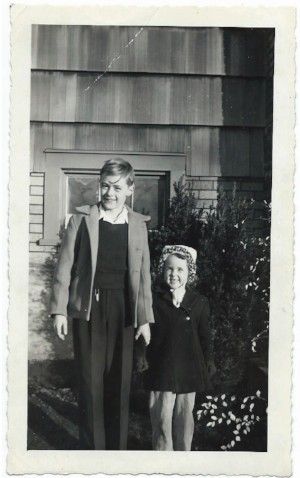 Elliott Lindsay Maylor was born in 1934 and raised in Oak Harbor, Washington, the great-grandson of Oak Harbor's first European settlers who emigrated from Ireland. His proud parents were Bessie and Howard Maylor. His sister, Janis, arrived in 1939. He grew to be a foot taller than his mother, much to her delight.
 
Elliott attended Everett Junior College and made the University of Washington JV basketball squad as a junior transfer student. Marriage to Geraldine (Gerry) Smith also came in his junior year. Their son, Edward, arrived in spring of 1956, then Cynthia in 1959, and Teresa in 1961, born on Elliott's 27th birthday. While Gerry was usually home raising kids and Elliott was bringing home the proverbial bacon, he was also a diaper changer, dishwasher, wrestle in the living room, tend to our wounds, snuggles after nightmares kind of Dad. He was cool headed until a ref made a bad call at Ed's basketball games, then watch out!
 
The day after receiving his mechanical engineering degree from UW, Elliott went to work at The Boeing Company. He worked there his entire career. He told stories of working on the SST, air pressurization systems for 737's, intense FAA meetings, and smoke clearing test flights that made his stomach lurch. On a daily basis, he also played bridge with co-workers over lunch.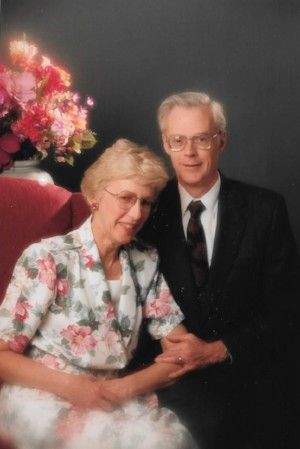 Although Elliott reveled in the variety and complexity of engineering at Boeing, he gleefully counted down the days until his retirement at age 55. In 1989 he began to remodel the home they inherited in Clinton on Whidbey Island until Gerry was diagnosed with ovarian cancer in October 1990. Elliott's new roll was master caregiver for Gerry, which he attacked with his usual attention to detail. The remodel continued whenever Gerry's health allowed. Some of their best days were when Gerry could join him on a ladder, working on their dream project together. He cared for her with grace, patience, determination, and love until she passed away Christmas Day 1994.
 
During Gerry's illness, three of their five grandchildren were born in 1991, 1993, and 1994. Grandpa was in their faces from birth, introducing infants and toddlers to anything he could dream up to show, tell, or explore with them. Whether it was carpentry with a toddler, dissertations about quantum physics and relativity, or athletic challenges, he believed the earlier the better to expose them to it. After Gerry passed, two more grandchildren followed in 1996 and 1997. Garrett, Alex, Sam, Cassie, and Kevin were joyful blessings in his life and he laughed at their antics even as death drew near.
 
Elliott was quick to put aside his Whidbey remodel projects when his kids needed help with theirs. For him, detailed drawings were half the fun before any project, particularly if the solution required an invention or novel approach. His neighbors and friends in Seattle and Clinton also picked his brain for their projects, or to solve the daily Merl Reagle crossword puzzle together.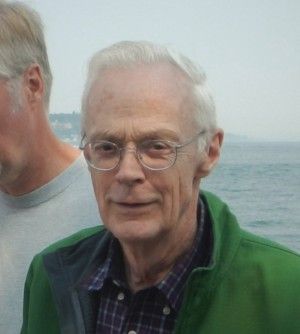 Elliott was a long time member of Phinney Ridge Lutheran in Seattle, St Peter's Lutheran in Clinton, and finally Faith Lutheran in Seattle where all of his grandchildren attended. He was a quietly devout man, reading daily devotions and admiring his father-in-law, Guy Smith, for his capacity to read the entire Bible many times in his life. Gerry and Elliott joined a Phinney Fellowship group in the 1970's and Elliott continued to gather with them until 2016. Those friendships were some of the dearest ones in his life.
 
Elliott was diagnosed with Alzheimer's disease in February 2015 and the disease progressed quickly. While his clever brain established him both professionally and personally, his loving heart became more obvious as those functions were robbed away. He continued to be keenly interested in simpler things, like cloud formations, license plate sequences, airplanes, and cats. The care he received this past year at Nordic Woods Adult Family Home must be mentioned -- they were outstanding and cried with us as he left this world. As his disease progressed, he somehow still knew his kids, grandkids, and niece Barb, and he was often amused by his caregivers at Nordic Woods. His caring heart came through in his last words to his daughter, Cyndi: "Are you OK?"
 
Elliott is survived by his children, Ed Maylor (Dawn), Cyndi Musar (Jim), Teri Maylor (Allen Asbury); five grandchildren (Garrett, Alex and Kevin Musar, Sam and Cassie Maylor); his sister, Janis Maylor Smith of Liberty Lake, WA; his cousin Don Elliott (Diane) of Gig Harbor; seven nieces and nephews and their families and oodles of fans of his mind, heart, humor, and generosity. Our mentor and teacher, our caregiver, our joyful problem solver ... he will always be missed.
 
Donations in Elliott's memory may be made to Faith Lutheran Church (8208 18th Ave NE, Seattle WA 98115; www.faithseattle.org) or the Alzheimer's Association (PO Box 96011 Washington DC 20090-0611; www.alz.org). Private inurnment and memorial will be held in September on Whidbey Island.
---
Comments
What a wonderful man. There is another huge void in our world. Much love to his family. Love you all! ❤️
    
Jennifer & Paul
---
We were blessed to know Elliot from 1995 until 2005 when we sold our home and moved back to the midwest. Didn't know of his passing but pleased to see this article today. He helped us out with electrical issues in our home as well as various other things and we enjoyed visiting him and a friend nearby, Maryliss Charron down on the beach. Quite a helpful and generous man with a great sense of humor as well! Condolences to the family............
- Dan & Sharyl Traylor
---