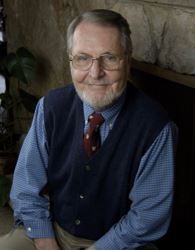 Jens passed away peacefully with his loving family at his side on March 13, 2016. Born July 2, 1936 in Oslo, Norway, Jens grew up the youngest of three boys. His deep interest in understanding how things worked led him to want to become an engineer. After serving in the signal corps of the Royal Norwegian Army, Jens attended a small technical college in Oslo. At age 21, he left his family and home, and made his way to America working in a ship's galley. He had been accepted at the Massachusetts Institute of Technology (MIT) where he completed his Bachelor in Mechanical Engineering in 1959. 
A life-long, avid skier, Jens worked as an interpreter at the 1960 Winter Olympics at Squaw Valley and then secured at job at an engineering firm in Costa Mesa, California. It was there that he met and fell in love with his wife of 54 years, Glenda Walton. They married in 1962 and together went back to MIT where Jens completed his Masters and Doctorate in Mechanical Engineering. There they made life-long friends and memories and Glenda gave birth to their two daughters, Karin and Kristin. 
Jens and his family moved to Seattle and he joined the University of Washington faculty in 1968. His enthusiasm for teaching touched many faculty and students whom he mentored over the years. His outstanding education contributions were recognized in 2006 by the National Academy of Engineering with the prestigious Bernard M. Gordon Prize for Innovation in Engineering and Technology Education. His research expertise enhanced the fields of system dynamics, controls and instrumentation related to automated assembly and manufacturing processes until his retirement in 2000.  
Known fondly as Papa by his four adoring grandchildren, Jens will be remembered for his genuine and practical nature, always telling it like it was, and always in a positive manner. His at times gruff, Viking exterior could not mask his kind, loving, generous interior. He cherished spending time with his family - skiing, cheering on his grandkids and having meaningful conversations.
Jens is survived by his loving wife, Glenda; his daughters and their spouses, Karin and Tom Vial and Kristin and Rob Faucett; and his grandchildren, Kassidy, Sam, Nellie and Maggie.
A celebration of life is planned for April 8 at 2:00 p.m. at the UW Center for Urban Horticulture - 3501 NE 41st St., Seattle, 98105. Please make remembrances to an organization Jens strongly believed in, the Lighthouse for the Blind, Inc., which promotes jobs, independence and empowerment for people who are blind, deaf/blind and blind with disabilities - http://seattlelighthouse.org.
---
Comments
You will always be in my heart Papa. Thank you for being my biggest fan, a guiding mentor and a loving dad. I love you.
Kristin Faucett
---
My sincerest condolences to Jorgensen family. May you take comfort in the words at Revelation 21:3,4, which promises a time when "death will be no more, neither will mourning, nor outcry, nor pain be anymore." God will surely fulfill this promise and comfort you during this difficult time.
-AJ
---