Patrick Mann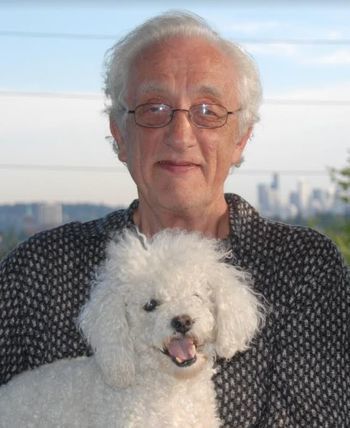 Patrick Mann, born to Marjorie Best and Lewis Mann on May 21, 1935 in Washburn, North  Dakota, died peacefully with his family at his side in Seattle on January 31, 2021. He grew up in  Washburn and graduated from Bismarck High School in 1953. Already a talented saxophone  player, he attended Northwestern University and graduated with a BME in 1957. 
Pat married Jean Heilman on August 1st, 1959, and the honeymooners moved to Guam where  Pat established the public school music program. Pat and Jean moved to Minnesota two years  later and Pat worked as a band director and a music teacher for many years. Pat also sold a  variety of things including textbooks, knitting machines and insurance. But he always returned to  music, devoting himself to preparing practice CDs for saxophonists around the world; playing  his saxophone at local venues; singing with Seattle Pro Musica; and selling bagels to support  the University Unitarian Choir in Seattle. 
Pat infused playfulness into so much of what he did. As a young father, he enjoyed juggling – and would routinely jog and run 5K races while juggling. A dedicated billiards player, he once  cross-country skied 5 miles on closed roads in rural Minnesota with a cue stick strapped to his  back, desperate to attend a tournament in Minneapolis. 
In the late 1990s, Pat and Jean moved from Minnesota to Seattle to create a multi-generational  household that thrived for almost 15 years. He had a big heart and gave it freely to friends and  family; the legacy of Grandpa Pat includes hundreds of carpool rides, soccer games, and after  school snacks. Pat made coffee and breakfast in the cheeriest way possible; picked dandelions  in the yard of every house on the block; loved spending time with his wife of more than a half  century, as well as his two kids, seven grandchildren, and of course his snaggle-toothed dog  Rosie.  
Pat leaves behind his children, Laurie (Walter) and Eric; his beloved grandchildren, Elisabeth,  Mica, Levia, Carmen, Moriah, Joelle and Boaz. Pat was preceded in death by his wife Jean, and  by his siblings Betty Jo and Bill. The family requests that in lieu of flowers, donations be made to  Seattle ProMusica at seattlepromusica.org/donate
---
Comments
Pat was such a beautiful soul - I'm so glad to have had the benefit of his friendship and musicianship. He was devoted to both Seattle Pro Musica and the University Unitarian Church choir, and participated fully and joyfully in both choirs for many years. Everyone in the choirs adored him! My deepest condolences to all of his family - especially Laurie and Carmen, who we often saw at choir parties and functions. Love to you all.
- Karen Thomas
---
Sweetest person ever! And, such a sensitive musician. We performed together many times, from Italian Street Song to Summertime at the UUC Auctions/Pledge Drives. But, for many years, we always did the music for the service between Christmas Eve and New Year's. We presented WINTER CAROL, arranged by Sherrie Porterfield, also know as "In the Bleak Midwinter." It had an obbligato part for oboe, but Pat transcribed it for saxophone. It was a very moving piece. And, EVERY time we did it, you could hear a pin drop at the end and see tissues wiping away tears. Those are memories I will never forget and was so blessed to be able to share them with Pat. Blessings to the Family.
~Kate Bysheim (Kathy Barlow)
---