Hubert "Herb" Belanger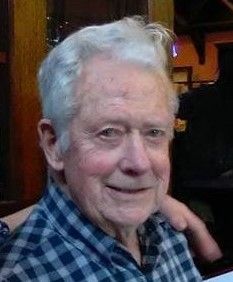 Hubert "Herb" Belanger left this Earthly life on January 12, 2019, in Bellingham, WA, after a 2-week illness.
He was born Nov. 24, 1923, to Valmore and Blanche Belanger of Woonsocket, Rhode Island. Fresh out of high school, in October of 1941 Herb enlisted in the U.S. Marine Corps, serving as a radio operator and seeing combat on Guam and in the Pacific theater. After the war he attended Boston University on the GI Bill and graduated with a degree in Journalism in 1949.  He married Jean Robertson, and the couple moved to Schenectady, New York when Herb was hired to work for the Union Star. He next worked as a reporter for the Providence Journal, and in 1953 was part of a team that won a Pulitzer Prize for distinguished local reporting. Soon after, he and Jean toured Europe and Africa and then moved to Seattle, where he got a job as a reporter and photojournalist with the Seattle Times. During his time there, he edited the Sunday Pictorial section, developing his own photographs taken in the Northwest and around the world with his trusty Hasselblad. Later in his career he was a reporter in the new South Bureau in Tukwila.
Herb soon fell in love with the Northwest wilderness, joining The Mountaineers and climbing many peaks in the Cascades and Olympics over the years. He and Jean also summited Mt. Whitney and Mt. Hood, and explored the Mt. St. Helens lava tubes. He was a charter member of the Crystal Mountain Ski Area and was a ski instructor at Hyak for a time.   
He married Stephanie (nee Kessler) in 1986, the same year he retired from the Seattle Times. The couple resided in Seattle's Magnolia neighborhood until 2006, and between part-time jobs doing communications and PR work for the Evergreen State Fair, Herb tutored at Blaine Middle School, was active at Our Lady of Fatima Church, and participated in the Puget Sound Civil War Round Table.  Between all these commitments he and Stephanie still found time to travel extensively for over 25 years, taking many cruises and Elderhostel excursions.
In 2006 the couple moved to Ferndale, Washington, where Herb became active in the Ferndale Heritage Society, and attended St. Joseph's Catholic Church. He was a voracious reader, especially of military history and historical fiction, and in 2012 published his own Nat and Caesar, a story for young readers set during the American Revolution. Among Herb's many interests and enthusiasms were opera, the French language, the Mayan culture, crossword puzzles, and Monty Python. Perhaps most of all, Herb loved animals and always had at least one cat, as well as feeding a pair of faithful strays at Ferndale's Pioneer Park. 
His final six months were spent at Silverado Memory Care facility, where the staff provided excellent care and were charmed by his easy smile and good humor.  
Herb is survived by his loving wife Stephanie, nieces Suzanne Poirier and Linda Jokela (Kurt), step-children Kathy Wright (Roger Fanning) and David Wright (LuAnne Hebb), grandson Henry Fanning, and numerous grand nieces and nephews.  He is predeceased by two sisters, Gabrielle Poirier and Jacqueline Rousseau.
Remembrances may be made to: Dementia Support Northwest (1301 Fraser St, Ste. A1, Bellingham, WA 98229) or Marine Corps Heritage Foundation (18900 Jefferson Davis Highway, Triangle, VA 22172).
---
Comments
What a good and generous man Herb was. This beautiful account of a life well lived is a wonderful tribute to him and all he has done for our nation and community. May you find peace and comfort in the many years that you shared together. I know he will be greatly missed.
Trish
---
We met Herb only in the last years of his life but he was clearly an interesting, thoughtful, and kind man. I'm sorry we didn't know him better and have more time with him. Losing people like him is a loss to our culture.
Kath and Michael
---
RIP, Herb. Your kindness surrounded you like an aura.
Sydney K.
---
I am so surprised to read that Herb lived in Ferndale since 2006 and am saddened that I didn't know he lived here. I worked at the Seattle Times from 1966-1970. I scheduled the advertising for the Rotogravure section of which Herb was the editor. I enjoyed his friendship and working relationship.....and his Boston accent. I would have loved to have reconnected with him here in Whatcom County but will have to be content with pleasant memories of him at the Times. I extend my sincere sympathies to his family.
David Erickson (Pastor)
---
So sorry to read of Herb's passing. I was their flight instructor [Jean and Herb] while at Boeing in 1973 before returning to the UK in 1975. Spent many hours at their home near Lake Washington. Enjoyed the home made freshly baked bread with loads of butter.
    
Sid Akhurst
---