Olive Wise Spannaus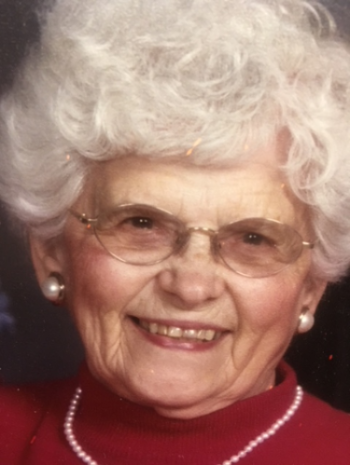 January 23, 1916, St. Louis, Missouri - May 10, 2018, Seattle, Washington
Olive Wise Spannaus--child of God, friend, mentor, mother, grandmother, and greatgrandmother, community volunteer, human rights activist, women's movement pioneer, longtime member of Hope Lutheran Church in West Seattle, recipient of the Carrie Chapman Catt award of the League of Women Voters Seattle-King County, hymnwriter, leader in the Lutheran church, and line dancer (beginning at age 80)--died peacefully May 10, at her home for the past five years, Providence Mount Saint Vincent, in West Seattle.
Olive was predeceased by her beloved husband of 67 years, the Rev. Ruben Spannaus, her three siblings, and one grandchild. She is survived by her four children and spouses, Boots Winterstein and husband Paul, of Seattle; Edward and Nancy Spannaus of Lovettsville, VA; Timothy Spannaus and Collette Pariseau of Lathrup Village, MI; and Fredric Spannaus and Connie Requarth of Decatur, Illinois; nine grandchildren, 13 greatgrandchildren; and a host of loving nieces, nephews, and their families.
A memorial service, to which all are welcome, will be held 12:30 pm, Saturday, June 2, at the Pigott Chapel, Providence Mount St. Vincent, 4831 35th Ave SW, Seattle WA, 98126.
Olive supported many worthwhile causes (just ask her postman!). Memorials may be made to Education Fund, League of Women Voters Seattle-King County; Mary's Place, (Seattle); Lutheran Community Services Northwest; Compass Housing Alliance (Seattle); Hope Lutheran Church organ fund (Seattle); Providence Mt. St. Vincent. Foundation; or an organization of your choice.
Link to complete on-line obituary:   http://tspannaus.com/blog/?page_id=270
---
Comments
Dear Olive was a loving and endearing woman....who touch our lives with gentleness and humor...faith and encouragement. Olive was multi-talented and gracious....and a caring counselor. She and Pastor Ruben gathered together with many of our families over the years....their friendship and fellowship blessed us personally as well as strengthening our faith.
As I look back over the years and revisit the many memories of their family and mine...I lift my heart in thankful prayers of gratitude for each of them and all they shared with us.
Heaven is filled with joy as Olive rejoins her loved ones...family and friends.
Phyllis Silva-Keith
---