Charles "Chuck" Krysieniel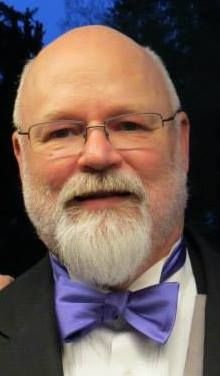 Charles "Chuck" Krysieniel, 57, of Seattle, WA, passed peacefully on August 22, 2017, surrounded by his immediate family.
Chuck is survived by his husband Brian Reed; his parents Alfons and Helen Krysieniel of Acton, MA; his sister Karen Breckenridge and her husband Terry of Centennial, CO; his sister Linda Krysieniel and her partner Kip Crowley of Stow, MA; his sister Marty Abbot and her husband Rob of Phillipston, MA; his parents-in-law William and Pat Reed of Savoy, IL; and his sister- and brother-in-law Laurel and David Rosch of Savoy, IL.  He leaves four nieces, three nephews, and four great nephews who all thought the world of their Uncle Chuck.
Chuck was born in Concord, MA, on December 9, 1959. He graduated from Acton Boxboro High School in 1978 and earned his BS from Fitchburg State College in 1982. Afterwards, he moved to Minneapolis, MN, then to El Cerrito and Richmond, CA.
Chuck met Brian in 1997 while square dancing with the El Camino Reelers. After Brian accepted a position as a professor at the University of Washington, Chuck decided to relocate to Seattle, too. They become domestic partners in 2009 and married in 2013.
Chuck had many jobs over the years. He was a medical videographer, a hotel front desk clerk, a banquet manager, and a human resources administrator for an IT firm. Around 2000, he found his true calling: he became a full-time event planner and travel director. From 2010 onwards, he headed his own company, KAZ Consultants, LLC.
His work took him all over the world. He was most often in Orlando and Las Vegas, but he also ventured as far afield as Maui, Buenos Aires, and Vienna. He threw parties in the Hall of Mirrors at Versailles and at the Doge's Palace in Venice.
He shared his love of travel with his husband. They lived in Germany for most of 2009, and they spent a month or more together in such cities as Kraków, Poland; Auckland, New Zealand; and Oxford, England. They drove across the Great Plains, played with wombats in Australia, and drank good wine in Paris.
If Chuck was home too long between assignments, his feet would begin to itch, and he would jump into his RAV-4 and hit the road. He would drive down I-5, cut across to the Pacific coast, and visit Redwood National Park and Muir Woods. They were sacred sites for him: places where he was close to nature and in touch with the spirits.
Chuck was witty, loyal, generous, kind, and passionate. He was a devoted son and brother. He truly enjoyed helping people, and nothing made him light up like an opportunity to aid a guest in need. He made fast friends around the globe. His Thanksgiving feasts were legendary and bounteous: food let him show and share his love. He will be greatly missed.
A Celebration of Chuck's Life will be held at the Chocksett Inn in Sterling, MA, from 4-7pm on Thursday, September 21, 2017.
In lieu of sending flowers, please consider making a donation in Chuck's name to Lambert House (http://www.lamberthouse.org), a center for Seattle-area LGBT youth.
---
Comments
I remember Chuck from high school in Acton, MA. He was a nice guy. Rest In Peace, old friend. Sounds like you treated life well.
    
Scott Dickinson
---
I remember back in 2011 when my partner passed away very unexpectedly and I was so mad, exhausted, sad and depressed Chuck said come up to Seattle. You can visit with your brother and spend some time with Brian and me. I hopped on a plane and Chuck met me at the airport. I knew he could see the pain and anguish in my face and the way I carried myself, all hunched over. He took me on a mini tour of Seattle on the way to a water front park. Once we got to the park we started walking. He asked all the right questions to get me to pour all of my pent up emotions out into the brisk air. I cried I ranted I raved. After I felt so relieved that I smiled a little and let out a faint giggle. Chuck smiled and said "welcome to the widows club." "Now that you have found your giggle again, don't ever lose it." I am not sure that I could ever put into words what that meant to me. I write this for the memory of an amazing man that will never be forgotten. Rest in peace.
    
Tony Russell
---