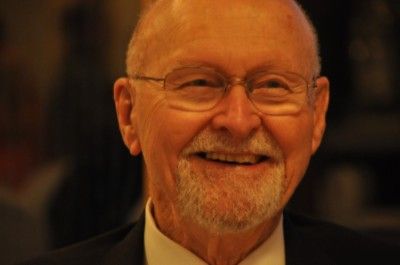 John Harold Rysdorp passed away peacefully Monday night, March 14, 2016.
John had a fantastic life! Born in Oakland, CA., on March 27, 1928, he graduated from Oakland High. 

He attended Stanford and UC Berkeley, and graduated with a business degree.
John worked as an executive for Simpson Timber Company. While living and working in the California Redwood country, he met and married Hester Deardorff, a local school teacher. They were married December 23, 1955. John and Hester had three daughters, Joanne, Sally, and Carrie. John also took pride in his seven grandchildren, who he would often refer to by their chronological order: Kaylee (#1), Ruthie (#2), Johnna (#3), Grace (#4), Anna (#5), Sam (#6), Chloe (#7). He was blessed to meet his first great grandchild, Seamus.
John often relocated for work, and the family lived in many cities before settling down on Mercer Island, WA. John and Hester retired to LaConner, WA., for 18 good years of fishing, crabbing, card playing, and hosting family and friends. They returned to Mercer Island for their final years and enjoyed living at Covenant Shores, a retirement community.
John will be remembered by many as someone who could befriend anyone. To John, nobody was a stranger and he was genuinely interested in learning each person's story. He listened carefully. 
John's constant good humor was a touchstone for many. He will be missed.
A memorial will be held at Covenant Shores on Mercer Island, March 31, 2016 at 1p.m. ​
---
Comments
I love this. What a great photo and what a great way to sum up his life's story with "John had a great life!!!" His smile and laughter brightened up every gathering. Should we all leave such a fantastic legacy.
He will be sorely missed, but I have no doubt that his joyful spirit endures in all he left behind.
Pat Knox
---
What a heartfelt photo tribute to John. He was such a light with a grand master behind it all! His presence created safety and warmth. A great Patriarch that lead a family of leaders and great citizens. A legacy to be so proud of. Love to all of you. 
Lana
---
John inspired so many with his constant good humor and steadfast, reliable nature. We'll all miss him, and our memories of him will be good.
Mark
---
What a wonderful tribute - I haven't seen "Uncle' John in many years, Aunt Hester was in York with Carrie the last I saw her - but I surely remember when we were all little and visited in Memphis and New Jersey. I'm Vella's granddaughter. Treasure your memories, you had two wonderful parents.
Martha (Baum)
---
We met John only once when he stopped in at our home in Walnut Creek California where his parents had built the home where we had lived.l for 30 years. He sent us a painting his parents' friend had painted of the view from their home because we had lived here the longest. Our/their home was destroyed by a fire in June 2017 and we rebuilt. I sent Mr. Rysdorp a letter recently to tell him what happened and it came back to me saying he had moved. I am glad to know what happened to him.
    
Carol Lowitz
---