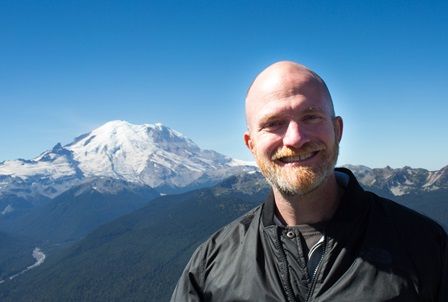 John Lowe SEWELL Born April 24, 1968 in Landstuhl Germany. Died November 13, 2014 in Seattle WA.  John is survived by a loving Partner, Greg McKnight and many beloved friends and family members.  John grew up traveling the world with his Military family, graduated from the US Naval Academy in 1990, and continued living in and traveling to every corner of the globe in his adult life.  He was a man of honor and integrity who sensed beauty in all people and places. John was endlessly fascinated by the world he lived in. He was constantly exploring and learning about the various ways in which people chose to express themselves – whether it was music, art, literature, or dance. He worked hard, enjoyed cooking meals for other people, and smiled with his whole heart. John always found the joy in the simple gifts of life. A Celebration of Life service will be held at Seattle Unity Church on Thursday, November 20, 2014 at 10:30 am.
---
Comments
John will be missed. I met John over 14 years ago at KSA and finally in person at Infosys. He will be missed. Sending my deepest condolences. --Jenny Mark
---

I'm so sorry to hear of John's passing. I met him through my work at Infosys and was impressed by his spark and creativity. Thoughts and prayers to his loved ones.--Kelly Rogers
---
John came into our life through my brother-in-law Scott. He immediately won a place in all of our hearts. Our daughters considered him their uncle from the very beginning. We were able to know John for several years and I will cherish that time. He will truly be missed. We love you John. Love Andrea, Ken Mikayla & Kendra.
---
I came to know John when we worked together in Infosys Consulting. He was a great leader and a thorough gentleman, and could connect nicely with people. I will remain grateful to him for his appreciation of my work I did with him, and the wonderful quality time I spent with him when he used to come to India. He was an avid reader and had great interest in yoga, used to visit a yoga resort when he used to come to India and could manage some free time. He was a man of rare geat qualities. I am shocked and sad to know about his very untimely demise. He will be missed. RIP John. --Tapas Chattopadhyay
---
John - wherever you are now, I hope you find peace - you will always find live. The entire Infosys Consulting family will miss you. You cared for the people your worked with, you nurtured them, you worked beyond the call of duty to shape them into true leaders. Training was only a guise for you to be able to truly connect with people and help them see what they were capable of becoming. You were a true leaderand coach. We will all miss you terribly on this earth. May your soul rest in peace. --Prakash Jayaram
---
I had the honor and good luck of having worked with John at Infosys Consulting. He was a great mentor and a very good friend, always spreading joy and energy to everyone around him. Will miss you John! - Srini
---
John was such an amazing mentor, I had the opportunity to work with him at Infosys Consulting. My heartfelt condolences to his Greg and his family and friends. May his soul rest in peace. Nisrine Kaderbhay
---
It was 20 years ago we met our Johnny in Hawaii, and it was friendship at first sight. We miss you Bright Eyes. --George and Ward
---
We will miss you --Shoumo Bhattacharya
---
John will be dearly missed. His smile, spark, creativity and enthusiasm was a great benefit to the entire Infosys Consulting organization. May you rest in peace.--Lars Skari
---
I was John's plebe year room mate at the Naval Academy. I knew him as an intelligent man who always treated others with warmth and kindness. Rest in peace.--Clay Stackhouse
---