Donald Simpson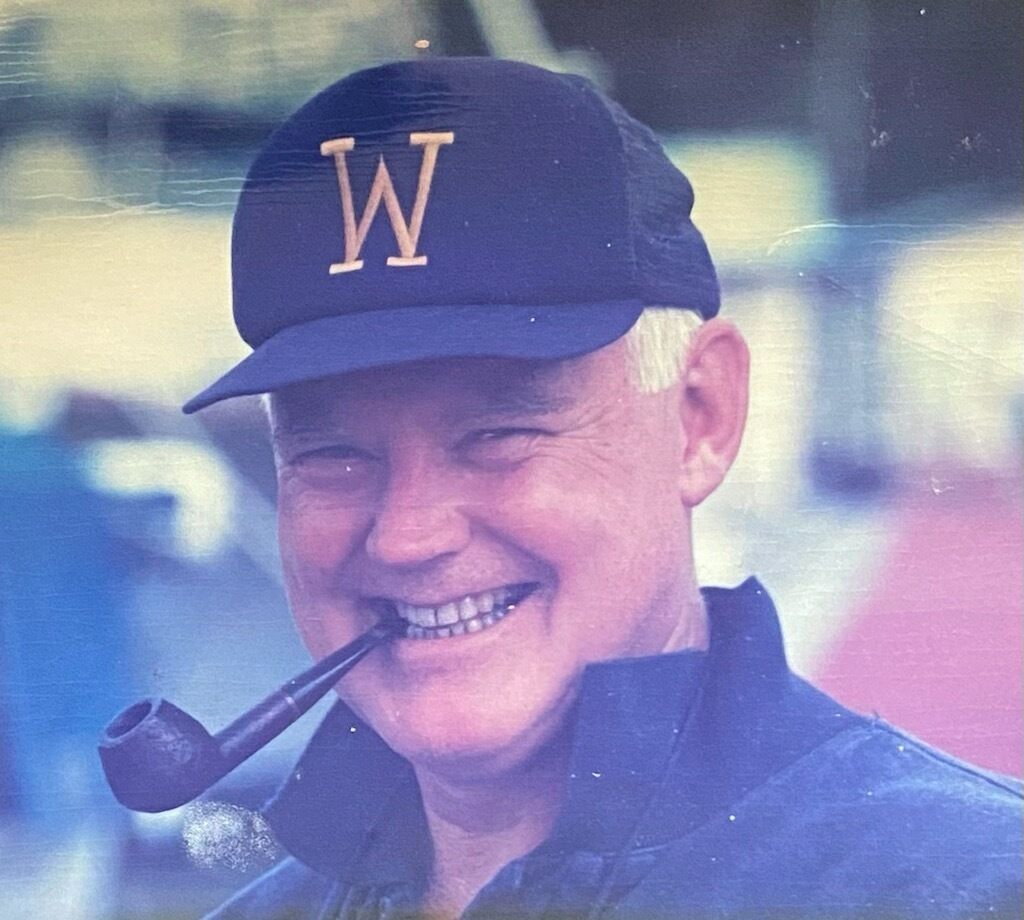 January 29, 1935 – December 1, 2022

Don was born in Ballard, the middle child and only son of Ella Larsson and Harold Simpson. He grew up on Sunset Hill, graduated from Ballard High School and the University of Washington and lived all but a couple of years of his life within a few miles of his childhood home. Over the course of his life, Don pursued many sports and hobbies from cars and motorcycles to making wine; however, sailing on the custom 47 foot Monk designed Bandit, was eventually a decades long passion. He treasured and dearly loved his family, friends and pets. He will always be remembered for his many contributions and generosity to the community in which he lived, served and worked.

In high school, he was a running back on the 1951-52 state championship Ballard football team, was named to the All City team his senior year, went on to play football at the University of Washington before deciding that he couldn't be both a student and a football player at that level so opted out of football to pursue the student role.

Don was a member of the Beta Theta Pi fraternity and served in the Coast Guard, honing his maritime skills to support a lifetime passion of sailing. After graduating from the University of Washington with a Business degree, Don joined his father at Ballard Sheet Metal Works, a company started by his
grandfather in 1907, where he spent his professional career until retirement (until his kids ran him out, he frequently declared).

Shortly after turning 21, Don married Darlene Herum, and they had two sons, David and Doug. After 16 years of marriage, Don and Darlene separated. Don married Mary Lasley in 1974 and added her two sons from a previous marriage, Brock and Christopher Mason to the household. A year later Don and Mary welcomed daughter, Kirsten, to the family. With a 14-year spread across the brood, Mary loved to say they had all the challenges from potty training to pot at the same time! The family divided their free time between skiing at their cabin at Snoqualmie Pass, and cruising aboard the Bandit. As the years took their toll on his body, Don gave up skiing but he and Mary continued cruising aboard Bandit (and he continued using it as a hideaway to sneak a cigar) until early 2021.

Don was an active member of Seattle Yacht Club, served as Commodore in 1983-84, served as Admiral of the Day, chaired numerous committees, and was extremely proud of being named Honorary Life Commodore in 2018. He was a firm believer in community service and was never afraid to take on leadership roles. He was an active member of the Ballard Kiwanis Club for over 50 years; served many years on the Ballard High School Foundation and the Golden Beavers, including a tenure as president for each; served 20 years on the board of the Princess Louisa International Society, including a tenure as president; was a board member of the Museum of History and Industry (MOHAI); was a long time member of the Puget Sound Maritime Historical Society where he also served as board member and president, served on the Sheet Metal Union Apprenticeship Council, was a director at Our Redeemer's Lutheran Church, Columbia Lutheran Home, the Lutheran Center on Aging, the Blue Ridge Community, and the Northwest YMCA . In the late 1990's, he and Mary, along with three other families, began hosting a neighborhood Christmas party that over the years raised over $80,000 for the Ballard Food Bank.

As friends left their homes for retirement communities and questioned him about his down-sizing plans, Don always maintained, "they're going to take me out of here feet first." Fighting congestive heart failure and kidney failure, he spent a significant amount of time in the hospital during 2022, joking about working on Frequent Flyer status, but, with amazing support of family, neighbors, and hospice, was able to spend his last two weeks at home. As he was being taken away that last day, the kids remembered his words, and son Doug gave strict instructions, "He has to go out feet first!"

Don is survived by his wife of 48 years, Mary; children, David (Ann), Doug, Brock Mason, Christopher Mason (Alli), and Kirsten Duke (Aaron); fourteen grandchildren; four great-grandchildren; his sister Mary Ann Barham; numerous nieces and nephews; and his dogs, Lena and Jasmine. He will be greatly missed. A memorial service followed by a reception will be held at 2:00pm on Sunday, January 29, at Seattle Yacht Club, on what would have been Don's 88th birthday.
---
Comments
Dear Mary and family, This is beautifully written obituary he would be proud and your choice of picture was great makes one who knew him smile. Sorry for your loss.

Mike and Chris Morrell
---
Besides being a wonderful and generous neighbor, I had the pleasure of serving on the BHS Foundation with him. He always kept us laughing with his dry sense of humor….even when his health was failing, he was ready to joke and smile. I feel lucky to have been a neighbor for 35 years. He will be missed.

Debi Preston
---
Dear Mary and all the larger family, Don Joined Seattle Yacht club shortly after Linda and I did and he and Mary have been friends since. It was soon after that he took on the building of Bandit. Wish I had a picture of one small man down in the cavernous hull, no deck or cabin. Looked impossible but Don did it. Like so much in his life and now we learn of what else he accomplished: What an amazing man. All our loss!!

Jack and Linda Blondin
---
I feel lucky to have known you both, Mary, and to have spent time with you and Don , especially at SYC outstations. He was a wonderful man, beautiful obituary.
Julie James
---
Mary and family, a beautiful remembrance of a joyful life.

Kerri Wood
---
Mary, we are so sorry to hear of Don's passing. We were just talking about how we need to connect with you! Sending our love and a warm embrace.

Matt and Mary Suhadolnik (M&M)
---
Dear Mary, our sincere condolences.

Zafer & Pam Top
---
Peggy and I send our love. We will miss Don's smiling face and sweet hugs.

Peggy & Susan Kath / Lamb
---