Jacob Bert Smith
July 31, 1978 – June 10, 2017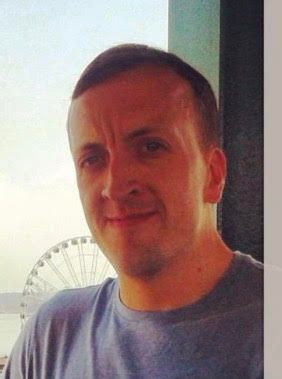 His fortune read: "You will step on the soil of many countries in your lifetime". For all of us who knew him, that was certainly true. We just didn't count on him completing those earthly travels so soon at the age of 38. On June 10, 2017 in Seattle, Washington, surrounded by his loved ones, he left for his last trip, but this time to his true heavenly home. Jacob did not lose his battle to cancer. As in every other trial in his life, Jacob fought valiantly with every breath to hold on to what he loved so dearly. He chose not to focus on his illness and impending death, but to be grateful for his full and fantastic life.
Jacob was a passionate man who fiercely stood up for the things he believed in. He was fun-loving, and especially loved being silly with his precious niece and nephew. He also appreciated the finer things in life, as in good wine, art, music, drama, and great restaurants. Most of all he cherished his family and friends, but he also loved to travel, read history books, immerse himself in politics and sports alike, and share his deep and abiding faith. He was proud to be a member of Gethsemane Lutheran Church.
Jacob was born on July 31, 1978 in Midland, Michigan to his parents Peggy Decker Smith and Richard Smith. He graduated from Midland High School, Albion College, and Milano Graduate School of Management and Urban Policy at New School University in New York City, majoring in Political Science, Spanish, and Nonprofit Management.
The highlight of Jacob's life was the years he spent serving in the Peace Corps. He served from June of 2001 until July of 2003. While there, Jacob had the best years of his life. "I am the happiest I have ever been", he wrote. He lived in Ivancea for 11 weeks while in training, then moved to Balti to live with his host family for the remainder of his time. In the words of his country director, "Jacob was an exemplary volunteer….a Goodwill Ambassador and has helped to change stereotypes about the United States with his daily interactions and conversations with Moldovans." He formed deep and forever lasting relationships with his fellow Peace Corps volunteers as well as the citizens of Moldova. He maintained contact with his beloved host family and friends right up until his death. 
In his career life, Jacob chose to work for non-profit organizations. He served as Philanthropy Advisor, Major Gifts Officer, Regional Development Manager, and Director of Development in numerous NGOs aiding children around the world. But, it wasn't just his "work", it was his passion to help children in need. He continued to foster children even after he moved on to other organizations. He hoped one day to go back and serve in his beloved Moldova, but time ran out.
Jacob will be greatly missed by those surviving him: his mother, his beloved sister Rachael Tencza (Scot), adored niece Stella and nephew Lukas, precious grandmother Freda Somers, loving aunts: Sally, Judy, Donna, Joyce, Carol, and Diane, many dear cousins, his host parents Eugenia and Pavel Bolocan, and his chosen family Ernest Loevinsohn, Kathleen Guy, and Maia McFadden. In addition to family, Jacob will be deeply missed by many dear friends.
Jacob was predeceased by his father Richard, his grandmother Shirley Decker, grandfathers Burton Decker and James Bert Smith, his uncle Burt Decker, and cousins Steven Kindy and Jennifer Ryan.
A celebration of Jacob's life will be held on Saturday June 24, 2017 at 2:00 pm at Gethsemane Lutheran Church in Seattle, Washington. Pastor Joanne Engquist, who was so important to Jacob will be leading the service. In Jacob's memory, please consider fostering a child or doing something else to help children, or giving a gift to Dream Foundation or Meredith's Miracles Cancer Foundation.
As part of the celebration we will be enjoying cherry pie, which was Jacob's favorite birthday treat, made lovingly by his Gram. So, if you can't be with us in person, you can still join the celebration of his life by enjoying a piece of cherry pie in his honor.
---
Comments
Dear Peggy, that was wonderfully written. I am sure it was not easy at all. We will be having cherry pie on Saturday in honor of Your son, Jacob.
Dave and Chari McKimmy
---
Peg our thoughts and prayers will be we you during these trying times. If you need anything let us know. Our love goes out to you and your family. With ❤️ The Murray family
Patrick Murray
---
What a beautiful tribute to an extraordinary young man.
Nancy Sutherland
---
So sorry for your loss.
Shawn Murray
---
Joyce sent us the link to this, so we are all just reading it today. My heart breaks for you all, as does Joe's. Life is so unpredictable and seems so unfair. Just know that we love you and are so deeply sad that Jacob was called Home so young.
Kass & Joe
---
To Peggy and all of Jake's family . Although I never met Jake I knew how precious he was to you all and I learned so much more about him from your wonderful tribute. I will be thinking and praying for you and your family in the coming days.
Carole Haworth
---
Love you so much, Peg and Rachael. My heart keeps breaking for Jake. He was such a loving, passionate man. I am proud to call him nephew! What a homecoming he must have had with his dad and all the family all ready there. This was a beautifully written tribute to Jake's life!!
Joyce
---
I was a Peace Corps volunteer with Jake in Moldova. I have fond memories of him and our time there. In recent years we had the chance to meet again in Moldova and I will never forget how much strength he showed. He truly loved life and pulled us all in with him. Thank you for writing these beautiful words about your son. My thoughts go out to you as you go through this difficult time.
Gina G
---
My life is better for having known Jake. I will carry his memory with me (such happy memories) for the rest of my life. My thoughts and prayers are with you all.
Melinda
---
I served with Jake in the Peace Corp Moldova. I had the privilege to wine and dine with him and Maia and others on many occasions. What a fun loving guy, great wit and kindness. He is missed by the so many he touched.
Sue Griffin Misterka
---
What a great tribute. I'm so glad that I was able to have Jake as a friend - he made Albion a more palatable place for me at times. I will most certainly miss him but am thankful that I was able to spend time with him while he was here. Mrs. Smith and Rachel - I continue to think about you and pray for you. Hoping that you will find some level of peace and comfort. Sincerely...
Jacquenette Moody
---
Peggy, Rachael, Stella, Lukas, and family In am so sorry for your loss, Jacob was an amazing man. He loved you all with all his being, he blessed many people in his life! He gave it his all to beat this and spend more time with you, and doing more for others! He will be missed by all that knew him, but never forgotten! My thoughts and prayers will always be with you as you deal with his loss! HUGS!!!!
    
Ted Stark
---
I worked with Jacob at Pilgrim Africa. He was a joyful presence! Whenever I saw him in the office, I thought to myself, "this will be a good day." To all of Jacob's loved ones: thank you for sharing him with us. I'm so, so sorry for your loss.
- Julia Frisbie
---
My deep sadness and grief over Jacob's passing leaves me without words other than to say I have always loved and admired him, will miss him always, and have unspeakable sorrow for you both, Peg and Rachael. This world, mine, and ours is a greatly lesser place with his passing.
- Aunt Diane
---
What a beautiful tribute to an amazing person. I served in the Peace Corps with Jake. What I will most remember his smile and his loving acceptance of everyone. Jake truly made this world a better place and may we all strive to do so in his honor. Unfortunately, we are out of the country now, but my family and I will enjoy some cherry pie and do something to help children this weekend.
Amy Sewick
---
Our thoughts and prayers extended as you grieve your loss. Beautiful obituary. Beautiful life.
Jared and Jesse Prentiss
---
Peggy, So sorry to hear about Jacob. My thoughts and prayers are with you. He was a wonderful person. Becky
- Becky Higgins
---
Peggy, so sorry to hear of your son's passing. Jacob must have been one amazing young man with all of the experiences he accomplished in his short life. My God help you through this difficult time.
Sue (Nunn) Roberson
---
I went to high school and, later, grad school, with Jacob (who I knew as Jake). While we didn't keep in touch well, and disagreed on some things, I remember Jacob as being passionate about his beliefs and being a deeply good person, and I considered him a friend. I didn't know of his illness until after his death, and I'm sorry I didn't have a chance to speak to him again, especially since we ended up living so close to each other and had quite a lot in common. Thank you for this lovely tribute, and I'm sending much love to Jacob's family and friends in this difficult time. I hope you can find some comfort through your faith. I'll be sure to have a slice of cherry pie in his honor as soon as I can!
    
Rachel Stein
---
Absolutely still heartbroken after all these years. I grew up with Jake. He was the bigger cousin, and I remember he used to organize games of tag or hide and seek with the rest of us cousins at his grandma's or my grandma's house in Midland. I still remember it well. We honored Jake's memory at our wedding in late June 2017 with a cherry pie. Much love to you Peggy and to you Rachael. Regards, John Yuill
John and Janay Yuill
---