Toni Sue French
11/14/1949 – 09/07/2019
Toni Sue French passed peacefully on September 7 th , 2019 after a fifteen-year
battle with breast cancer.
Toni was born in Sullivan, Indiana. She moved to North Bend, WA in 1978 with her
husband and daughter. She retired from the Issaquah School District as a school
bus driver in 2013.
Toni will be remembered for her sense of humor, laughter and beautiful smile.
She loved the ocean, traveling, shopping and spending time with her family and
friends.
Toni is survived by her husband William French, daughter Arica French, and
grandson Isaac Kindervag.
If you would like to make a donation in her memory, please visit the Susan G.
Komen Breast Cancer Foundation https://ww5.komen.org/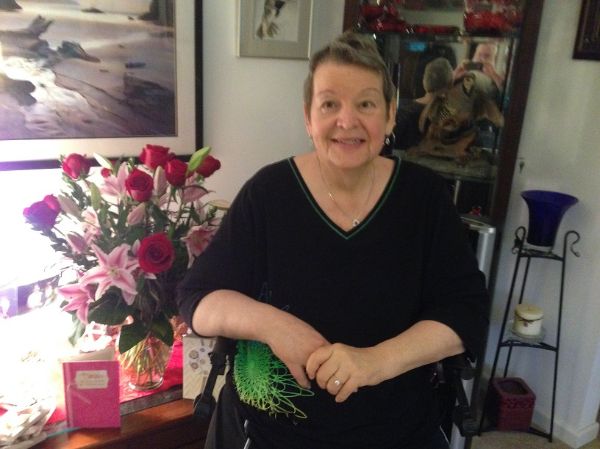 ---
Comments
Sure loved that wonderful momma of yours, Arica. She will truly be missed. ❤
    
Nevie
---
Toni Sue was a dear big sister to five siblings in our eight-kid family. She and I had many good times together, and her ability to listen to the message under the words was a blessing to me many times. I will miss her.
God keep you safe. Love you.
    
Kelly Rambis
---
Toni was a great Sister in law, she had a great personality and was liked by all who met her; What I remember most about Toni is her caring personality and and caring way with those she was around. She will be remembered and loved by family and friends. The love will never die.
    
Raymond and Suetta French
---
I didn't really know Toni Sue but I married her niece Tiffany Rambis. She had memories of her she shared with me. I am sure she is as good hearted as the rest of the family I have met. Sorry for your loss to her brothers and sisters and husband and daughter.
Aaron Baim
---
Toni Sue was a wonderful person, whom I considered a fabulous sister. She will be missed. Love and hugs to her daughter, grandson, and husband. I have fond memories of our childhood and young adult years in Sullivan County and Vigo County , Indiana. I wish I had more personal memories of us as we grew older. Because we were living miles (states) apart, raising our families, working full time, phone calls and holiday cards were made to make due. My two or three visits with Toni Sue and Bill at their home in North Bend are remembered fondly. 
Peggy Jo Frailey
---