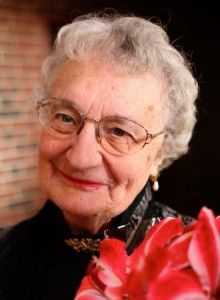 Hanna Irene Parce passed away on May 28th, 2014.  She was the beloved wife of the late Irvin John Parce, and mother of Nanci Amaral, Erich, Marc, and Kirk Parce.  Hanna was the proud "Nana" of 11 grandchildren and 5 great-grandchildren.  She departed this world peacefully at Evergreen Wockner Hospice Care Center following a debilitating stroke. Hanna was all about giving gifts. She left us with the best gift of all: a week together with her entire family, and the absolute knowledge that "All Was Well With Her Soul."
Hanna, who was of German descent, was born on November 10, 1927 in Medina, North Dakota; the first of two daughters of Erich and Erna Kaempchen. Her father was a pastor in the United Church of Christ, a tradition that Hanna would later continue when she married Irvin, a pastor in the same denomination. Hanna spent much of her childhood in Menno, South Dakota, where her father served as spiritual leader in a church that performed both German and English services.
Hanna attended Yankton College and graduated with a teaching degree in 1949.  It was here that she met Irvin Parce of Letcher, South Dakota, who was studying for the ministry. The two were married on June 12, 1949 in Menno.  Hanna was initially a homemaker, and she and Irvin started their family in Oberlin, Ohio, later moving to DeSmet and again to Watertown, South Dakota.  As a young family with four children, Hanna and Irvin enjoyed camping throughout the western U.S.   Mount Rainier National Park became their favorite place to camp, hike, enjoy the mountain scenery, and create beautiful memories.
In 1965, the family moved to Yakima, Washington, where Hanna began teaching at Terrace Heights Middle School.  Here she became the head librarian while teaching German, choir, and the Gifted Student Program.  In 1971, the family moved to Bellevue, Washington, where Hanna once again became head librarian and taught at Pine Lake Middle School in the Issaquah School District from 1971 until she retired in 1992.  A passionate educator, Hanna returned to school during this time and earned two  Master's degrees in teaching and Library Science from Central Washington University.  Following her retirement, Hanna moved to Covenant Shores Retirement Community on Mercer Island.
Hanna's interests were varied and cultured in nature.  She was an enthusiastic music lover.  Hanna and Irvin were both musically inclined and sang in concerts beginning in college and continuing throughout their lives.  She particularly enjoyed opera and classical music, and spent considerable time attending local shows with her many friends.   Hanna and Irvin's appreciation for the arts was passed down to their children and grandchildren, and music became an integral part of family gatherings.  An avid reader, Hanna's home was filled with books.  She participated in several book clubs and was known to read numerous books simultaneously.  After retirement, Hanna and Irvin traveled extensively, taking many cruises throughout Europe, the Caribbean, Mexico, Alaska, and Asia.
To say that Hanna had many friends would be an understatement.  Hanna had and maintained close relationships with friends that she met in every stage of her life, from childhood to college and early married years in South Dakota, to Yakima and finally to Bellevue, Issaquah, and Mercer Island.   Never was there a more loyal and giving friend than Hanna, and this was perhaps one of her greatest achievements.  She lived with grace and love and she died as she lived, surrounded with the love of her family and friends.
Survivors include her sister, Ruth Haun and Ruth's husband Francis of Highlands Ranch, Colorado;   daughter Nanci Amaral and her husband Gerry of Kent;  sons Erich Parce and his wife Jenny of Renton;  Marc Parce and his wife Laura of Rocklin California; and Kirk Parce and his wife Wendy of Enumclaw.  She is also survived by her grandchildren Chris and Todd Amaral; Jesse and Anthony Parce, Solomon Knapp; Erica, Carly, and Micah Parce; Nick and Elizabeth Inman and Mollie Parce.  Hanna had five great-grandchildren.  Finn, Bjorn, and Greta are the children of grandson Chris and wife Kari, and Amaya and Evan are the children of granddaughter Erica.
A memorial service celebrating Hanna's life will be held Saturday June 21st at Mercer Island Congregational Church at 2:00 PM.  Memorial remembrances may be made to the: EvergreenHealth Foundation-Hospice Care 12040 N.E 128th St.  MS #5  Kirkland, Washington 98034.
A letter and poem from her two pastors are:
Posted on May 28, 2014
I am no authority on death and dying. However, various experiences have brought me some beliefs, perhaps not all of which are verifiable.
The reason I'm writing this today is because Hanna Parce, such a gracious and affirming soul, died this afternoon, May 28, 2014. She was the mother of Erich and Kirk and Nanci and Mark. She was the widow of an UCC pastor and the daughter of an UCC pastor with German heritage in the Evangelical and Reformed Churches.
I particularly value my friendship with Erich, our Choir Director. Oh my, his gifts with music, with singing, with selecting the perfect anthem and adjusting my hymn selections from guesses to excellence in echoing our theme for the worship…the best ever.
A couple of days ago when visiting with Hanna in Hospice, all her family gathered in the room, her son, Mark, placed an I-Phone on her pillow and the soothing and comforting hymn, "It Is Well With My Soul," inspired us. Some of the family sang to her. Her eyes remained closed, and yet with no response, I knew in my heart of hearts that Hanna knew in her heart of hearts about being loved, about being graced, about the love of family and of her God and of her Lord.
I will miss Hanna. Perhaps with the exception of two Sundays when she wasn't feeling able to attend church, she was there, about 30 minutes before worship. Of course she sat in the same seat and watched her son rehearse the choir. Incredibly poignant.
The visit with Hanna was part of my worship preparation. She seemed to appreciate my struggle with the German language, would share with me the various churches her husband served and how vital our church is to her. With all that, deeper than measure, was her faith…actually I think she was a modern day Molly Brown, never negative, never sinkable, always affirming. Not out of naiveté, but out of faith and trust that her soul is well and her future will never be walked alone.
I have this theory…not sure I can verify it with any study. That doesn't matter. I can verify it with the experience of Hanna Parce. The theory is this: people die as they live.
Hanna lived with grace and love. She had discouragement just like the rest of us. But, the sparkle in her eyes, the nod of assurance that God held her forever and her "Alles Gute" gave me an "up" that impacted worship.
I will miss her. But I'm not sorrowful. I'm grateful…so very grateful to have known her and to be strengthened by her faith and her caring. Why? Because death is not always an enemy. It can be a friend, setting free for her new day, a day of eternal comfort and peace.
Go with God, Hanna. I am the better for your caring spirit and your insistent encouragement.
Well with your soul it is. No less for mine.
Grace and peace.
Parsing Hanna
So how do you parse Hanna?
Like most nouns, it takes time.
And whereas grammar ain't my bag,
I did it with a rhyme.
She had no need to hold a book.
The hymnal framed her life,
first as a pastor's daughter
then as a pastor's wife.
The warmth of music filled her home
and blanketed her clan
on cold dark days when faith grew weak
while questioning God's plan.
Like Hannah in the Bible,
Hanna sought the Lord through prayer.
She came to see that she could trust
a God who's always there!
by Chaplain Greg Asimakoupoulos
Covenant Shores Retirement Community
---
Comments
Bill Picketts
Posted June 7, 2014 at 6:52 pm
May you now, dear Hanna, know the joy of Jesus words, " In my Father's house are many rooms; if it were not so, I would have told you. I am going there to prepare a place for you. And if I go and prepare a place for you, I will come back and take you to be with me that you may also be where I am."
Carol Jeane Brown
Posted June 9, 2014 at 11:35 am
With great sadness I send this note on to Hanna's family. Yes, she had many friends, but each one thought they were her BEST friend. I am one of her BEST friends, and I cannot tell you how much I already miss her each day. We had such fun together and shared just about everything, with the knowledge that it was a sacred trust to be cherished. As we both became widows, we depended on this closeness even more and talked at length about our happy lives with Irv and Tom. Our children and grandchildren were most often the focus and the love for them was nothng we had to explain to each other verbally. Last night as I looked at Hanna's picture on the cupboard in my kitchen I asked her. and hoped that she was safe, loved and with Irv. Her silent answer seemed to echo in my ears, Of course, just like we talked about.
Edie McFadden
Posted June 18, 2014 at 11:27 am
Hanna and I called each other "forever" friends and I find that very comforting during this time of missing her so very much. I cherish so many wonderful memories.
Marc Parce
Posted June 27, 2014 at 8:10 am
Mom:
I miss you so much. Your memorial service was wonderful with so many friends attending. Eddie and Carol Jean shared beautiful memories of the friendship they had with you.
I love you Mom and hope you and Dad are dancing with the Angels.
Marc
---